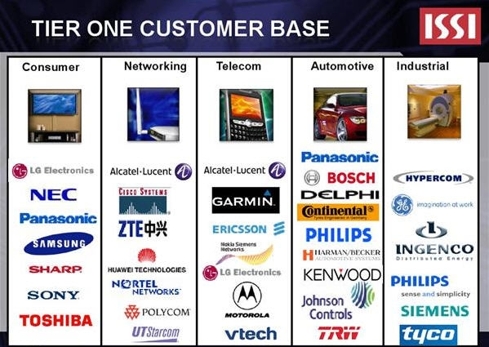 Integrated Silicon Solutions, Inc. (ISSI) a California based company - with full exposure to the Asian rim and the rest of the global world - presented at the Rodman & Renshaw Analyst Conference held in New York City September 14 at 2:00 P.M. EST.
President/CEO Scott Howarth, along with Vice President, Finance/CFO John Cobb, conducted the presentation on the health and the future of ISSI forward looking guidance.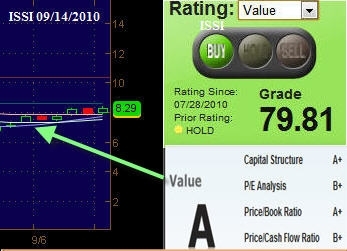 The special take from the conference was when Scott Howarth defined that all clients are each about 5% of each part of their design wins and supplying products as can be seen in the depth of their current client list as provided within the chart as they presented.
Their claim to fame is the ability to supply Specialty markets with a market cap of around 2 billion. The niches come from SRAM, DRAM, ASSP (EEPROM, Smartcard). This avails them to service the:

Automotive, Industrial, Networking/Telecom Mobile communications, and Consumer. With the Fab Partnerships ISSI has with SMIC, PowerChip, Nanya, Global Foundry, TSMC, and the big mammoth of IBM.

The secret to ISSI success is based on long-term type specialty design wins that have from 2 to 10 year product cycle ranges of revenue production guarantees to continue to build upon their revenue streams.

The strength in ISSI investment projections has them moving well within the large addressable markets, pure play in high quality, and specialty memory along with Differentiated fabless models. This means a greater focus on secular growth in our target markets. It has fully invited ISSI to gain larger diverse design wins within their, tier-one customer relationships.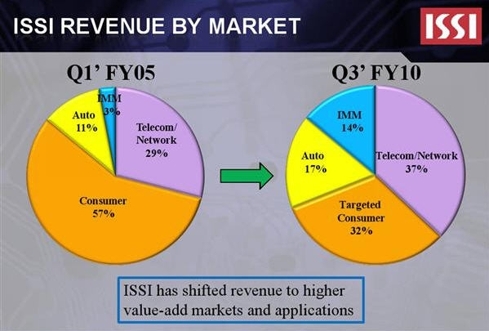 The sweet spot of being able to exceed and beat expectations for the last quarter over quarter comes from their low-cost business model, and expanding gross margins. This brings the incredibly strong balance sheets that continue as projected through future quarter reporting periods.
The graph as provided shows the large addressable markets that ISSI competes within. The spear-head of refocusing efforts towards a few areas that give them exposure to 4 billion potential for design when under their current metric models.
The list of current Tier One Customer Base is quite impressive and, as stated prior, they have come to keep each of them not exceeding 6% to a 4% range of revenue flows for the purpose of strong revenue streams. The target market products chart shows these unique Tier 1 design wins.
The ISSI revenue chart reveals the segmented weighting of their model working forward. Out of these, the automotive market is gaining further depth to the automakers. This includes the Japan and China markets respectively (conveyed as heard during the conference).
These design wins come from providing niche products within designs for safety items. Safety items are one category produced by ISSI; airbags, ABS systems, ESC and collision avoidance designs.
The ability for ISSI to continue providing product design within the navigation space also bodes well for the company. Their focuses within the Infotainment and Driver train designs also have increased revenue generation.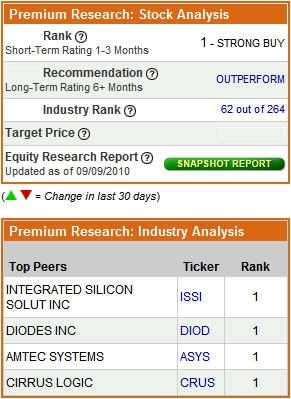 It was impressive to see FY10 in 3Q'10 of about 35 million revenue within the auto sector. In the telecom/networking, applications had ISSI having 10% of this market niche. The medical, industrial, and military applications have ISSI holding a 40% piece of the 1.7 billion dollar wedge as seen within the provided charts.
The gross margin is an impressive 37.8% as projected that bodes well for forward potential of company growth metrics. This equates to about $1.62 earnings per share in this upcoming quarter for FY-10.
It is suggested that all review their 10-Q(s) and 10-K(s) filling for further depth of the many potentials ISSI is offering. Cash flow still shows as a strong suite for ISSI as $10.3 million in 3Q'10.
If looking at the whole picture, the September quarterly report reveals projections of revenue coming in around $74-80 million, gross margin around 34-37%, operating expenses at $14.0-14-7 million, net income per share ranging from $0.42-0.52 along with cash and S/T investments of around $85-90 million.
They hold a strong balance sheet as seen from their conference presentation. The provided chart shows debt as none. Book value is around $6.28. This makes this stock issue a real under-valued play from the current metrics of reviewing their balance sheets.
This current metric lends to the projections of the four analysts covering this issue with buy ratings and targets ranging from $10.85 to the highs of $19 dollars price targets.
Go to ISSI web site for further color on these highlights as gleaned by this writer.
Disclosure: Currently long along with options for calls