Summary: The best is yet to come; here are the reasons why...
My last article (Nov 2013), "Why Apple will not never see $700...", I pointed out that:
It needs to get its GPM at 39bps or above. Check.
It needs to increase its dividends and buyback. Check.
It needs to understand that Emerging Markets is where the action is. Check.
It needs to rid itself of its rotten core [Samsung (OTC:SSNLF)]. In play.
It needs to nip FUD in the bud. In play. We are hearing Tim and Phil speak more publicly against the competition these days.
It does not need to race to the bottom price point in order for it to succeed. Check.
Tim Cook is a smart operator who was great in managing the "numerator" (Operational results) but never had the chance to manage the "denominator" (share count) under Steve and that was about to change. Check.
If Android has the most market "share", doesn't it follow that they may also have the most to lose?
In "Apple: Gearing up for Thermonuclear in 2012 (Jan 2012), I suggested that (amidst the "Tim isn't as innovative as Steve Jobs" meme):
Tim lives and breathes Apple; he doesn't have to be Steve Jobs. Apple's innovative spirit comes from the core. Tim just needs to be a great steward and surround himself with great talent.
iOS will continue to be pushed down to the most basic Apple device (little did I know that it was soon to be "free").
By purchasing great technology companies (and being betrayed by Samsung), Apple knew that it had to move the design of its core technology inside. It knew that the patent system had no bite.
Despite the chatter of Apple "TV", this wasn't going happen until the content gets sorted out (funny how the "iWatch" replaced the "TV" hype when the latter didn't materialize!).
Analysts will continue to be oblivious.
In "Byte Me" (Jul 2011), I suggested that:
The iPad was just at the beginning of its "S curve". Think iPod.
The iPhone was never meant to outsell the Androids.
The iGadgets may very well displace the game controllers [Nintendo (OTCPK:NTDOF) got disrupted along the way].
The iPad could replace the GPS/Stereo/Dashboard in your car.
Was this article meant to be a claim chowder? Hardly, chowders won't make me money! However, readers who have been with me since 2011 will know that I like to "connect the dots backwards".
What recent events can we use to connect the dots backwards in order to give us a glimpse of what the picture may look like a few years from now?
How about:
Apple was handed a bag of peanuts ($119M) instead of the $2.2B it was seeking from Samsung for patent infringement. Why go thru the trouble? Simply because...it had to be done.
Samsung reports its 2nd quarterly drop in profits. With nothing to copy, its Galaxy lineup (S4, Gear, and maybe the S5) posed no threat to the iPhone. Given that Apple is motivated to rid itself of its rotten core (chips and parts manufactured by Samsung), the bleeding at Samsung should continue. Samsung is also feeling the pressure from the cheaper "white label" Chinese Android manufacturers like Xiaomi. Go figure, Apple reports growth in China while Samsung reports "weak market conditions" in China.
Given the mobile "explosion", has anyone noticed the % of revenue generated from mobile by Google? It got out of the mobile handset business by selling off Motorola and recently released disappointing results that continue to show the challenge it faces in monetizing the mobile market.
Despite being labeled as a flop by pundits, the iPhone 5C continued to outsell BlackBerry (NASDAQ:BBRY), Windows, and Android flagship phones in Q4.
Peak iPad? What happened to the "S curve"?
iOS will now be in cars!
So, what do all these dots mean?
Fundamentally, Apple continues to be the priced as if it was going out of fashion...

Click to enlarge
At the time of writing, it appears that we have a breakout from the $570 level that would suggest that it may be on its way to test the previous high of $680.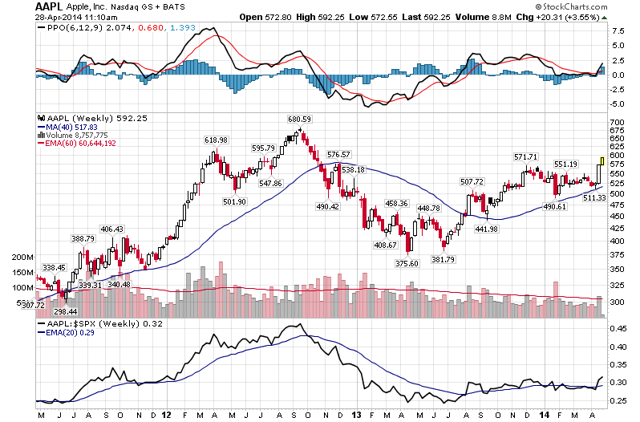 Click to enlarge
And how has the mechanical trading approach held up? So far so good...

Click to enlarge

Click to enlarge
Update:
With a stock split coming up and 2014's WWDC just around the corner, I would not be surprised if we end up testing the previous highs. As always, profit taking isn't a bad word (and yes, expect the "channel check" rumors to start flying in a few months!).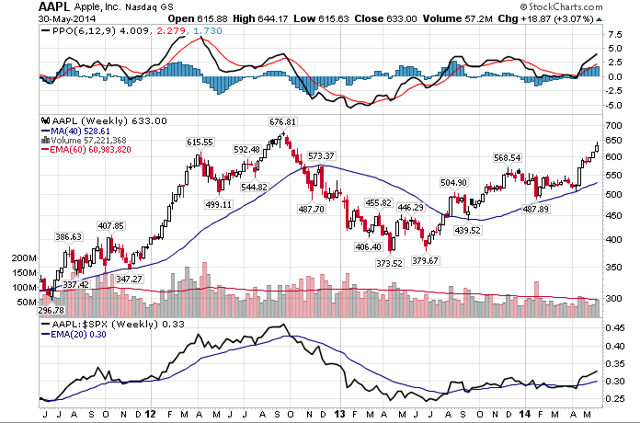 Click to enlarge
Why would it be different this time?
Decreasing share count (ceteris paribus) over time should provide Apple ample leverage in managing market expectations. We've already seen its impact during the most recent quarterly results.
Aside from making great products, Apple plays its "containment" strategy extremely well. The profits from the existing disruptive product lines funds the continued iteration of those same products and the development of the next "big thing". Keep an eye on the iteration around Siri.
The "Steve Jobs isn't around anymore" discount will soon fade away. As I've written before, Wall Street doesn't care who passed away...it only cares about money. Assuming Eddy Cue's proclamation that Apple is about to release its best products ever (late in 2014), will the markets finally value Apple with a premium that it deserves?
Iteration, contextual curation, and integration (of software, content, and devices) will dominate Apple's approach in whatever market/services it wants to get into. Apple's new programming language (Swift) has the potential to exponentially alter the apps landscape.
The Mac is alive and well; Yosemite (more like a termite to me) will continue to provide a compelling reason why the Macs will continue to slowly chip away at the Windows market. Both my kids started with PCs; both have Macs now and won't go back to PC. With all the new features (like Continuity) that will be integrated with iOS, the value proposition of owning an Apple gadget continues to be compelling.
As I've written repeatedly since 2011, China (and the emerging markets) ain't a pipe dream.
I would encourage you to read "Is Siri really Apples' future" by Kontra. He (or she) does a great job in explaining (and illustrating) the possibilities of Siri. Here is an excerpt: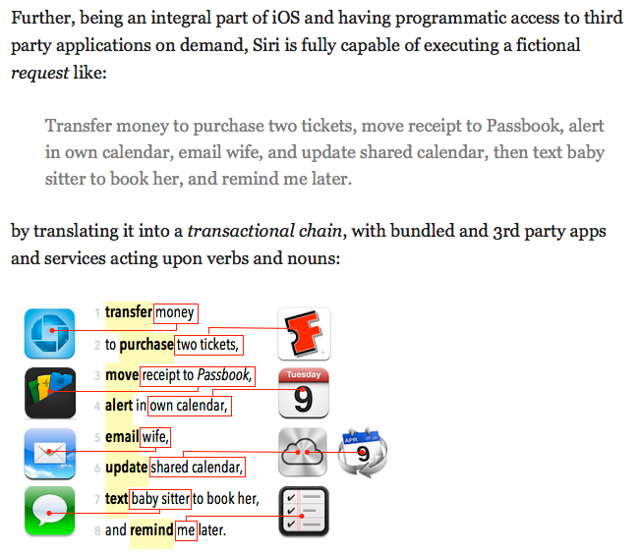 Click to enlarge
What do you think will happen when Homekit, iOS in the car, and iBeacon (and others), coupled with the "curation algorithm" purchased from Beats are incorporated and integrated in the iGadgets?
What about Samsung?
Samsung will continue to slavishly copy; it is in their DNA. The risk/reward equation is extremely favorable to them. How much profits has their mobile division made since the first iPhone came to the market? How much have they actually paid in legal settlements?
Will Tizen provide Samsung its "secret sauce" to compete with iOS and Android?
What about Google (NASDAQ:GOOG) (NASDAQ:GOOGL)?
If the current trend towards specialized app based ads (e.g. Facebook mobile) continues, Google's assault on the mobile ad market may suffer some hiccups. How is Facebook's (NASDAQ:FB) mobile ad strategy working out? Why do people use Google? Is that about to shift?
With Google continuing to assert more control over Android, Samsung is slowly trying to mitigate this with its own platform (Tizen). Furthermore, Chinese white labels are churning out low end Androids that may not benefit any of Google's products.
While Android continues to dominate the smartphone market share, it remains to be seen if it can monetize it consistently just the way it has with its desktop strategy.
I met an old friend of mine (I haven't seen him for over 25 years) over the holidays. I marveled at how (aside from a few grey hairs and a few extra pounds) we were able to connect just like it was 25 years ago. He (I'll call him Jimmy) invited me over to stay with him and his family for a few weeks. After spending 3 weeks (observing and listening to his story) and watching him in action, it gave me a better perspective of what Tim Cook's definition of "North Star" may have meant.
You see, unlike most of us who were driven to school, Jimmy walked every day. It wasn't like they didn't have a vehicle, it was just because his dad used the only family vehicle (a crappy pickup truck) to deliver their "dirty" (charcoal) products to their clients. It was an unglamorous business but it was good to the family for 2 generations. When the "clean energy" movement took hold; it almost drove their business to bankruptcy. Every armchair quarterback was telling their family to bail and sell off their holdings and start over again. They refused and borrowed what they could to stave off creditors; Jimmy quit school to look after the business after his pop passed away. He told me then that he loved the simplicity of the business and believed that he can continue to thrive in a difficult environment. That was 25 years ago.
Today, he barely has any competitors locally. His clients are global and he has found different ways to market them (e.g. supplying Ogatan to Japan). He has more fancy cars than I could test drive in a day. Simply...he understood his North Star and stuck with it.
So, how does this relate to Apple (NASDAQ:AAPL) you ask? This article was meant to: (1) share with any new Apple shareholder what to expect when it comes to "holding" Apple, and (2) provide my thoughts where I think Apple may be headed.
If you are new to Apple, you need to be aware of 3 "factors":
Apple will always be subjected to negative propaganda (directly or indirectly).
Apple, unless its core management team is replaced with outsiders with less than 5 years experience in the company, will always march to their own tune.
Most Institutional Analysts following Apple will be wrong (but they will continue to be quoted nevertheless).
For those shareholders who have been with Apple for a while; we know our North Star...don't we?
Disclosure: I am long AAPL, TSLA, PCLN, SAN. I wrote this article myself, and it expresses my own opinions. I am not receiving compensation for it (other than from Seeking Alpha). I have no business relationship with any company whose stock is mentioned in this article.