We try not to speculate as to what companies may or may not be doing down the road as far as potential products, but today everyone is talking about whether Amazon (NASDAQ:AMZN) is finally going to deliver the smartphone everyone has speculated about for some time now. It seems that now would fit within the time frame for the company to release a phone but there are many questions that need to be answered before we could speculate as to how successful this device might be. Investors have to hope that this is not going to be another 'loss leader' for the company where they subsidize hardware in order to sell product through their website or app store. One would also think that the company would be against selling their phone through their large brick and mortar competitors, especially Best Buy (NYSE:BBY).
Chart of the Day:
In the last few months Amazon shareholders have not had a whole lot to cheer about but a phone offering could reignite shares and send them higher through the $340/share area.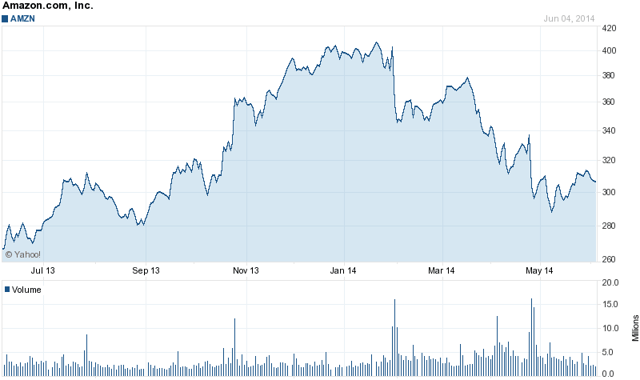 Source: Yahoo Finance
We have economic news today, and it is as follows:
Challenger Job Cuts (7:00 a.m. EST): Est: N/A Act: 45.5%
Initial Claims (8:30 a.m. EST): Est: 310k Act: 312k
Continuing Claims (8:30 a.m. EST): Est: 2650k Act: 2603k
Natural Gas Inventories (10:30 a.m. EST): Est: N/A Act: 119 bcf
Asian markets are mixed today:
All Ordinaries -- down 0.15%
Shanghai Composite -- up 0.79%
Nikkei 225 -- up 0.08%
NZSE 50 -- up 0.00%
Seoul Composite -- down 0.65%
In Europe, markets are mixed this morning:
CAC 40 -- up 0.86%
DAX -- up 0.01%
FTSE 100 -- down 0.15%
OSE -- down 0.08%
New Smartphone Entrant?
With Amazon's announcement that they would be hosting a press event on June 18th to announce a new product the speculation is now swirling that the company will unveil a smartphone that features technology to track the user's eyes and use a 3D display to allow the screen to be read from different angles. If the company does deliver on the hopes of many investors and release a smartphone one would think that the stock gets a boost, but we would be more interested not in the product itself but how the company markets it.
Many are hoping for a smartphone as they believe that Amazon will be able to capitalize on their tablet success and deliver a product which can rival the current market leaders Samsung and Apple (NASDAQ:AAPL) while also providing high margins for a company with famously razor thin margins. Also of interest is what operating system Amazon will use if they are in fact announcing a smartphone. It would seem logical that they would adapt the Fire OS, which is based off of Google's (NASDAQ:GOOG) Android software, and tie the phones into their ecosystem much like Apple does.
What Could This Mean For Amazon?
The big question is how Amazon is going to distribute the phones and whether they will have a soft launch using just one carrier to work out the kinks first or whether they will try to launch across various carriers' networks and have a major rollout. Apple focused on using one carrier but others have had success using multiple carriers. We suspect that the company would offer the phone across various carriers and try to sell the phone through their online store offering overnight shipping.
If the phone is the product they are offering it could drive sales of goods through Amazon with numerous Amazon apps pre-loaded, a move that Apple has done with devices and pioneered by Microsoft (NASDAQ:MSFT) with their Windows operating system in the late 1990s and early 2000s when they launched new business lines.
Disclosure: I have no positions in any stocks mentioned, and no plans to initiate any positions within the next 72 hours. I wrote this article myself, and it expresses my own opinions. I am not receiving compensation for it (other than from Seeking Alpha). I have no business relationship with any company whose stock is mentioned in this article.
Additional disclosure: AAPL has previously been recommended.