The Bank of Japan (BOJ) moved to weaken the yen yesterday. After hitting a 15-year low of ¥82.86 against the dollar, BOJ and the newly reelected Naoto Kan had seen enough and appear to have made an unsterilized movement, seemingly without the consent of any major Western banks. The intervention was quoted in the WSJ as being between ¥300-500 billion, and sent the dollar sharply higher against the yen on Wednesday morning. Furthermore, this was an unsterilized intervention, meaning that Japan is basically printing money and selling it, which applies some welcomed inflationary pressure in Japan. There are more political implications of a move like this, however, than meets the eye.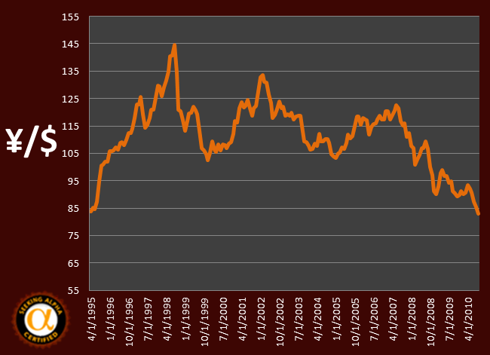 The fact that Japan did not convene with the major Western powers says a couple things to me about the state of global relations. First, Japan is realizing that China is not only a major Eastern player, they are THE major player in that sphere. This has been the case for many years, but with China's recent currency plays, Japan can no longer be best friends to both the United States and China.
As a result, they have chosen to side with China and help them keep the dollar artificially high. Let me try to explain this. Many people, including myself believe the yuan is severely undervalued, and that China is a currency manipulator. In reaction to these accusations, China recently suggested they would let the yuan float against the dollar eventually, but have let it rise only by 1% since June. Multilateral pressure from major traders such as the United States and Germany have brought light to the issue, and now China has done something they probably believe is very clever.
China bought almost $7 bln yen worth of Japanese financial assets and instruments in July alone. China does this while restricting the availability of investments by Japan to counter these purchases. In other words, China is making open market purchases while Japan cannot make any in return to offset them. This keeps the value of the yen higher than it otherwise would be, much to the chagrin of the Japanese, who rely on exports for growth. The purchases are short term, which means China has the flexibility to get out of their positions should the exchange situation change. China has and always will be an inward looking republic, and their moves reflect the 'give something only to get something in return' mentality. Their pressure on the yen, it appears, was part of a grander strategy to move the dollar.
Now that Japan has felt the pressure from China, they have decided to revalue the yen with an unsterilized market intervention. This means that potentially trillions of yen could be printed to keep the value down against the dollar and the dollar will appreciate. The appreciation of the dollar is exactly what China needs to keep their peg safe for the yuan, but this way they can't possibly be targeted as currency manipulators by the IMF or anyone else.
The new term would be "currency bully." Only a politician could fail to follow the trail of pressure from Japan to China and realize that this intervention is exactly what the People's Republic wants. If Japan keeps up their movements in the open market and the eurozone continues to struggle, the dollar has nowhere to go but up. China could potentially revalue the yuan against a consistently increasing dollar and still remain at square one.
What happens next? Look for Congress and Europe to act with some sort of retaliation. Basically, this amounts to a subsidy on exports, which could be countered with an increase in tariffs from the other side. Congress has been itching to fight so-called currency manipulators who steal jobs from honest Americans, and look for that to continue with elections coming up. Meanwhile, Europe will feel pressure as Germany's exports suffer from the slowdown in the United States and the Japanese intervention. Fiscal austerity will begin to slow down some of the European economies, and currency manipulators could be blamed even more than usual for lack of growth.
In short, it is very unlikely that this currency intervention will amount to anything more than a temporary move. "In the medium-term it can't change the overall direction" of the Japanese currency, said Tohru Sasaki, head of Japan rates and foreign-exchange research in Tokyo at JPMorgan Chase & Co. The movements of foreign exchanges are so complex, that the prevailing market sentiment will overcome one country's open market intervention. A country would need to experience incredible growth and have competitive advantages (see China) to be able to manipulate a currency successfully, something that Japan does not have. It does, however, have China in its corner this time.

Disclosure: No positions