(Note: What follows is an except from our weekly free newsletter, ETF Spotlight, available for download in full at etfresearchcenter.com, or the "My blog" link on this page.)
Every investor likes to see rapid sales growth in the companies he or she owns, but when simply screening for stocks--or, in our case, ETFs--with the fastest sales growth, one ends up with a list of early-stage, mostly alternative energy and biotech funds, with little or any profits.
While these may have a place in investors' portfolios, they nonetheless require a leap of faith. So instead we screened our universe for the funds with the fastest sales growth that also have a P/E ratio of 15x 2010E EPS or less, indicating sales that have already translated into sizable profits, and providing a basis for analysis as an investment.
Several China-related ETFs made the list and all had decent though not spectacular ALTAR Scores. However only one alternative-energy fund made the list; it is the subject of this week's Fund Focus (shown in the ETF Spotlight newsletter).
click to enlarge
Figure: ETFs with fastest sales growth and P/E less than 15x*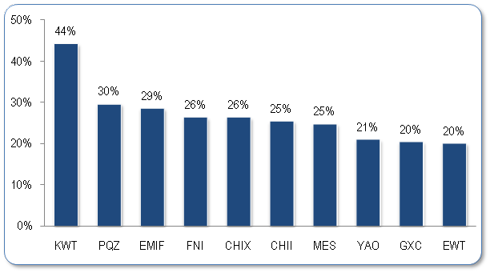 Click to enlarge
Source: AltaVista Research
*Note: ETFs with the fastest compound sales growth through 2010E for underlying firms, where P/E ratio on 2010E EPS is also less than 15.0X.
Table: Ticker, Name & ALTAR Score(TM) of ETFs in chart of the week
| | | |
| --- | --- | --- |
| Ticker | Name | ALTAR Score™ |
| KWT | Market Vectors Solar Energy | 7.8% |
| PQZ | PowerShares Active Alpha Multi-Cap | 7.4% |
| EMIF | iShares S&P Emerging Markets Infrastructure | 5.5% |
| FNI | First Trust ISE Chindia | 7.1% |
| CHIX | GlobalX China Financials | 8.6% |
| CHII | GlobalX China Industrials | 7.1% |
| MES | Market Vectors Gulf States | 14.7% |
| YAO | Claymore/AlphaShares China All-Cap | 7.0% |
| GXC | SPDR S&P China ETF | 7.0% |
| EWT | iShares MSCI Taiwan | 6.4% |
*Note: The ALTAR Score(TM) is our rating of an ETFs overall investment merit.
Disclosure: No positions