Investing in companies with eye-popping results can be fun, but it also takes some courage. Almost every company I know of that has had huge growth potential has also had much higher degrees of volatility, and Gilead Sciences, Inc. (NASDAQ:GILD) is no exception to that rule.
Investors had been waiting for it, and Gilead blew away estimates the last time the company reported earnings, but then the unthinkable happened. Due to in large part to Government intervention with the Free Market Economy, the stock fell hard between March and April.
Although this article is not about the right or wrong of the Government's role, we can certainly see how investors react when they see the heavy hand of the Government at play. If nothing more, it starts the wheel spinning and makes investors question valuation levels, which look rich to the naked eye, especially given the $126B market cap.
However, simple math tells us that 12 months from now, the otherwise rich-looking valuation for Gilead could be much more attractive. Doing simple math, without assuming any growth from the most recent quarter, which I know will be argued by some, Gilead would be earning about $5.92 per share annually given the most recent EPS result. No one can be sure if the company will be able to match that, but expectations are high, and if they are able to match or exceed estimates, the P/E multiple, which is now about 30x, will drop to about 13x within 9 months. That will make this currently rich-looking stock fairly valued.
The graphs below demonstrates the eye-popping changes that have happened recently, and by most definitions, this is exactly what investors look for, but we think investors should moderate expectations.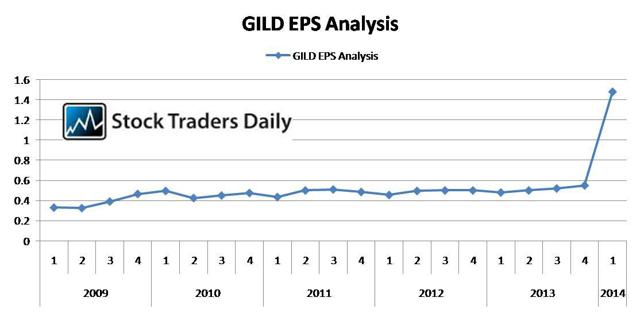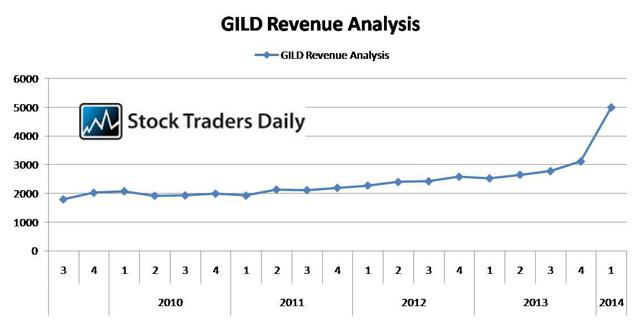 Unfortunately for investors who want to see a one-sided increase, 9 months is a very long time, and there will surely be additional undulations along the way given the imposition of the Government, so instead of investing in Gilead at this time, we are recommending trading strategies instead. In fact, Gilead has been selected as our Stock of the Week this week, and according to our observations, the stock does have upside potential until resistance levels are tested again.
Our real-time trading report for GILD suggests that the stock recently fell to test longer-term support it held, and it has reversed higher and recently also broke above an intra channel resistance level, and that opens the door for a continued progression to longer-term resistance.
When stocks carry with them high expectations and lofty multiples, they also often have significant volatility, and although investors have been rewarded and could still be rewarded if the company beats forward estimates too, the best opportunities may actually be found in trading the stock instead.
Disclosure: I have no positions in any stocks mentioned, and no plans to initiate any positions within the next 72 hours.
Business relationship disclosure: By Thomas H. Kee Jr. for Stock Traders Daily and neither receives compensation from the publicly traded companies listed herein for writing this article.