Overview:
The John Hancock Financial Opportunities Fund (NYSE:BTO) is an equity closed-end fund that invests in companies in the financial sector. Stocks in the financial sector are having a volatile year. Economic data for the first quarter was weaker than expected. Long-term interest rates have moved lower, contrary to market expectations, flattening the yield curve and squeezing net interest margin. Also, increased government regulations and higher capital requirements have lowered potential returns. However, financial stocks now have strong balance sheets with significant amounts of excess capital. Financial stocks are positioned to outperform if the yield curve steepens and the economy rebounds. Additionally, BTO could see its discount narrow if financial stocks start to show strength.
Key Investment Highlights:
Steepening Yield Curve: Financial stocks are not earning to their full potential, as yield curve flattening has compressed margins. Many market participants expected long-term rates to rise this year, but instead, they have been trending lower. If the yield curve steepens, financial stocks should benefit from higher net interest margins. Higher net interest margins would increase the earnings potential.
Stronger Economic Growth: Financial stocks should also benefit from an improving economy. Increased economic activity should improve loan demand. This will allow financial stocks to loan out more money at higher rates and achieve better returns on their capital.
Potential for Increased Capital Returns: Increased government regulation and oversight have required financial companies to retain a significant amount of capital. Many financial institutions now have capital balances above required regulatory levels. These companies could be allowed to increase capital returns to shareholders, which should drive the underlying stocks higher.
Low Relative Valuations: Poor investor sentiment is causing financial stocks to trade at low relative valuations compared to the broader market. Using the Financial Select Sector SPDR ETF (NYSEARCA:XLF) as a proxy for financial stocks and the SPDR S&P 500 Trust ETF (NYSEARCA:SPY) as a proxy for the market, we can see XLF trades with a lower P/E ratio and P/B ratio than SPY. Better economic growth and a steepening yield curve could improve sentiment, sending financial stocks higher.

Source: State Street Global Advisors
Discount to NAV: BTO closed 6/2/2014 trading at a 5.06% discount to NAV. Improving investor sentiment and strong performance could provide catalysts to narrow the discount.
Key Investment Risks:
Leverage Increases Volatility: The financial sector can be very volatile, and BTO has a leveraged portfolio. Leverage amplifies the portfolio volatility and could lead to a bumpy ride.
Increasing Government Regulations: Financial institutions are still an area of focus for legislators. There is the possibility that new regulations could be enacted that limit profitability for the sector, driving down valuations.
Housing Market: The housing market has been supported by low interest rates. If interest rates increase significantly, it could have a negative impact on mortgage refinancing and originations. Lower mortgage activity could hurt earnings at certain financial companies.
Key Portfolio Metrics:
Market Capitalization: $419 million
Average Daily Volume (Shares): 60,000
Number of Holdings: 157
Annual Turnover: 20%
Premium/Discount: -5.06%
Z-Score: -0.77
Current Quarterly Distribution: $0.2961
Market Distribution Rate: 5.18%
NAV Distribution Rate: 4.91%
Effective Leverage: 17.54%
Performance:
Using ETFs with similar investment objectives gives a good comparison to allow for evaluation of the fund management's performance. BTO invests in the financial sector, so XLF is a good proxy. BTO's long-term returns are attractive. BTO has outperformed XLF over most periods on an NAV basis. YTD, BTO has underperformed XLF. Recent underperformance is primarily attributed to BTO being underweight select large cap bank stocks like Wells Fargo (NYSE:WFC), which have shown strong results this year.

Data as of 5/31/2014 Source: Morningstar
Looking at the annual returns, BTO has some attractive attributes. BTO provided downside protection in 2008 and 2011, and has kept up with XLF in most other years. This downside protection could prove attractive if the economy slows and stocks sell off.

Data as of 5/31/2014 Source: Morningstar
Premium/Discount: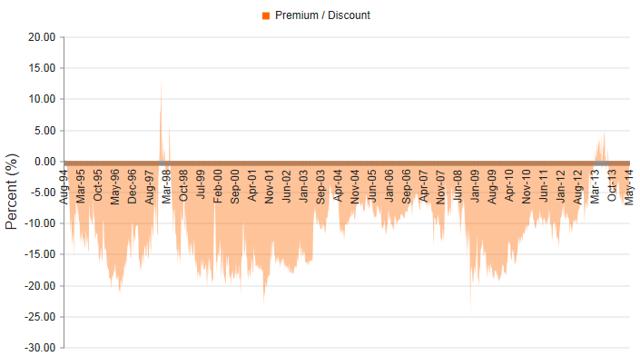 Source: CEFConnect
The fund closed 6/2/2014 at a 5.06% discount to the NAV, or underlying value of the portfolio. This is below the 52-week average discount of 3.24%. BTO's discount has been seen large swings since inception, trading at both wide discounts as well as premiums. Improving sentiment and strong management performance are potential catalysts to close the discount, and could cause BTO to trade at a premium.
Expense Ratio:
BTO pays both a management fee and an administrative services fee based on daily gross assets. The management fee is tiered, with 1.15% on the first $500 million and 1.00% on amounts above $500 million. The administrative services fee is 0.25% of gross managed assets. However, the advisor has agreed to limit the fee to 0.10% for the time being. The annual expense ratio on net assets for BTO as of 10/31/2013 was 1.71% including leverage, and 1.58% if interest expense is excluded.
Distribution:
BTO pays a quarterly managed distribution. The currently quarterly distribution is $0.2961/share. This equates to an annual distribution yield of 5.18%, based on current market prices.
Leverage:
BTO employs leverage through a $110 million credit facility agreement with Bank of America. The credit agreement has an interest rate of one month LIBOR plus 0.68%. There is a 0.25% per annum commitment fee on the unused portion of the commitment, if the daily borrowings are less than $88 million. As of 10/31/2013, the fund had $95 million outstanding, at an interest rate of 0.85%. The credit facility offers an attractive interest rate in the current rate environment. However, interest costs could rise if rates move higher. Current portfolio leverage is 17.54%. The use of leverage can increase the volatility of the portfolio.
Liquidity:
BTO is a small CEF with $447 million in net assets. Trading volume is moderate, with 61,000 shares traded on an average day. Trading volume represents $1.4 million in daily volume at current prices. This offers moderate liquidity, but individual investors should be able to get their orders filled. It is always wise to use limit orders to purchase or sell shares of closed-end funds, as the bid/ask spread can be wide.
Management:
BTO is managed by John Hancock Advisers, LLC. John Hancock Advisers is a wholly-owned subsidiary of Manulife Financial Corporation (NYSE:MFC), a large Canadian insurance company.
Portfolio:
Asset Allocation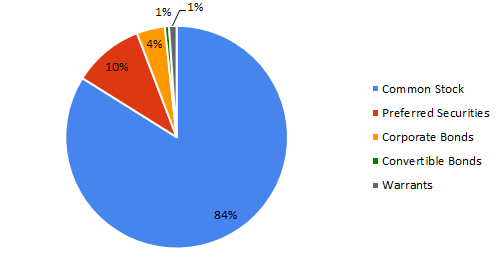 Source: John Hancock
This portfolio is heavily invested in common stocks. It does have some allocation to preferred shares and bonds, which help produce income. The portfolio also has warrant exposure.
Industry Allocation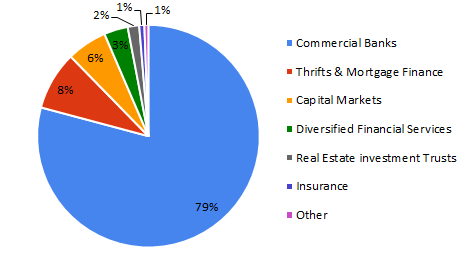 Source: John Hancock
BTO is primarily invested in commercial banks. The fund's management has identified banks as an attractive investment area in the current market environment. Banks are under-earning due to the flat yield curve, and should benefit from an improving economy.
Top Holdings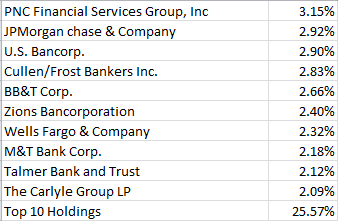 Source: John Hancock
BTO has a large number of holdings for a fund focused on one sector. BTO has 157 positions and only 25.57% of the fund in the top ten holdings. The fund has shown a low amount of turnover, with 20% turnover in 2013. Over the past several years, the fund's turnover has also been low, fluctuating between 19% and 37%.
Strategy:
BTO's investment objective is capital appreciation and current income. Under normal market conditions, the fund will invest at least 80% of its assets in equities securities of U.S. and foreign financial services companies. The fund may use derivatives to attempt to increase income or for hedging purposes.
Tax Issues:
As of October 31, 2013, the fund had $97,089,692 of unrealized gains in the portfolio. The fund does not have any tax loss carryforwards to offset these gains. This means investors could see capital gains distributions from the fund as assets held at a gain are sold. Embedded capital gains represent roughly 23% of the fund's net assets. The fund's low turnover should help limit the amount of gains realized in any particular year.
Conclusion:
Regulatory pressure and a flat yield curve have kept financial stocks' earnings depressed. Despite earning less than their potential, financial stocks still represent a relative value. A steepening yield curve and an improving economy should drive financial stocks higher. BTO is invested to take advantage of rebounding financial stocks. BTO offers strong active management, which has beaten the benchmark and provided downside protection. Finally, BTO is available today at a 5.06% discount to NAV, with 5.18% yield.
Disclosure: I have no positions in any stocks mentioned, and no plans to initiate any positions within the next 72 hours. I wrote this article myself, and it expresses my own opinions. I am not receiving compensation for it (other than from Seeking Alpha). I have no business relationship with any company whose stock is mentioned in this article.