In the current market, we are looking for value first and foremost and then secondly special situations. That is quite tough for us as our typical investing theme is to search for special situations, however they may present themselves (operations, news flow and even charts/technicals) but with the amount of risk we now carry we have spent the past few quarters seeking value in the market.
We have our eye on some of these momentum stocks in the E&P space but one of our previous recommendations has caught our eye and we wanted to point that out today as well.
Chart of the Day:
We like stocks that offer healthy yields and Kinder Morgan (NYSE:KMI) does just that. Although there are some questions surrounding the company, we think that long term this is a buy and that traders could also see an opportunity in this name should the stock break through $34/share.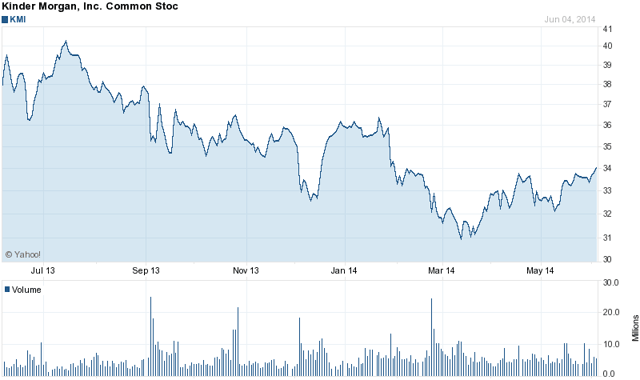 Source: Yahoo Finance
Commodity prices are as follows (at time of submission):
Gold: $1,253.70/ounce, up by $9.40/ounce
Silver: $19.065/ounce, up by $0.273/ounce
Oil: $102.39/barrel, down by $0.25/barrel
RBOB Gas: $2.9432/gallon, up by $0.008/gallon
Natural Gas: $4.693/MMbtu, up by $0.053/MMbtu
Copper: $3.0895/pound, down by $0.0035/pound
Platinum: $1,442.90/ounce, up by $9.00/ounce
Kinder Morgan Looks Interesting
As the "Chart of the Day" shows, Kinder Morgan appears to have been set up for a breakout. Over the last decade, we have come across a few individuals and families in the commodity space, which we have learned to trust and even follow into investments. Many of these people are the best at what they do or have a keen eye for discovering gems. Mr. Kinder is one of those individuals and if you do not want to take our word for it he has the resume to back it up.
So although the rate environment is undoubtedly going to change in a way to hurt stocks with high yields, we still think that Kinder Morgan is a name long-term investors might want to investigate moving forward. There have been questions raised about the company and its partnerships, but Mr. Kinder is an investor himself and has navigated through this type of environment before. We also think that with the recent move by the ECB that the Federal Reserve will also keep rates low and not take action to raise them in the near future; they will let them float higher as they tighten via their tapering program but their rates will not be changed.
For traders we think that there are a few points on the table assuming that the resistance is broken, something we think happens.
Momentum & Value Names
Two stocks, which have been among our favorites in the oil and natural gas E&P over the last few years have trended higher in recent months and once again are looking like decent buys.
The big winner among these two names has been Diamondback Energy (NASDAQ:FANG), which has been riding the wave of investor demand for all things Permian. It is a pure-play in the Permian and has reached another key level on the stock chart. The stock has been strong since breaking through $70/share and now is hitting new all-time highs as it marches towards the psychologically important $80/share level. This is not a value play and if one were looking for a more diversified way to play the Permian we would recommend Rosetta Resources (NASDAQ:ROSE), which also has exposure to the prolific Eagle Ford shale.
We were buyers in January after PDC shares sold off and again almost a month ago. After this base building, we think that news flow will pick up and move shares higher... possibly high enough to test its 52-week highs.
Source: Yahoo Finance
While we view Diamondback as a trade, PDC Energy (NASDAQ:PDCE) still appears to have some hidden value that the market is not giving the company credit for. Our view is that the company will continue to ramp up their production in the Wattenberg now that midstream capacity issues have been worked out and that their drill program in the southern Utica will prove the acreage economical to continue to develop. With other companies, such as Gulfport Energy (NASDAQ:GPOR), pressing even further south into West Virginia for the Utica and Marcellus it stands to reason that the southern Ohio Utica will pan out.
Outside of some of the Tuscaloosa Marine Shale plays, we view these names as some of the more compelling trades in the market right now.
Disclosure: I am long GPOR, PDCE. I wrote this article myself, and it expresses my own opinions. I am not receiving compensation for it (other than from Seeking Alpha). I have no business relationship with any company whose stock is mentioned in this article. KMI has previously been recommended.