The 25-day SEC-enforced quiet period on underwriter research that began with the May 22 IPO of Heritage Insurance Holdings, Inc. (NYSE:HRTG) will come to an end on June 17, allowing the firm's IPO underwriters to release research reports on the residential property and casualty insurance company.
The publishing of the reports will likely cause a temporary increase in the price of HRTG shares.
Slow Performance Post-IPO
HRTG's disappointing IPO priced well below its expected range of $14-$16 per share at a mere $11.00 per share, and the stock made only a small 4.5% first-day return. Share prices have since risen slowly but steadily, not yet broaching the low end of the IPO's expected range; HRTG closed at $12.95 on June 4th.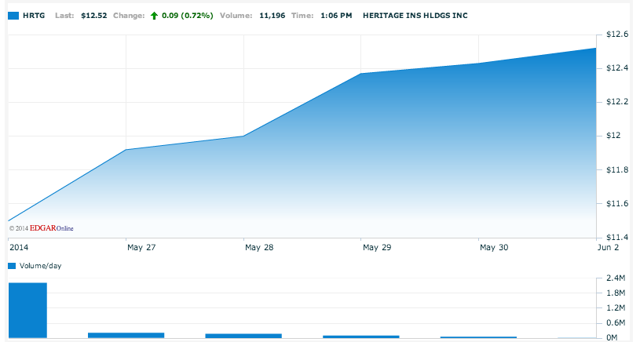 Click to enlarge
(Nasdaq.com)
HRTG's IPO underwriters, including Citigroup Global Markets Inc.; Dowling & Partners Securities LLC, JMP Securities LLC, Sandler O'Neill & Partners, L.P.; SunTrust Robinson Humphrey, Inc.; and Willis Securities, Inc., will attempt to push HRTG to greater heights with the release of positive reports beginning with the expiration of the quiet period.
Quiet Period Expirations Can Offer Short-Term Buying Opportunities
The past three years of our firm's research, along with the results of recent academic studies, have established a strong correlation between the visibility and quantity of IPO underwriters and an increase in the price of shares at the conclusion of the quiet period.
The Journal of Finance (VOL. LVIII, NO. 1; 2003) describes how an increase in share price typically emerges several days ahead of the quiet period expiration as experienced investors anticipate positive reports and begin to buy up shares. (Underwriters will rarely publish negative information about a recently underwritten firm. Carter, Piwowar, and Strader (2001) find that the mean analyst rating at the time of the quiet period expiration is a Buy.) Early purchases create a sense of rising demand, causing share price to rise.
Lead author Dan Bradley, PhD, CFA, affiliated with the University of South Florida, and colleagues note that analyst coverage is immediately initiated for 76% of firms at the quiet period expiration, nearly always with a 'Buy' or 'Strong Buy' rating. Firms with coverage initiated experience abnormal positive returns of 4.1% in the two days before and two days after the date of initiation.
These returns increase significantly when initiated by more than one analyst-to 6.4%.
Overview of HRTG's Business
HRTG is a property and casualty insurance holding company that offers personal residential insurance to Floridian single-family homeowners and condominium owners. The vertically-integrated firm handles most or all aspects of actuarial analysis, underwriting, distribution and claims processing and adjusting.
As of March 31, the firm had some 140,000 policies in force. The great majority of these-nearly 90%-were assumed from Citizens Property Insurance Corporation, a state-supported insurer. Florida's "depopulation program" to reduce its risk exposure encourages private insurers to take on Citizens' policies; HRTG has been doing so since December 2012, only a few months after it commenced operations. For the year ended December 31, 2013, HRTG had gross premiums written of $218.5 million and posted a net income of $34.2 million.
HRTG writes voluntary insurance policies through its network of independent agents, which currently numbers approximately 1,100 agents. Some 46% of these agents are affiliated with agency networks with which HRTG has established master agency agreements. As of March 31, 2014, voluntary policies written through these agents accounted for approximately 11% of HRTG's policies in force.
Strong Competition
HRTG competes with both local and national property and casualty insurance firms; larger competitors may have access to greater financial resources than HRTG. Competitors include St. John's Insurance Company, Universal Property & Casualty Insurance, Allstate, State Farm Florida Insurance Company, and the state-backed Citizens Property Insurance Corp.
Experienced, Well Compensated Management
Chairman and CEO Bruce Lucas has served in his current position since May 2014; he served as chairman and chief investment officer from August 2012 to May 2014.
Mr. Lucas previously served as the Managing Member of IIM Holdings, II, LLC, and as CEO of Infinity Investment Funds. He also worked as a restructuring attorney with Weil, Gotshal & Manges LLP.
It should be noted that Mr. Lucas and other HRTG executives have been compensated lavishly in recent years. In fiscal 2013, Mr. Lucas received a total compensation of $4.7 million, including a bonus of nearly $2.4 million, while former President and CEO Richard Widdicombe received a total compensation of $2.6 million and COO Kent Linder received a total compensation of $2.5 million.
Conclusion - BUY HRTG
HRTG's quiet period expiration will likely lead to something of a price boost for HRTG shares.
Seeking Alpha contributor Dallas Salazar noted in a recent article that HRTG is the beneficiary of a 'perfect storm' of factors--including being well positioned as a market leader in the Florida insurance market.
We are very positive on HRTG in the run up to its quiet period expiration, which has already shown increased price and volume.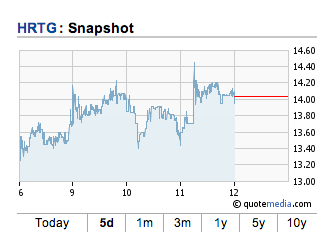 (Source: Seekingalpha.com)
Readers wishing to follow the discussion on IPO quiet period expirations should click the +FOLLOW button above the title of this article and follow @DRDInvestments on Twitter.
Disclosure: The author has no positions in any stocks mentioned, and no plans to initiate any positions within the next 72 hours. The author wrote this article themselves, and it expresses their own opinions. The author is not receiving compensation for it (other than from Seeking Alpha). The author has no business relationship with any company whose stock is mentioned in this article.
Additional disclosure: I am long HRTG.