In past coverage of
Spectrum Pharmaceuticals (NASDAQ:SPPI)
, I have primarily focused on the company's radio-immunotherapeutic, Zevalin, which is indicated to treat non-Hodgkin's lymphoma (NHL). After the drug was approved last September for use in the first-line consolidation setting, sales have continued to grow each quarter, albeit much slower than I anticipated and many shareholders would prefer.
I stand by the argument I made last fall: Zevalin will likely become apart of the standard of care treatment for NHL. The rational, here, is simple. All or nearly all cancer drugs that obtain first-line approval eventually become part of the standard of care treatment that a majority of treating physicians will administer to their patients.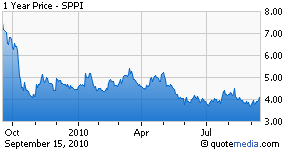 Evidence: Refer to the following
23 cancer drugs
that have been approved by the FDA for first-line use.
Zevalin is now approved for use in first-line consolidation therapy, which follows shortly after initial or induction therapy and generally consists of chemotherapy and Rituxan. Rituxan is manufactured and sold by partners Biogen Idec (NASDAQ:
BIIB
) and Roche (
OTCQX:RHHBY
).
I have been willing to bet that Zevalin will likely follow suit with the other first-line approved drugs and will eventually become part of the standard of care treatment for NHL. Since this is going to take some time, investing in SPPI will require commitment. If you have a short-term time horizon, then SPPI is not likely a good fit for you.
Many of the NHL patients that have received Zevalin remain cancer free after many years. Zevalin works very well for most. Ask my friend, cancer survivor, and now cancer patient advocate
Betsy de Parry
. Take a moment to look over her site. You will find that Zevalin has been a cure for many folks who have previously battled NHL. That's NOT an overstatement. Again, don't take my word for it, ask Betsy and other NHL survivors profiled on her site.
The Evolution of Zevalin from 2008 to 2010
| | |
| --- | --- |
| Date | Articles & Abstracts |
| 6.1.08 | |
| 10.21.08 | |
| 1.10.09 | |
| 10.21.09 | |
| 10.21.09 | |
| 10.21.09 | |
| 8.12.10 | |
| 9.9.09 | |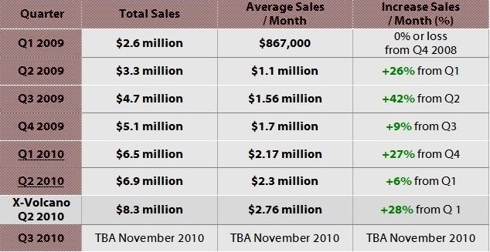 Q2 Zevalin Sales

Zevalin sales approximated $690,000 per week for 10 out of 12 weeks during Q2. Shipment of the drug was interrupted for two weeks due to the eruption of the Icelandic volcano.
Minus the volcano, Zevalin sales would likely have come in somewhere near $8.3 million, representing a quarter over quarter increase of 28%.
It's important to note, SPPI has since contracted with another, new supplier, and Zevalin will now be available in the US for six days each week. Prior to the change, Zevalin was only available two days each week. The move should help curb, if not entirely eliminate, such supply interruptions in the future.
Back to sales growth. If Zevalin sales continue to grow by 28% each quarter over the next two, then sales will surpass $10 million in Q3 and $13 million in Q4 2010. This means, Zevalin sales could touch at or very near $40 million in 2010.
Keep in mind, however, nothing (and I mean nothing) ever runs in a straight line. Please exercise discretion and use good judgment when investing in this high-risk, high-reward environment. In addition to setting sell stops, investors should make it a practice to purchase puts to hedge long stock and/or call option positions. If you fail to set sell stops and hedge positions, you will lose your money. This, I can guarantee.
Potential Upcoming Catalysts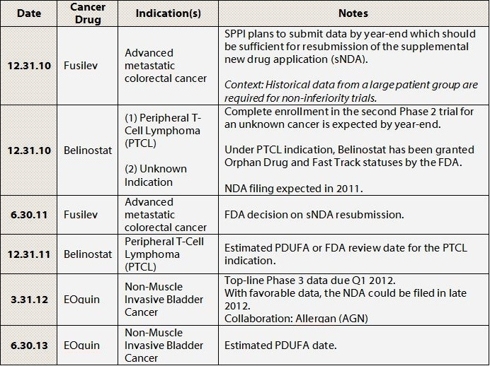 Fusilev

On October 9, 2009, SPPI was dealt a setback when the FDA blew off the company's supplemental new drug application (sNDA) for Fusilev or levo-leucovorin, a pure form of leucovorin, for advanced colorectal cancer patients and in combo with 5-FU.
In early 2008, the Feds approved Fusilev under orphan designation for patients with osteosarcoma.
During a shortage of generic leucovrin in
late 2008 and early 2009
, the Centers for Medicare and Medicade said Fusilev was a reimbursable alternative to the generic version. Head spinning yet? So, CMS, an agency of the US federal government said that it would pay for Fusilev when used to treat advanced metastatic colorectal patients in late 2008 and early 2009. Yet the FDA, another agency within US federal government, would NOT approve Fusilev for the advanced metastatic colorectal cancer indication in October 2009. That's nice.
In their response to the company, the FDA said that SPPI did not demonstrate in their sNDA that Fusilev was non-inferior to generic leucovorin. At the time, it looked like SPPI would have to conduct another trial - a non-inferiority trial.
Non-Inferiority (NI) Trials

- Objective of NI Trial:
The new drug (Fusilev) must show that it is not less effective than the standard treatment (generic leucovorin).
- NI trials are usually difficult to conduct due to the likelihood of mathematical errors.
- The NI trials involve much larger sample sizes (number of patients) than superiority trials.
- The various therapies that may be administered to patients "can confound any NI analysis."
- Regarding NI trials, overall survival is the best endpoint. Other endpoints such as overall response rate (ORR) time to progression (TTP) and progression-free survial (PFS) are "problematic."
Source:

FDA
Well, it now appears that SPPI may not have to conduct an expensive NI trial after all. The company expects to resubmit the required data to regulators by year-end 2010. So, the FDA will likely take up the Fusilev resubmission on or prior to June 30, 2011.
With yet another shortage of generic leucovorin ongoing right now, I wonder if the FDA will actually do the right thing and approve Fusilev after a second look. Hmmm . . .
2010 Leucovorin Shortage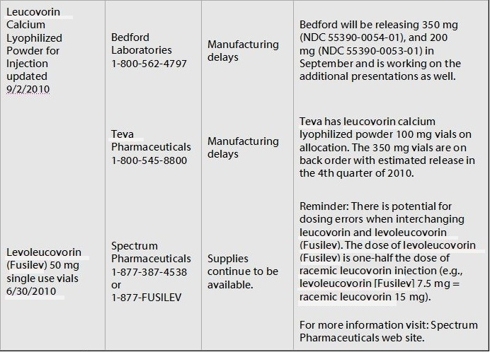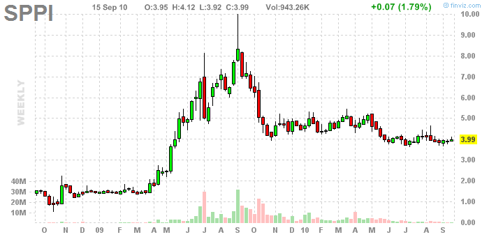 CONCLUSION

With $94.5 million, SPPI remains financially sound and trading just above 2X its cash value.
Over the next several quarters, Zevalin sales should continue to grow.
Fusilev is likely to be re-reviewed by US regulators and could be approved by June 2011. Until then, SPPI should continue to benefit from the current
leucovorin shortage
.
Belinostat could be approved in late 2011 to early 2012, and Eoquin 2012-2013.
Looking ahead, it should be evident that SPPI is packed with a number of very good opportunities.
Zevalin growth coupled with one or more favorable regulatory outcomes should translate into a significantly higher stock price for shares of the company.


Disclosure:
Long SPPI.