Introduction
Creating and designing a retirement portfolio capable of meeting your income needs has always been challenging. This has become especially difficult considering the current state of both the equity and debt marketplaces today. Bonds (fixed income) offer little in the way of income due to today's low interest rates, which also turns their classically safe risk profile upside-down. Conversely, many fear that the current "Bull Run" in equities might be long in the tooth, which has driven many equities to becoming overvalued, and therefore also more risky than normal.
At this point, I feel it is prudent to add that I am a strong advocate of adequate and proper diversification. On the other hand, I do not believe in over-diversification or what Peter Lynch is credited with calling diworse-a-fication. Additionally, I do not believe in diversifying just for the sake of being diversified. If a given asset class does not make sound economic sense, I consider it illogical to invest in it just because others say I should. In today's marketplace, I consider the bond market a case in point.
However, allow me to elaborate. When I did utilize bonds as an investment choice, and for most of my career I did, I always implemented a laddered bond portfolio approach. What I liked best about laddering was the flexibility that a laddered bond portfolio provided. When any of my shortest duration bonds matured, I had the choice of reinvesting into the same duration of short maturities if I believed interest rates were on the low side of the cycle. Conversely, if I felt interest rates were on the high side of the cycle I could invest my matured bonds into longer maturities to lock-in the higher yields. And of course, I could continue holding my other bonds to maturity and continue this process as each rung on the ladder became available.
Unfortunately, given today's extremely low level of interest rates, the only maturities I would consider for even a second, are the shortest. But unfortunately, there is virtually no yield available on short-term high-quality bonds. Therefore, since the risk of price volatility in the event that future interest rates rise is so high with longer-term, and even intermediate-term bonds, I do not currently consider either of them a viable option today. Yes, bond prices do fluctuate, and with today's interest rates so abysmally low bond prices could potentially fall as much or more than stocks ever have.
Furthermore, I was fortunately taught at a tender age that there are really only two asset classes. They are equity or debt. My early teachers referred to the two broad asset classes as "loaner-ship or owner-ship." Therefore, you either had the option of loaning your money at interest, or becoming an owner that participates in the profit or loss of your equity of choice. In this context, there are many sub asset classes within these two broader classes. With loaner-ship (fixed income) there are bonds, CDs, fixed annuities, notes of various kinds, money market instruments, etc. With owner-ship (equity) there are stocks (private or public), real estate (to include REITs), commodities, gemstones of all kinds, precious metals of all kinds, livestock, collectibles and anything else that you can own.
Moreover, although virtually all fixed income instruments (loaner-ship) pay interest or generate income in some fashion, the same cannot be said about all equity options (owner-ship). For those desirous of, or in need of current income, the choice is pretty much limited to common stocks or income producing real estate. Consequently, at least for income investors, the choices are not as extensive as they are for investors most interested in total return or maximum gain.
The State of the S&P 500 (the Stock Market) Today
Since the beginning of 2009 the stock market, as measured by the S&P 500, has generated a strong and long bull market run, as evidenced by the following earnings and price correlated F.A.S.T. Graphs™. The orange line on the graph represents a P/E ratio of 15 representing fair value. Moreover, as the stock market recovered from the Great Recession the S&P 500 generated operating earnings growth of 14.6% which is more than double its long-term average. Clearly, monthly closing stock prices (the black line on the graph) have closely tracked and correlated with earnings since the beginning of 2009.
Consequently, there are two important considerations that I asked the reader to focus on. First of all, the S&P 500's stock price is clearly above the orange fair value line with a blended P/E ratio of 17.3. Therefore, it is only logical to conclude that the S&P 500 is now moderately above fair value, but not excessively so. In my view, this vividly reveals that stocks in the general sense although moderately overvalued, are nowhere near bubble territory. Yes, it is true that the S&P 500 currently sits at an all-time high, but it is also true that earnings are simultaneously at an all-time high. Consequently, I believe this illustrates that the Bull Run since the beginning of 2009 is mostly justified based on earnings and stock price rising together.
Furthermore, my second point for consideration is also crystal clear. Common stocks, as represented by the S&P 500 are certainly no longer the bargain they were in early 2009. However, and I consider this vitally important, it does not logically follow that all stocks are now overvalued. This is an index comprised of 501 common stocks, and within the group investors willing to look hard enough will discover that some are in fact overvalued even dangerously, some are moderately valued, some are fairly valued, and believe it or not, some are undervalued today. Nevertheless, the evidence supports the notion that finding good value at today's market levels might be difficult.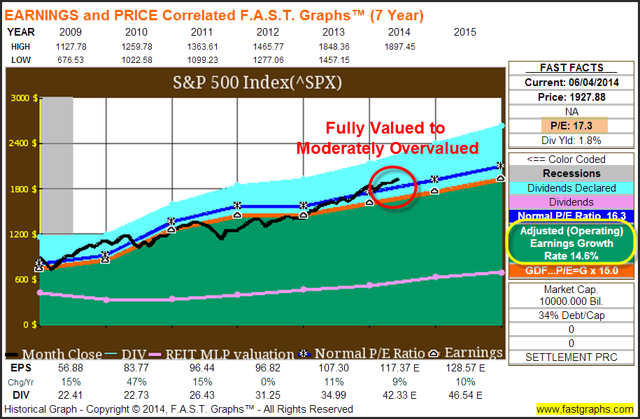 For added reader perspective I present the following performance results of the S&P 500 since the beginning of 2009 to include dividends paid. I do not believe it's an accident that performance correlates very closely with the S&P 500's earnings achievement over this time frame.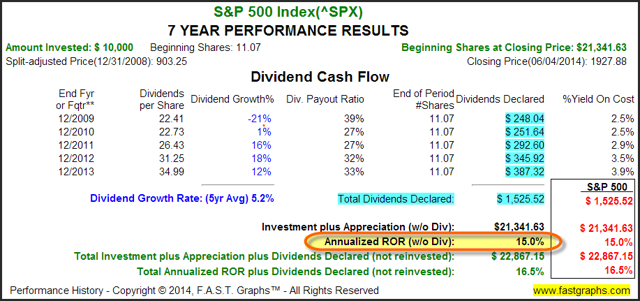 Twenty Fairly Valued Dividend Champions or Aristocrats
On the other hand, as I repeatedly emphasize, I believe in a market of stocks instead of a stock market. Therefore, I further believe that good value can be found in all markets, even moderately overheated ones like we find ourselves in now. In my most recent article found here I suggested that the blue-chip dividend paying companies found on either the Standard & Poor's Dividend Aristocrats or fellow Seeking Alpha author David Fish's Dividend Champions lists of companies that have increased their dividend every consecutive year for 25 straight years or more represented a fertile field of research candidates for the dividend growth investor.
Consequently, I surveyed the list of 105 Dividend Champions, which incidentally cover the majority of the Standard & Poor's Dividend Aristocrats as well, to see if I could find worthy research candidates at fair value. Fellow Seeking Alpha author David Van Knapp covered this extensively in a past article found here. Frankly, my results were mildly disappointing, but not completely. In one sense, I was shocked to only find 20 fairly valued research candidates that I would be willing to share with readers within the group. This supports the fear and/or claim that stocks are overvalued today. However, it does not support the belief that all stocks are overvalued. Even with the universe of only 20 fairly valued research candidates, today's income investor is provided ample opportunity to construct or augment a diversified dividend growth portfolio. Since I believe in "time in the market" over "timing the market," I was gratified to find what I did.
Therefore, I offer the following portfolio review of the 20 research candidates I felt comfortable sharing. For the reader's convenience, I have broken the 20 candidates down in the segments based on market-cap and earnings growth rates. Between each segment I will offer a sample or two of candidates that I believe support the dividend growth investor looking for places to invest for income in today's moderately overheated equity marketplace.
At this point, I want to be clear that I'm not suggesting that each and every candidate would meet the goals, objectives and risk tolerances of each and every dividend growth investor. However, the list is diverse and should provide attractive candidates for most every dividend growth investor. Therefore, I do believe that within this group of 20 Champions there exist opportunities that could meet each specific investor's needs. In this context, I am suggesting that readers interested in, or in need of places to invest money today for income, growth or both, pick and choose among the group.
But even more importantly, each of these candidates are offered as a potential candidate worthy of conducting a more comprehensive research effort and due diligence on. In other words, they are offered as potential opportunities and not as my specific buy recommendations. Additionally, although I consider all of these names reasonably priced today, there are some that I would suggest patiently waiting for perhaps a more opportune entry point. As a general statement, these would include any name on the list with a current P/E ratio above 15 (see pink highlights). However, there are a few exceptions; Procter & Gamble is one that I will feature individually.
Each portfolio table includes fundamental metrics in order as follows:
-Current P/E ratio
- Normal historical P/E ratio since 1996
- Current dividend yield
-The subsector
-Market Cap
-Estimated earnings per share growth.
As previously stated, following each portfolio segment I will feature a sample or two with commentary and a brief business description courtesy of Standard & Poor's Capital IQ. Once again, and I repeat, although I believe that each constituent on this list is worthy of further research and consideration, they are not presented as my buy recommendations. I personally do not believe in offering so-called "stock picks or tips." Instead, I consider it more honest to provide opportunities for each individual reader's consideration. My position is that not every stock is for every investor, nor is a stock that meets my goals necessarily appropriate for everyone else.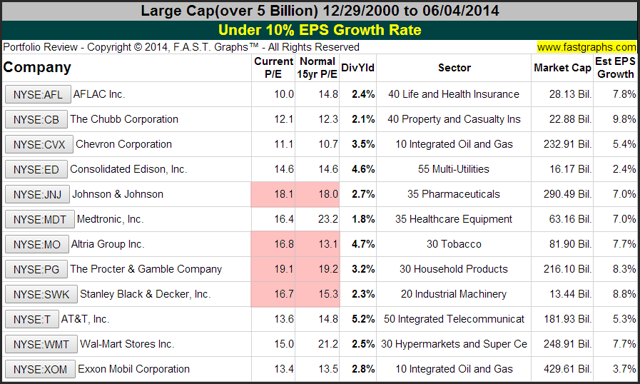 AT&T Inc (NYSE:T)
AT&T Inc provides telecommunications services in the United States and internationally. The company offers its services and products to consumers in the U.S. and services and products to businesses and other providers of telecommunications services worldwide. The company groups its operating subsidiaries as follows, corresponding to its segments: Wireless subsidiaries provide both wireless voice and data communications services across the U.S. and, through roaming agreements, in a substantial number of foreign countries; and Wireline subsidiaries provide primarily landline voice and data communication services, AT&T U-verse high-speed broadband, video, and voice services (U-verse) and managed networking to business customers.
The company's local exchange subsidiaries operate as the incumbent local exchange carrier (ILEC) in 22 states: Alabama, Arkansas, California, Connecticut, Illinois, Indiana, Florida, Georgia, Kentucky, Louisiana, Kansas, Michigan, Mississippi, Missouri, Nevada, North Carolina, Ohio, Oklahoma, South Carolina, Tennessee, Texas and Wisconsin (22-state area).
AT&T Inc has recently been covered by many authors on Seeking Alpha, and I believe for good reason. In today's low interest rate environment, its current dividend yield in excess of 5% is very attractive given the quality of the company. Additionally, I believe its current valuation (P/E ratio of 13.6) represents a sound and solid entry point, especially considering the general market valuations discussed above. However, what the company offers in current yield is somewhat counter-balanced by its moderate historical and expected future earnings growth.
With this example I present two separate earnings and price correlated graphs. The first graph covers AT&T since SBC Communications acquired the company and took on the AT&T name and its iconic brand. Consequently, I feel this time frame best represents the company as it stands today. Furthermore, I found it interesting to see how closely price has correlated to earnings growth over this time.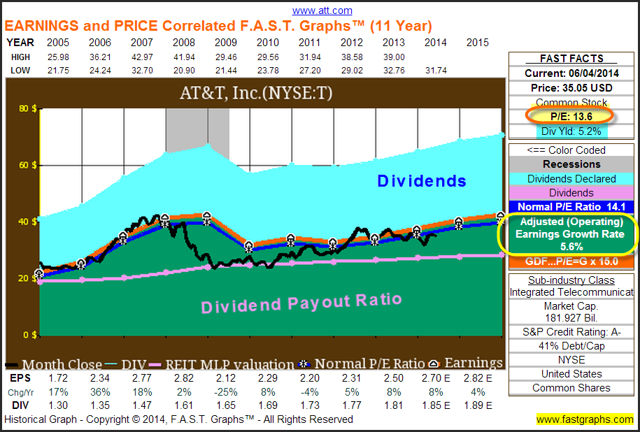 Thanks to the dynamic capability of the F.A.S.T. Graphs™ research tool, I felt the earnings and price correlated graph since the beginning of 2010 was also revealing and hopefully of interest to the dividend growth investor. AT&T's earnings growth rate of 4.9% during this time frame was approximately one-third of the 14.6% earnings growth rate of the S&P 500. Consequently, as we will see with the following performance graph, capital appreciation also significantly underperformed the S&P 500 over this time frame. On the other hand, as the performance report will also reveal, AT&T provided more than twice as much dividend income than the S&P 500 over this time frame.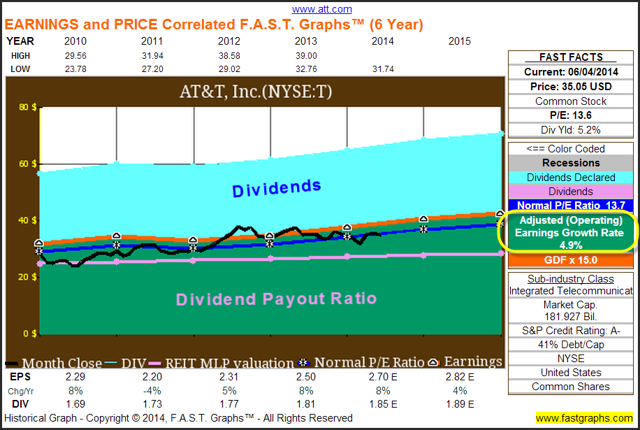 As the performance report below depicts, capital appreciation significantly underperformed compared to the S&P 500. However, dividend income was more than double the S&P 500, and considering the impeccable quality of this A- rated Dividend Champion, I believe this company should interest the retired investor in need of current income. Investing is not always about the highest total return; safety and income are also important and have an appropriate place in the prudent retiree's portfolio.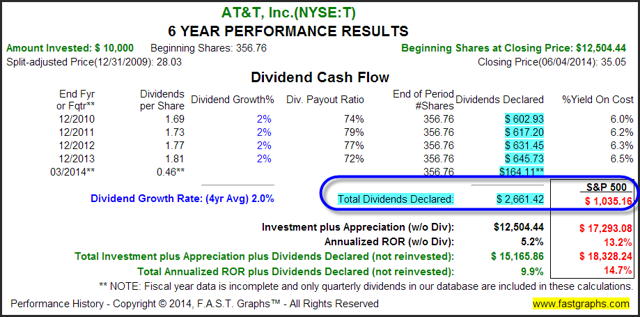 Since I am contending that the primary attractiveness of AT&T is safety and high current income, I felt it would be prudent to evaluate cash flow per share (cfpls) and dividends paid per share (dvpps). The following FUN graph (fundamental underlying numbers) illustrates that AT&T's cash flow per share significantly covers the company's dividends.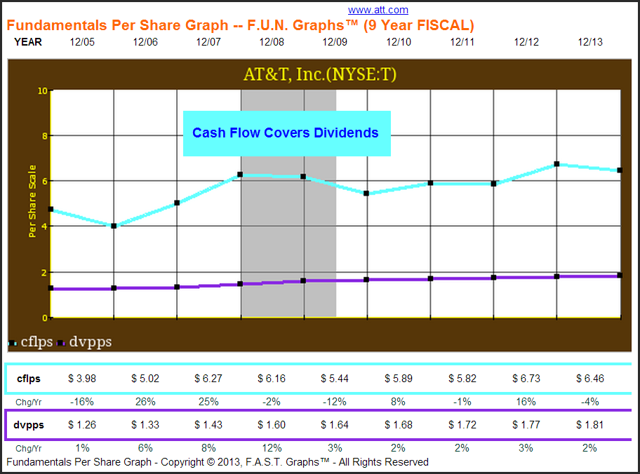 Additionally, a review of their common shares outstanding (csho) since 2005 shows that the company's share count increased as a result of the merger with BellSouth in 2006. However, they subsequently announced a share repurchase plan in December 2007, and common shares outstanding have been steadily decreasing since.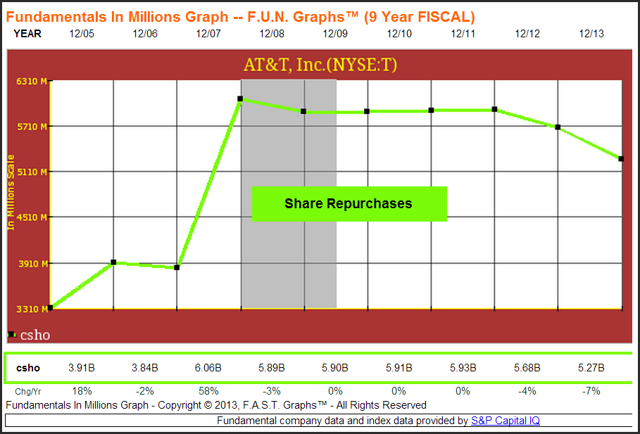 The Procter & Gamble Company (NYSE:PG)
The Procter & Gamble Company provides branded consumer packaged goods. The company's products are sold in approximately 180 countries and territories primarily through retail operations including mass merchandisers, grocery stores, membership club stores, drug stores, department stores, salons, high-frequency stores and e-commerce. The company has on-the-ground operations in approximately 70 countries. As of June 30, 2013, the company had five segments: Beauty; Grooming; Health Care; Fabric Care and Home Care; and Baby Care and Family Care.
As I previously mentioned, Procter & Gamble represents an exception to my typical P/E ratio of 15 signifying fair value rule. The following earnings and price correlated graph illustrates that Procter & Gamble has historically been awarded a premium valuation by Mr. Market. The dark blue line on the graph calculates the historical normal P/E ratio of 19.2 which is approximately where the company is currently valued. Consequently, a case could be made that this high-quality blue-chip with a S&P credit rating of (AA-) is worthy of its historical premium valuation. Additionally, the 3.2% dividend yield offered by this blue-chip is attractive given today's interest rate environment.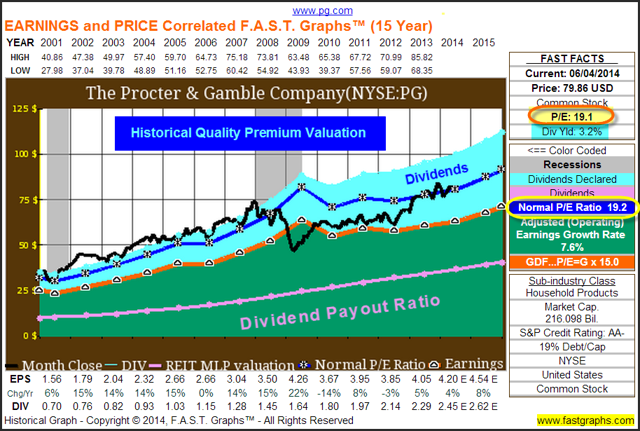 Target Corp (NYSE:TGT)
Target Corporation operates general merchandise stores. The company operates through two segments, U.S. and Canadian. The company sells an assortment of general merchandise and food. Its general merchandise and CityTarget stores offer an edited food assortment, including perishables, dry grocery, dairy and frozen items, while its SuperTarget stores offer a line of food items comparable to traditional supermarkets.
I consider Target Corp an interesting Dividend Champion notwithstanding its current P/E ratio of 16.2. The reader should notice that this blended P/E ratio is based on depressed earnings in 2013 as a result of the company's infamous data breach and the startup costs of their Canadian expansion. According to the company, the profitability of the Canadian operations is improving and analysts seem to agree. Consensus estimates for 2014 and 2015 indicate that Target's profitability will soon return to its normal level and trajectory. Consequently, based on future earnings expectations, the company may be currently on sale.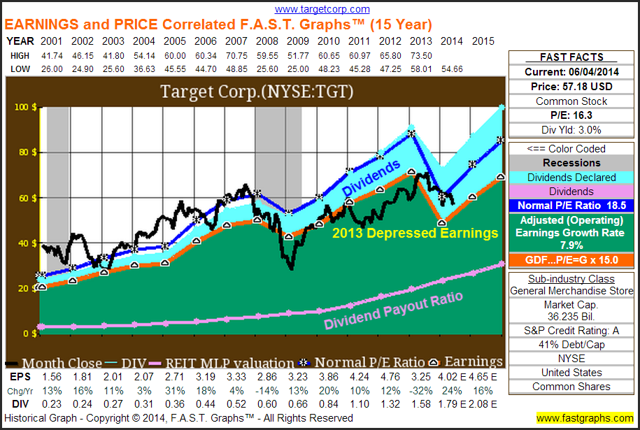 Target Corp's current dividend yield of 3% is also attractive in this low interest rate environment and well covered by cash flows. Consequently, I believe this company offers the potential for both above-average capital appreciation and a growing dividend income stream coupled with a high current yield.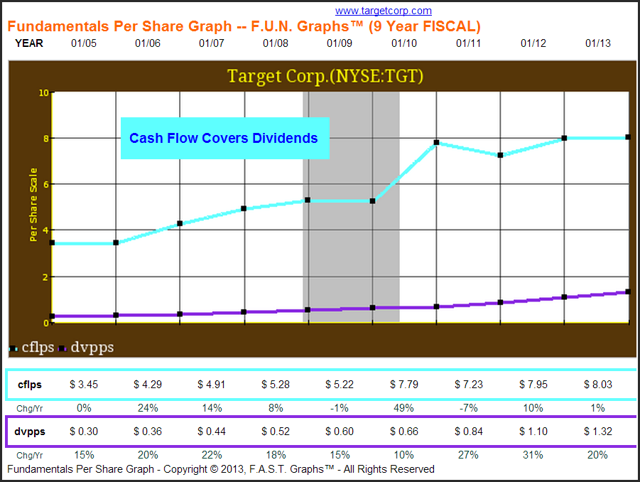 Eaton Vance Corp (NYSE:EV)
Eaton Vance Corp provides investment advisory and distribution services to mutual funds and other investment funds, and investment management and counseling services to individual investors, family offices and institutional clients.
Eaton Vance Corp represents an example of a company that might be worth waiting on for a slightly better entry point. However, from a historical perspective, an argument could be made that the company is currently undervalued. I leave that decision up to the reader's own judgment.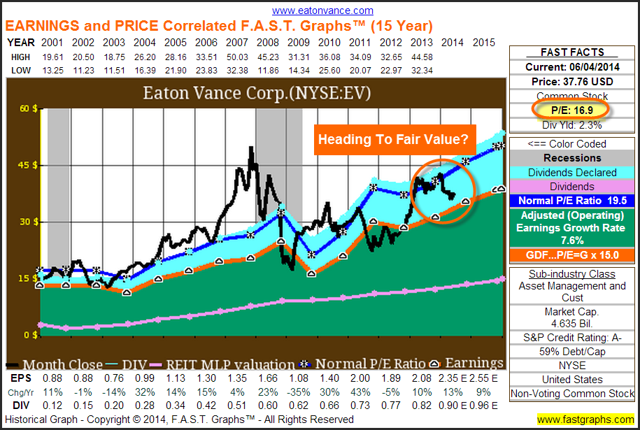 H.B. Fuller Company (NYSE:FUL)
H.B. Fuller Company operates as a formulator, manufacturer and marketer of adhesives, sealants and other specialty chemical products worldwide. Customers use its adhesives products in manufacturing common consumer and industrial goods, including food and beverage containers, disposable diapers, windows, doors, flooring, appliances, sportswear, footwear, multi-wall bags, water filtration products, insulation, textiles and electronics. The company has established various product offerings for residential construction markets, such as tile-setting adhesives, grout, sealants and related products.
H.B. Fuller Company is another example of a company that I would consider fully valued but not overly expensive either. Although this company offers a lower yield than many dividend growth investors would require, it's above-average earnings growth rate may be attractive to investors seeking a higher than average total return. This might be especially appropriate to those in the accumulation phase prior to retirement.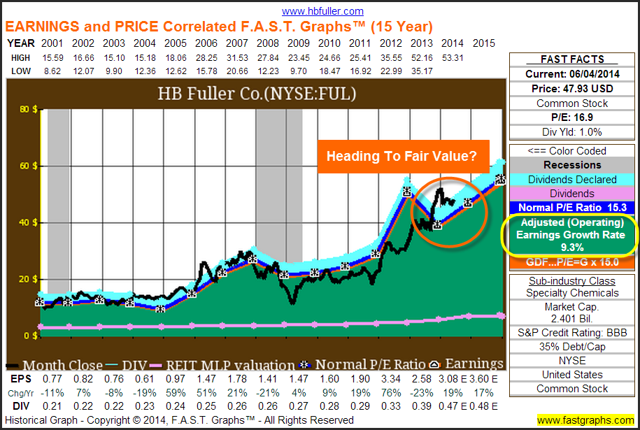 I find it interesting that not only did H.B. Fuller significantly outperform the S&P 500 on a total return basis since 2001, so did its total accumulated dividends paid. This is in spite of the fact that the S&P 500 has a current yield advantage.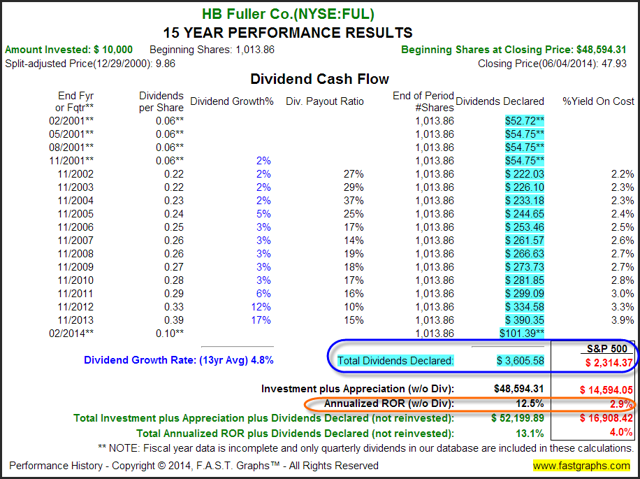 Tompkins Financial Corporation (NYSEMKT:TMP)
Tompkins Financial Corporation, through its subsidiaries, operates as a community-based financial services company in New York and Pennsylvania. The company offers an array of products and services to individuals and small business customers, including commercial and consumer banking, leasing, trust and investment management, financial planning and wealth management, insurance, and brokerage services.
Tompkins Financial Corporation is a small cap Dividend Champion offering with modest growth and a high current dividend yield of 3.5%. I was also attracted to the consistent historical operating results (earnings growth) that this small community bank generated during both of our most recent recessions.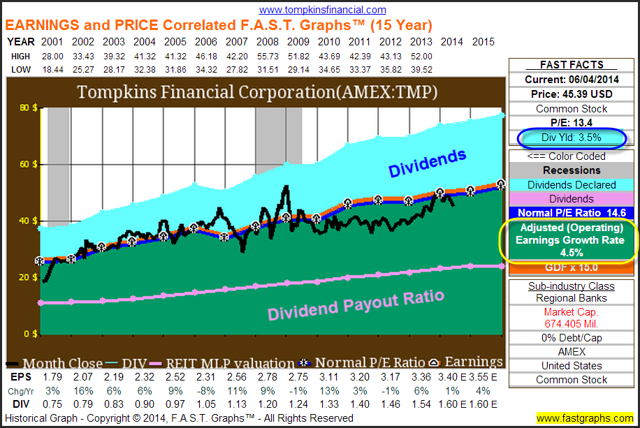 Summary and Conclusions
What was presented here is a list of 20 Dividend Champions that I felt were worthy research candidates for the retired or pre-retired dividend growth investor. Admittedly, I only found approximately 20% of the Dividend Champions reasonably valued or close to it. However, it should be understood that this only represents a small universe of 105 dividend paying stocks that are available. In other words, this list does not represent the only dividend paying stocks that I feel are worthy of consideration today. The universe of dividend paying stocks is much larger and would include Dividend Contenders and Challengers, as well as other dividend paying stocks.
Nevertheless, I felt this group of companies validates my thesis that it is a market of stocks and not a stock market. Moreover, I advocate searching for sound investment candidates in all markets, because I believe that good values can be found in all markets. Stock price volatility is a given, and therefore, a factor that prudent investors must always face and deal with. Consequently, I believe it's a mistake to wait for a market correction that may or may not be just around the corner. In my opinion, the most precious asset that all investors possess is time. The reason that time is so precious is because once it's gone, it's gone forever. Money on the other hand can be lost and made back. Therefore, the more time I spend collecting dividends the better off I believe I will be in the long run. Time in, not market timing is my credo.
Disclaimer: The opinions in this document are for informational and educational purposes only and should not be construed as a recommendation to buy or sell the stocks mentioned or to solicit transactions or clients. Past performance of the companies discussed may not continue and the companies may not achieve the earnings growth as predicted. The information in this document is believed to be accurate, but under no circumstances should a person act upon the information contained within. We do not recommend that anyone act upon any investment information without first consulting an investment advisor as to the suitability of such investments for his specific situation.
Disclosure: I am long AFL, CVX, ED, JNJ, MDT, MO, PG, SWK, T, WMT, TGT. I wrote this article myself, and it expresses my own opinions. I am not receiving compensation for it (other than from Seeking Alpha). I have no business relationship with any company whose stock is mentioned in this article.