Kinross Gold's (NYSE:KGC) shareholders have given the acquisition of African-focused gold producer Red Back Mining a thumbs up, after the deal met some concern from critics over its US$7.1 billion valuation.
In early August, Kinross announced that it would acquire the remaining shares of Red Back that it did not already own for C$30.50 per Red Back share, a premium of around 21% to its July trading price.
Some shareholders were originally skeptical of the deal, as there were concerns of dilution following the merger, while some felt the price of the transaction was too high considering Red Back`s current assets.
The deal will make the combined company the fourth largest gold producer in the world according to 2009 production figures, with a market capitalization of $19 billion.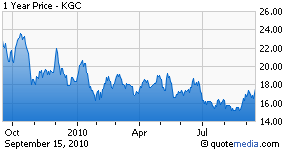 The acquisition of Red Back was approved by approximately 66% of Kinross shareholders at the special meeting held on Wednesday.
"We are pleased by this strong vote of confidence from shareholders on the friendly combination with Red Back, which adds significantly to Kinross' production profile and creates a new leader in growth among senior gold producers," said Kinross president and CEO Tye Burt.
Following the closing of the transaction, Kinross will have ten mines and five growth projects, employing around 7,000 people. The addition of the Tasiast mine in Mauritania is expected to give Kinross one of the fastest-growing rates of production among senior gold producers between now and 2015, it said.
Kinross plans to expand the Tasiast mill from its current level of 10,000 tonnes per day to approximately 60,000 tonnes per day and anticipates completing this expansion program within approximately 36 months, beginning operations at a new mill in the fourth quarter of 2013.
In addition, the acquisition will increase Kinross' proven and probable mineral reserves to 53.2 million ounces, and increase measured and indicated mineral resources to 19.5 million ounces.
Kinross, who already held a 9% interest in Red Back, will give Red Back shareholders 1.778 Kinross common shares, plus 0.11 of a Kinross common share purchase warrant, for each Red Back common share held.
Each whole warrant can be excercised for a period of four years at a price of US$21.30 per Kinross common share. After the deal closes, current Kinross shareholders will hold approximately 63% of the combined company, while current Red Back shareholders will hold around 37%.
The completion of the deal still remains subject to the final approval of the Superior Court of British Columbia, which is expected on Thursday, after which the deal is expected to close shortly.
Kinross is a Canadian-based gold mining company with mines and projects in Canada, the United States, Brazil, Chile, Ecuador and Russia, while Red Back owns and operates the Chirano Gold Mine in Ghana and the Tasiast Gold Mine in Mauritania.
Both companies' shares were up around 4% on the news, with Kinross trading at $18.2 and Red Back going for $32.7 as of 3:27pm ET on the Toronto Stock Exchange on Wednesday.



Disclosure: No position