My Molycorp Inc. (MCP) June 2014 puts are in the red after the stock bounced from its recent 52-week low of $2.44/share. Since I cannot make money on the stock, I decided to look at the bonds. Yesterday a news flash shot across my computer screen that Molycorp bonds had a one-year default risk of 2.76%. Given the company's need for an equity raise, I thought that seemed a bit low, so I decided to do my own due diligence.
Molycorp Indebtedness
The following chart illustrates the company's long-term debt, its rating and where its trading, per FINRA.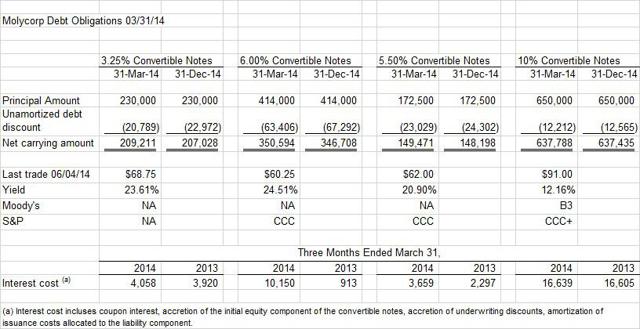 Click to enlarge
Molycorp's long-term debt comprises of three convertible debt instruments totaling approximately $709 million and one senior note of $637 million. As of June 4, 2014, the convertible debentures were trading from 60.25 cents to 68.75 cents on the dollar.
Here is my understanding of the terms of the convertible bonds from the article, Molycorp Hits 52-Week Low of $2.44. What happened?:
It is clear that the convertible debt sits on Molycorp's books as debt for which they pay interest. Up to two days before maturity, note holders have the unilateral right to convert. Molycorp has no such right. There is no automatic conversion. Election to convert will only occur if it makes economic sense to note holders. Absent conversion, this debt must be paid off at maturity.
The $637 million 10% notes are senior to the convertible debt and will be repaid first in case of bankruptcy. The notes trade at 91 cents on the dollar, reflecting their senior status.
Molycorp recorded interest expense of approximately $35 million on all of its long-term debt in 1Q 2014.
Molycorp Cash Flows
The following chart displays Molycorp's actual cash outflows for 1Q 2014, and estimates thereafter.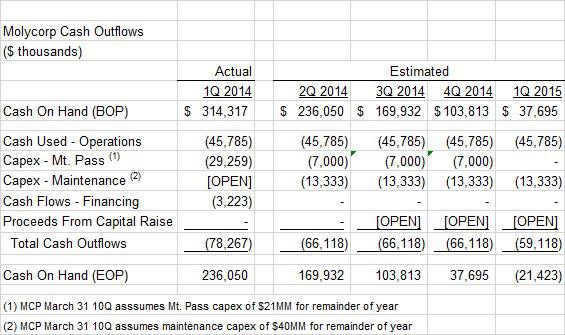 Molycorp generated cash outflows of $78 million in 1Q 2014, leaving the company with cash on hand of $236 million.
Cash used from operations includes interest expense of approximately $35 million recorded on long-term debt.
Projections assume cash used in operations of $46 million do not improve or worsen.
Maintenance capex is $13 million per quarter. Capex for Mountain Pass is $21 million for the rest of 2014, and $0 thereafter.
Based on these high level projections, Molycorp will run out of cash in 1Q 2015. The company will not be able to pay interest on its long-term indebtedness, let alone principal.
Molycorp will essentially be bankrupt in 1Q 2015, unless it raises capital beforehand. Sans an equity raise, the bonds will most likely go into default this year.
The discount on the company's long-term bonds do not reflect this risk and therefore, are overvalued.
Conclusion
Molycorp recorded approximately $35 million in quarterly interest expense on long-term debt of $1.3 billion. Unless it raises capital by 1Q 2015, the company will most likely be unable to repay the interest or principal on the bonds. The price of the bonds do not reflect this risk. Therefore, I rate the bonds a sell.
Disclosure: I am short MCP. I wrote this article myself, and it expresses my own opinions. I am not receiving compensation for it (other than from Seeking Alpha). I have no business relationship with any company whose stock is mentioned in this article.
Additional disclosure: I own June 2014 puts and September 2014 puts