General Motors (NYSE:GM) CEO Mary Barra recently fired fifteen employees-including several senior level executives-following neglect over faulty ignition switches and related deaths.
More Victims Uncovered
GM was faced with evidence of the link between 13 deaths and its Chevrolet Cobalt and Saturn Ion models. However, media sources may have found further links to fatalities involving the Ion, a legal problem that will continue to dog the car company well into the future.
Faulty Ignition Systems, Failure To Disclose
At issue were defective switches that cut off power to the vehicle, leading to sudden hazardous stops as well as problems with deployment of air bag systems.
The problem with the ignition system in some models became known to GM engineers as far back as 2001; however, management considered the cost of repair or replacement of the faulty systems and decided to do nothing to correct the obvious problems.
Both media and transportation safety agencies have reviewed data involving the vehicles in question and found higher rates of crashes in the Cobalt and Ion models in comparison with similar vehicles such as the Ford Focus, Toyota Corolla and Honda Civic. The data suggests the GM vehicles have significantly higher rates of front-end crashes and fatalities, in even greater numbers than those acknowledged by GM.
An Inadequate Response
In 2014, General Motors announced a recall of the vehicles and was under investigation for failing to correct the defect that may have killed as many as 13 people. The U.S. Department of Transportation levied a $35 million fine on the company, finding widespread knowledge of the ignition problem at all levels of the company.
The numbers of drivers injured or killed by the faulty system is only partly known at the current date. Although data from the Fatality Analysis Reporting System, or FARS, makes a significant case against the questionable vehicles, the compilation only considers accidents to 2012, which means that additional fatalities between 2012 and 2014 may not be included.
To date, GM has 15.8 million vehicles covered under the recall globally, which is more than the number sold in the U.S. in 2013. The company may have to deal with a barrage of personal injury lawsuits in the years to come in regard to their actions in response to the defective part.
Purging Of Senior Management
Today, June 5, CEO Mary Barra announced her firing of fifteen key employees-a 'disproportionate number' of whom 'were in senior roles or executives,' according to Barra. These included switch engineer Ray DeGiorgio and development engineer Gary Altman, along with others, who simply "didn't take action."
While no specific company conspiracy was found in a recently published report, commissioned by Barra and conducted by former U.S. attorney Anton Valukas, the findings did reveal "Incompetence and neglect" (in Barra's words) along the supply chain as numerous employees failed to fix the critical ignition issue.
The GM Outlook
Barra described Valukas' report as "enormously painful" for her. It's likely going to continue to hurt GM shareholders as well.
The recall announcement and safety concerns have had a significant impact on GM's stock price, dragging it down 20 percent this year.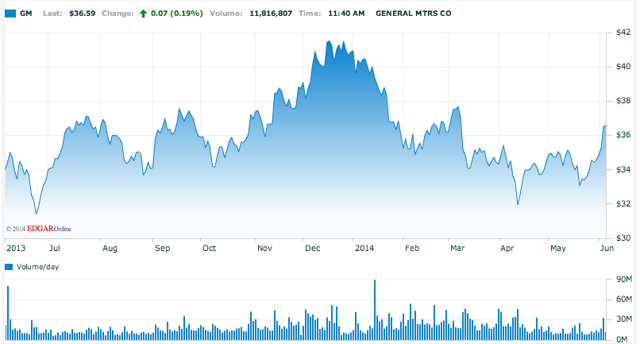 (Nasdaq.com)
The company is expected to spend $1.7 billion for recall efforts during the first two quarters of the year.
GM remains positive on a few fronts, noting a 3.5 percent increase in sales over the same period last year. (Perhaps car buyers have factored in the bad news from the Cobalt and Ion vehicles and are willing to accept the company's reassurances.) GM is also increasing its presence in China's growing market.
However, a number of other shoes are likely to drop before GM can put this unfortunate episode in the past. Replacing top engineers and senior executives will likely take more than one quarter to play out; and all the while, GM rivals Tesla (NASDAQ:TSLA) and Ford (NYSE:F) are innovating with electric vehicles.
Investors would do well to take these points into account and consider taking profits as they look toward the rest of 2014.
We invite readers wishing to join the discussion on GM to click the +FOLLOW button above the title of this article and follow @DRDInvestments on twitter.
Disclosure: I have no positions in any stocks mentioned, and no plans to initiate any positions within the next 72 hours. I wrote this article myself, and it expresses my own opinions. I am not receiving compensation for it (other than from Seeking Alpha). I have no business relationship with any company whose stock is mentioned in this article.