Panasonic (OTCPK:PCRFY) and Tesla Motors (NASDAQ:TSLA) will be working together on the development of the first "Gigafactory" in the U.S. Recently, Panasonic signed a letter of intent (LOI) to partner with Tesla on its investment into the Gigafactory.
Tesla Motors is an American car company that designs, manufactures, and sells electric cars and electric vehicle power-train components. In February 2013, Tesla Motors announced its plans to build a giant $5 billion Gigafactory to help supply and reduce the cost of battery cells for its electric vehicles. In its announcement, Tesla said it would be contributing $2 billion, and that it would need partners to supply the gap in funding.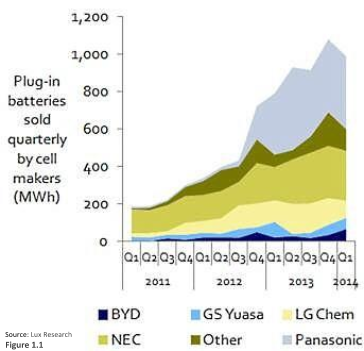 Panasonic Corporation is a Japanese multinational electronics corporation that manufactures, markets, and distributes various electronic products under the Panasonic brand worldwide. Panasonic is the world leader in supplying hybrid and plug-in batteries with an estimated 39% market share. Panasonic has been supplying Tesla with the battery cells required for its EV since Tesla made its low-volume Roadster between 2008 and 2012. With Panasonic signing an LOI with Tesla, it plans to continue its dominance within this market, growing its global market share (NEC, Panasonic's next closest competitor by market share, has nearly 45% less market share).
Panasonic is planning to grow its Automotive Systems group into a much larger portion of overall sales starting with this investment. Currently, Panasonic's Automotive Systems group, which includes the manufacturing of the batteries used in EV and Hybrid Vehicles, is less than 1/10 of its overall revenues in 2012. We expect this market (still in its early stages of growth) to continue to grow rapidly with an accelerating rate over the next dozen quarters. Panasonic is expected to continue to grow its market share within this market as well.
The graph in figure 1.1 above shows the phenomenal growth and rapid rise of Panasonic within the automotive battery market, beginning in late Q3 and Q4 of 2012. Not coincidentally, this time frame correlates with the greater availability of the Tesla Model S, which was released to the retail public at the very end of Q2 2012, with deliveries ramping up throughout the remainder of the year. Due to the massive number of Panasonic battery cells required for each Model S (the 85 kWh battery pack contains more than 7,100 lithium-ion battery cells), Panasonic's battery sales took off. Both Tesla and Panasonic see this segment expanding very rapidly throughout the next decade, as evidenced through their partnership.
There are two reasons for Panasonic to sign an LOI. First, Panasonic is buying a "call option" (the right to buy at a set price by a specific date) on its investment into the Gigafactory. Second, the LOI signals its intent to competitors and the market as a whole. In other words, Panasonic is treating its investment decision as a series of individual options.
The LOI will give Panasonic the right to buy into the underlying (the Gigafactory), but not the obligation to do so, allowing discussions to proceed. When an agreement is reached, Panasonic will exercise its first option, entering an agreement with Tesla, and receive another "call option." At expiration, Panasonic will either invest more money (purchase another option) or pull out of the investment (let the option expire).
With an investment of this size and the not-so-subtle hinting by Tesla about its intended partner, the entire process has been thrown into the financial media's limelight. By signing the LOI, both parties are signaling to the market that the process is moving along as planned. Panasonic is also indicating to competitors to stay away from Tesla's Gigafactory investment. This news tends to illicit a positive reaction in the stock market, showing commitment to each other and the investment.
Yoshio Ito, Panasonic's senior managing executive officer, head of the battery manufacturing unit, has said that Panasonic plans to invest gradually as the Gigafactory rolls out. Panasonic approaching its investment in this manner greatly reduces the risk associated with investing in such a monumental factory -- unlike its investment approach into plasma screen TV nearly 15 years ago. At the time, it rushed into market, investing $5 billion into plasma screen TV production, only to lose a majority of its investment when LCD TV became the market's technology of choice. Panasonic completed its pullout of plasma screen TV manufacturing in 2013. Watch for Panasonic to start using a more modern approach to the investment process throughout its divisions as 2014 moves forward.
Look for more news on this to come over the next couple weeks. I expect Panasonic's stock to do well over the next six to 12 months.
Disclosure: I have no positions in any stocks mentioned, and no plans to initiate any positions within the next 72 hours. I wrote this article myself, and it expresses my own opinions. I am not receiving compensation for it (other than from Seeking Alpha). I have no business relationship with any company whose stock is mentioned in this article.
Editor's Note: This article discusses one or more securities that do not trade on a major U.S. exchange. Please be aware of the risks associated with these stocks.