ETF Spotlight on PowerShares DB Agriculture (NYSEARCA:DBA), part of a weekly series.
Assets: $2.1 billion
Objective: Tracks the Deutsche Bank Liquid Commodity Index Diversified Agriculture Excess Return
Holdings: Composed of futures contracts on agricultural commodities, including cattle, cocoa, coffee, corn, wheat sugar and soybeans.
What You Should Know
Like most commodity ETFs that hold futures contracts, contango is a factor; when the spot price is lower than the futures price, funds can lose money when contracts are rolled forward to the more expensive contract.
One of the most compelling reasons to invest in commodities is to participate in global growth. Developed economies show high demand for a variety of commodities, while newly-minted middle classes in emerging markets are increasing their demand.
Commodities are also an effective hedge against inflation, though this isn't an immediate concern.
A basket of futures is one of the easiest ways for an investor to play commodities; managing a slate of futures contracts yourself and rolling them at the appropriate time is a time-consuming and expensive endeavor.
The Latest News
Purchases of U.S. beef around the world have surged while U.S. herd numbers are down. The shortage has driven up the futures market for cattle by 11% since early July to nearly $1 a pound, just shy of the $1.04 record set in 2008.

Poor crops in Russia and Eastern Europe have caused international wheat prices to jump more than 50% since June. Many are hoping that the United States will pick up the slack.
There's a coffee bean shortage right now. Fueling the price spike further is a weak harvest and a world growing increasingly full of coffee drinkers. Brazil's harvest may be the savior and ease things, but the catch is that Brazil tends to keep a lot of its crop for itself an the crop is expected to be lower than in years past, anyway.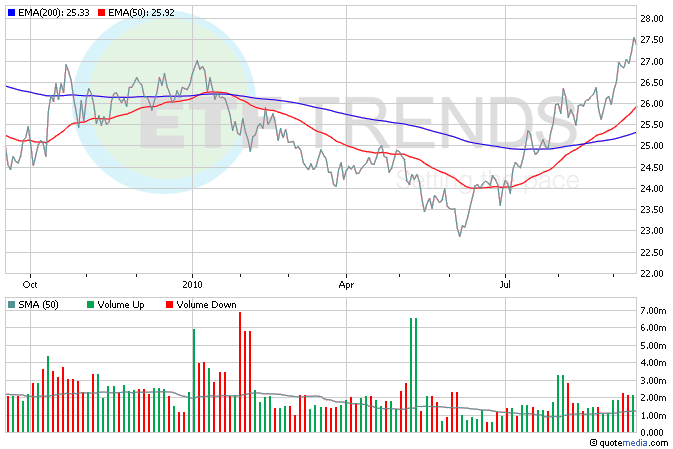 Disclosure: None