Today I am going to focus on General Electric (GE), which happens to be a key component within all of my retirement portfolios, including our newest one, BTDP, or "Buy The Dips Portfolio". Before I get into the reasons I have large positions in each portfolio, let me touch on the sore subject that affected shareholders dramatically: The company cut its dividend, when Jeff Immelt promised it wouldn't.
A Dividend Cut That Was Felt Around The World
The bottom line reason for this was because if it did not cut the dividend, the triple AAA credit rating would have been gone and would have placed GE into a difficult position for many years after. To avoid having that happen, Immelt chose the lesser of two evils, and cut the dividends dramatically after a continuous run over 30 years of dividend increases.
General Electric Company once reigned as the largest company in the world and was a popular choice among dividend seeking investors. GE had paid a dividend since 1899, was a dividend aristocrat with 32 consecutive years of dividend increases, and had not cut its dividend since 1938. In early 2009 though, GE did the unthinkable and cut its quarterly dividend from $0.31 to a mere $.10. The dividend was cut in order to save $9 billion annually and maintain its AAA credit rating. Although this move ultimately allowed GE to get back on its feet, the dividend cut left a great deal of jaded investors who lost two thirds of their income that came from once reliable GE dividends.
The choice was either pour the money back into the business by using the more than $9 billion in dividends to have been paid, for revamping the core businesses, or having the real threat of not being able to borrow efficiently and potentially continuing down the rabbit hole and never coming back.
Here is the chart that was not pretty at that time: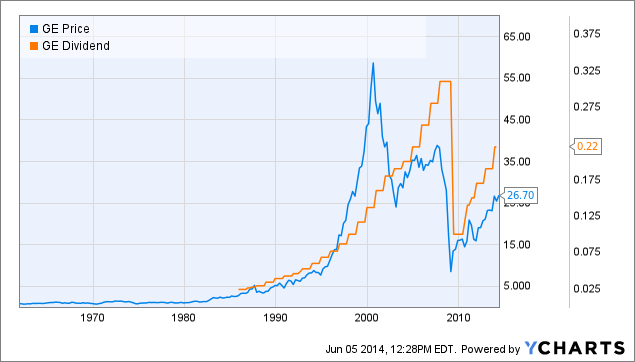 As you can plainly see, 2009 was the year of the "Great Dividend Cut," and since that time, and also prior to that when the former CEO, Jack Welch, left in 2000, set the company careening in a downward spiral. Interestingly enough it was Welch who created the monster that caused all of the problems -- GE Capital. While the share price dropped from nearly $58/share down to about $26 in just 2 years, the dividends continued to be paid.
It wasn't until the financial crises and the "Great Recession" that GE and Immelt had to bite the bullet, because of GE Capital.
Investors can choose two paths; focus on the past, which is dead and buried, or look at the company today and see how this gigantic conglomerate should be in your portfolio now, and for the future.
The Company Is In Just About Every Meaningful Business On Earth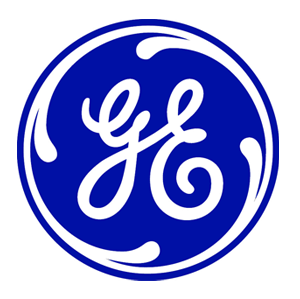 All one needs to do is to glance at this page of the company website to see how long the GE tentacles reach. It truly is a part of everyone's life.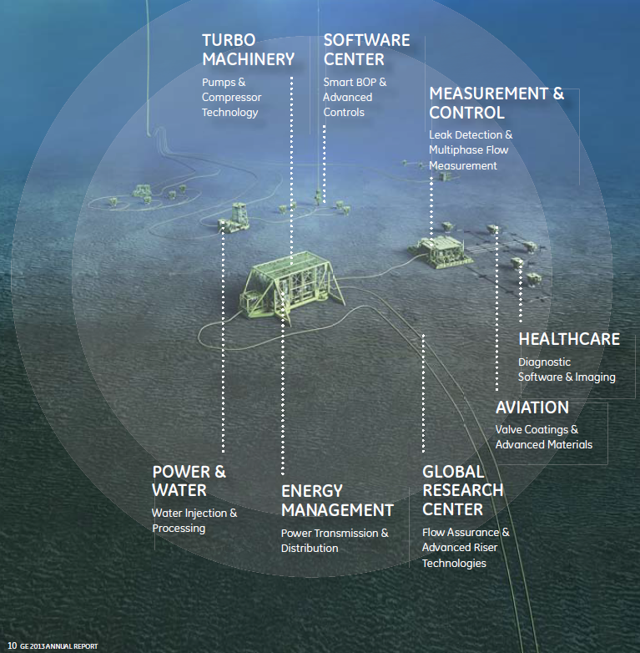 Appliances for both business and consumers.
Aviation, electronics, power (every form of energy), healthcare.
Housewares, industrial solutions, consumer and business lighting (don't forget the GE lightbulb!), transportation, business consulting, medical equipment, and home improvement.
GE Capital or GECC.
I saved GE Capital for last because that division is not being relied upon as it was back in the Jack Welch days, to create earnings, revenues and greater ongoing shareholder value. That is not to say that the division is tiny now, but soon we will finally see the company either sell the division outright, or spin it off as a completely separate entity. Following the spin-off, the company anticipates 70% of the total operating earnings to come from its industrial business by 2015, as GE will become a manufacturing based company.
From the 2013 10k:
On November 15, 2013 we announced that we intend to pursue an initial public offering (IPO) of our North American Retail Finance business (Retail Finance) as a first step in a staged exit from that business. We plan to file a registration statement with the U.S. Securities and Exchange Commission (SEC) in the first quarter of 2014 and complete the IPO later in 2014.
Keep in mind, the company has reduced this division by about 30% over the last several years in the meantime, as you can see by this chart from the annual report: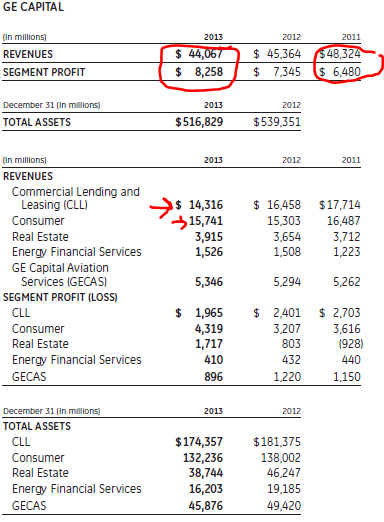 Any de-emphasis on GECC will free up cash for other business sectors that will propel the company far into the future, and create greater revenues and earnings without reliance upon the finance division.
The Global Footprint Is Unchallenged
For any company of just about any size to move quickly into emerging markets as well as mature global markets is a task. For GE, it has become a focus of the entire organization. The key is not just the amount of revenue that comes from any one area, but in how many areas globally, GE is growing within: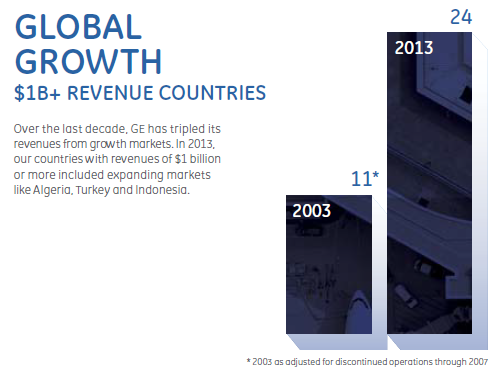 From the annual report, 24 countries are bringing in increased revenue of over $1 billion each, from just 11 countries, a decade ago. That is rapid growth for any company, let alone one the size of GE.
Here is a general breakdown, also from the annual report, of global business: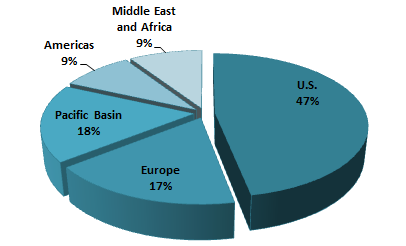 On top of this, we now know that Latin America has come to the party in an even larger way:
General Electric Company is expecting $10 billion worth infrastructure orders from Latin America during the current fiscal year which could help the company to report 10-15% revenue growth in this region for at least next couple of years. In addition, infrastructure order would allow the company to reduce its exposure to the financial sector while strengthening its focus on the industrial manufacturing services for transportation, power generation, water and oil. The large orders from Latin America are mainly driven by local surge in demands for improve facilities related to basic amenities and wellbeing. The Latin American growth is mainly expected from markets in Argentina, Chile, Colombia and Peru which could substantially offset the Brazilian slowdown. (Emphasis added by the author)
When an investor looks beyond the US, General Electric should be at the head of the table to own shares in.
Dividends Are Back And So Are The Fundamentals
GE has now increased dividends by more than 100% since 2009, and has hit its 5th year in a row of increases, and the share price has followed along.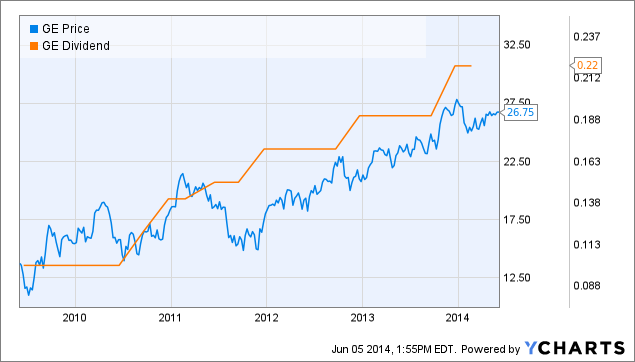 Not a bad recovery I would say, and there obviously is room to grow, as I have pointed out in the above paragraphs. In the world of dividend investing, it is all about money! GE is back on track.
Here are some other fundamentals to be aware of:
An enterprise value of over $630 billion.
A forward P/E of 14.3 well below the S&P 500 average.
A dividend payout ratio of 67%.
56% of all outstanding shares are held by institutions.
The price to book is still only 2.02.
The current dividend yield is 3.30%
If an investor needs any further convincing of the long-term strength of GE, you need only realize that the order backlog is massive, which could be enough to drive growth well into the future in and of itself, even though the first quarter revenues (2%) and earnings (18%) dropped YOY for the same quarter.
GE's backlog of equipment and services at the end of the quarter was $245 billion, with increases in every segment over the year-ago period.
Acquisition Of Alstom Could Also Drive Future Growth
While this story has yet to be told, the bid of about $13 billion by GE with the added bonus of adding 1,000 jobs within France each time the growth warrants it, might be the tipping point to make this deal go through.
That being said, I believe that GE does not need Alstom (OTCPK:ALSMY) to grow; it wants the company to add more growth. As stated in this Seeking Alpha article, the benefits are significant.
It would not only enhance the company's production capacity but the merger would also give GE a strong foothold in the European region. GE's Industrial businesses presently account for 70% of its total revenues; with the addition of Alstom the Industrial business' contribution would increase to 75% of the top line.
If the acquisition does go through, it will simply drive the share price up a bit faster than it would from organic growth. If it does not go through, then GE saves the money and still has $245 billion in order backlog to soothe its soul.
Nothing Is Risk Free
The headwinds are really no different than any other company's:
Business could slow down globally, which will impact revenues and earnings further.
Latin America could change its mind.
The Alstom deal could drop the share price temporarily if it is not completed, or costs way too much to make sense.
Taking all of this into account, I believe that GE is cheap right now, and will offer shareholders significant value both in capital appreciation and dividends.
The Bottom Line
General Electric is a highly allocated core holding in all of my portfolios. If an investor can put the past in that rear view mirror and focus on the future, they will eventually buy shares of GE also.
GE: Make it part of YOUR (financial) life!
Disclaimer: The opinions of this author are not recommendations to either buy or sell any securities. Please remember to do your own research prior to making any investment decisions.
Disclosure: I am long GE. I wrote this article myself, and it expresses my own opinions. I am not receiving compensation for it (other than from Seeking Alpha). I have no business relationship with any company whose stock is mentioned in this article.