There is little doubt that Kinder Morgan [(NYSE:KMI), (NYSE:KMP), (NYSE:KMR)] is among the most undervalued of the large cap midstream MLPs. The stocks have been plagued by worries regarding incentive distribution rights, or IDRs, and their impact on future growth. However, insiders have not been shy about buying stock in the company, with KMI being the usual target for insider purchases. Indeed, things appear to be finally turning around for Kinder Morgan, with both KMP and KMI up a nice 3% for the week.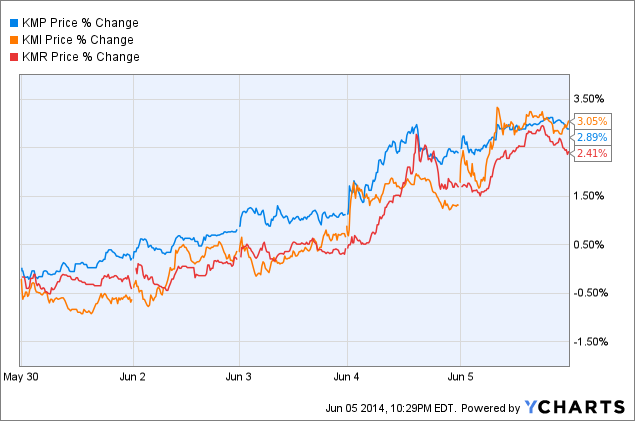 Fayez Sarofim buys 400,000 shares of KMI
According to recent SEC Form 4 filings, on June 2 and on June 4, Kinder Morgan director Fayez Sarofim purchased two large 200,000 share blocks of KMI stock. Below is a summary of each transaction:
200,000 shares for $6.70 million on June 2 ($33.4914 per share)

200,000 shares for $6.83 million on June 4 ($34.1467 per share)
In total, Mr. Sarofim acquire 400,000 shares of KMI for around $13.53 million. This comes out to about $33.82 per share of KMI for the entire lot. Mr. Sarofim now directly and indirectly owns about 24.80 million shares of KMI, good for $850 million, or 2.40%, stake. Mr. Sarofim has been a key player in Kinder Morgan for years, participating in the leveraged buyout of KMI back in 2006.
Rich Kinder has already backed up the truck this year
"You sell. I'll buy. And we see who comes out best in the long run."

Richard Kinder
Mr. Sarofim joins Kinder Morgan CEO Richard Kinder in buying large blocks on KMI stock. So far in 2014 Mr. Kinder has made three separate transactions buying a total of $12.9 million for 400,000 shares of KMI.
In addition, Mr. Kinder made a massive $27.6 million purchase of 828,300 shares of KMI backing in December 2013 as well as a $17.9 million purchase of 500,000 shares of KMI in September 2013. In total, Mr. Kinder has spent well over $58 million buying 1.728 million shares of KMI over the past few months, increasing his stake (both direct and indirect) to about 243 million shares, valued at over $8.4 billion.
Why are insiders buying up KMI?
While this may seem odd, Kinder Morgan Inc ("KMI") is actually a near pure-play on the future success of Kinder Morgan Energy Partners ("KMP"). As I noted in a prior article, 82% of KMI's cash available for dividends comes from its ownership of the KMP IDRs.
KMI has other benefits compared to KMP. While offering a lower yield (4.90% vs 7.10%), KMI's dividend growth rate is nearly double that of KMP's at 8 to 10%. In addition, KMI as a C-corp avoids the tax hassles and K-1 forms related to ownership of units in a MLP.
Kinder Morgan has considerable growth opportunities
This however is not to say that KMP/KMR is not without its merits. Be it via traditional midstream pipelines, CO2 production, or building out the Trans Mountain pipeline in Canada, Kinder Morgan has ample growth opportunities. The company has targeted well over $16 billion in organic capital projects through 2017.
In addition, Kinder Morgan's project backlog is set to grow higher due to the growing use of natural gas in North America. The company has identified up to $15 billion in development projects, varying from building Marcellus/Utica infrastructure, growing export capacity to Mexico, petrochemical uses, and US-based power generation.
Conclusion
Shares of Kinder Morgan have staged a rally of sorts over the past few days. I am thinking this trend may continue given the good news regarding the insider buying.
As the largest midstream MLP in North America, Kinder Morgan (both KMP and KMI) is a solid choice for both current income and growth. The stock is undervalued, especially when compared to peers, and is well overdue for a return to normalcy.
Disclaimer: The opinions in this article are for informational purposes only and should not be construed as a recommendation to buy or sell the stocks mentioned. Please do your own due diligence before making any investment decision.
Disclosure: I am long KMI. I wrote this article myself, and it expresses my own opinions. I am not receiving compensation for it (other than from Seeking Alpha). I have no business relationship with any company whose stock is mentioned in this article.