By Todd Shriber & Tom Lydon
Broadly speaking, technology sector exchange traded funds do not long for attention. There are the ETFs such as the Technology Select Sector SPDR (NYSEARCA:XLK) and the iShares U.S. Technology ETF (NYSEARCA:IYW) that are well-known not only for their size, but large allocations to Apple (NASDAQ:AAPL) as well.
Then there are the ETFs like the First Trust Dow Jones Internet Index Fund (NYSEARCA:FDN), which focus on more glamorous Internet and social media offerings. There is at least one ETF where old tech and new tech meet and the results have been solid in 2014.
That fund is the often overlooked SPDR Morgan Stanley Technology ETF (NYSEARCA:MTK). Although MTK is not as well-known as an XLK or FDN, the fund is nearly 14 years old and has almost $220 million in assets under management.
MTK tracks the Morgan Stanley Technology Index, which is currently tilted in favor of the more mature tech companies that have helped ETFs such as XLK remain durable this year despite increased volatility in the Internet and social media spaces.
MTK is essentially an equal weigh ETF where no individual holding commands more than 3.8% of the fund's weight. Within the top-10 holdings, MTK's marriage of new and old tech is obvious with Hewlett-Packard (NYSE:HPQ), Cisco Systems (NASDAQ:CSCO), Oracle (NASDAQ:ORCL), Apple, Facebook (NASDAQ:FB) and Netflix (NASDAQ:NFLX).
That mix has recently proven rewarding. Although MTK is home to momentum Internet and social media names, including the aforementioned as well as Priceline (NASDAQ:PCLN), eBay (NASDAQ:EBAY) and Amazon (NASDAQ:AMZN), the ETF is up more than 1% over the past 90 days compared to an 11.5% drop for FDN over that same time frame.
MTK is not cheating investors on the way up, either. Aided by Apple's return to its highest levels in almost two years and a rebound in select Internet names, including Netflix, MTK is up 3.7% in the past month.
The ETF's exposure to Internet and social media names leads to a higher valuation than what is seen on XLK. MTK's P/E ratio is 17.8 with a price-to-book ratio of 3.5 compared to a P/E of 15.7 for XLK, according to State Street data.
SPDR Morgan Stanley Technology ETF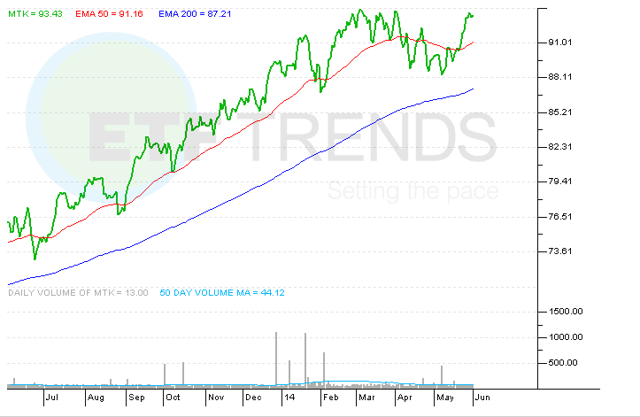 Tom Lydon's clients own shares of Amazon, Apple, Cisco and Facebook.
Disclosure: I am long AMZN, AAPL, CSCO, FB. I wrote this article myself, and it expresses my own opinions. I am not receiving compensation for it. I have no business relationship with any company whose stock is mentioned in this article.