By Todd Shriber & Tom Lydon
As investors look to add international diversity to and boost the income-generating capabilities of their portfolios, global dividend stocks and exchange traded funds are receiving more attention.
While foreign dividend stocks across multiple sectors often sport higher yields than their U.S. counterparts from the same sectors, some global dividend ETFs really ratchet up the yield. The First Trust Dow Jones Global Select Dividend Index Fund (NYSEARCA:FGD) is a prime example.
FGD has a trailing 12-month yield of about 4.3%, the byproduct of a several important factors. First, the ETF allocates over 37% of its combined weight to the telecom and utilities. Just as they are here in the U.S., those sectors have high-yield reputations in other developed markets.
Second, FGD devotes a combined 28% of its country weight to Australia and the U.K., two of the best ex-U.S. developed markets dividends payers. The U.S. is the ETF's largest country weight at 16.7%. Although the U.S. is the biggest dividend-paying market in the world, the potency of mixing in Australian and British dividends should not be underestimated. The Independent reported:
British listed companies paid $102. 1 billion in dividends last year, and since 2009 have paid roughly $441 billion.
Although interest rates down under are low by Australia's standards, rates there are high relative to much of the developed world, which juices the yields on the country's stocks. Australian companies paid $40.3 billion in dividends last year, nearly double the amount paid in 2013.
FGD also offers some exposure to an improving dividend scenario in the Eurozone as France, Germany, Spain and Finland combine for about 22% of the ETF's weight.
If there is a drawback to FGD, it is easy to spot: The large, combined weight to telecom and utilities, even if mainly of the foreign variety, implies some of level of vulnerability to rising interest rates. High-yield stocks, particularly from those sectors, are seen as sensitive to rising interest rates.
That much was on display last year when as 10-year Treasury yields spiked, FDG gained just 17.6% compared to 21.4% for the iShares MSCI EAFE ETF (NYSEARCA:EFA).
First Trust Dow Jones Global Select Dividend Index Fund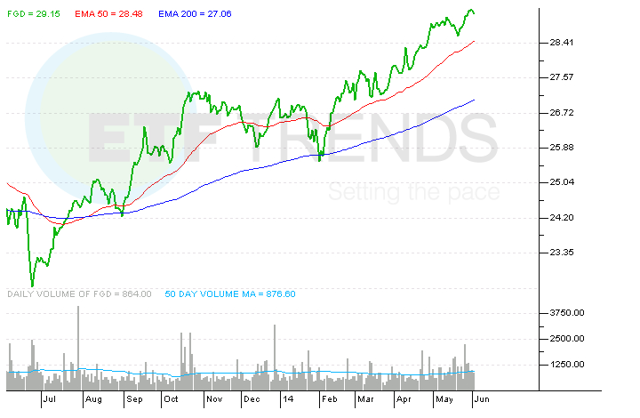 Tom Lydon's clients own shares of EFA.
Disclosure: I am long EFA. I wrote this article myself, and it expresses my own opinions. I am not receiving compensation for it. I have no business relationship with any company whose stock is mentioned in this article.