Best Buy (NYSE:BBY) is the largest consumer electronics retailer in the US. This industry has been facing hard times of late, with all major players closing stores as their business model has been disrupted by online retailers such as Amazon.com (NASDAQ:AMZN) and Newegg.com. The following chart shows the 1-year share price trend of three major electronics retailers - Best Buy, RadioShack (NYSE:RSH) and Staples (NASDAQ:SPLS). BBY has outperformed the rest, but is trailing the S&P 500 (NYSEARCA:SPY) significantly.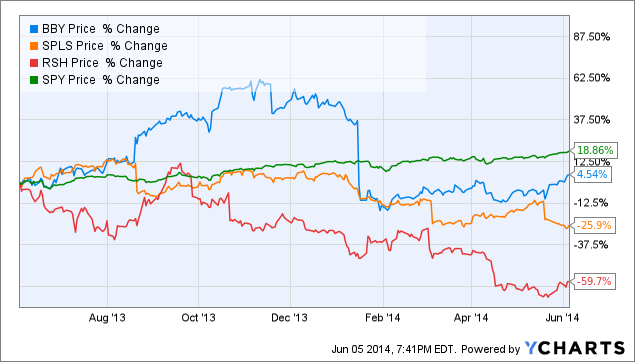 I believe BBY is in an industry that faces structural decline. The company and its peers operate at a significant cost disadvantage to their online rivals. "Showrooming" - the practice of trying out products at brick-and-mortar retailers and ordering them online at a better price - also affects them severely. To counter the impact of showrooming, BBY instituted a price match guarantee where it agreed to match online prices in store. However, this puts increasing pressure on its margins, since it needs to carry the operating costs (rent, labor, etc.) of a brick-and-mortar retailer. The other issue it faces is that as ASPs in the consumer electronics market decline, consumers increasingly treat their devices as disposable - which puts their high-margin service revenue at risk. As a result of these factors, I believe BBY will continue to underperform the market in the long term unless it makes fundamental changes to its business model.
Business overview and sales growth assumptions
Best Buy operated 1,968 stores at the end of its last fiscal year. Store count shrank by 1% or 22 stores from the last fiscal, symptomatic of the challenges in this industry. Comparable store sales have been declining every year for the last three years, and were down again 1.9% in the first quarter of the latest fiscal year. As with any retail business, sales growth is driven by store count and growth in comparable sales/store. In case of Best Buy, I have assumed flat store count over the next few years. I do believe this is optimistic, since BBY will likely close some full service stores and replace them with smaller mobile stores. The company needs to focus in the short term on resetting the business and moving to online, so I do not expect store expansion any time soon. I am modeling 1% comp growth starting FY15 - in my view this is highly optimistic as BBY has not turned around comps in the last three years and is unlikely to do so this year either, as evidenced by its Q1 performance. The chart below shows my assumptions around store and comp growth, as well as actual performance over the last three years: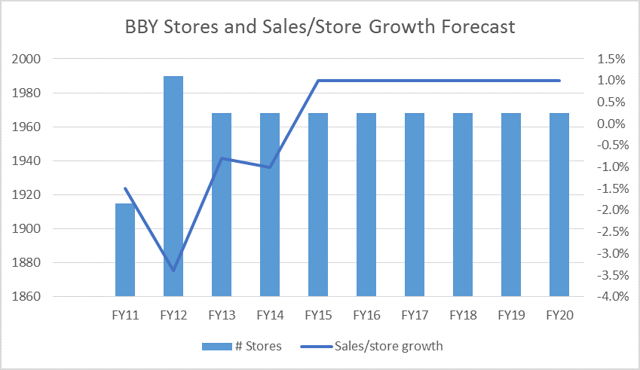 Costs and operating margins
I assume stable gross margins of 23% and SG&A expense at 20% of sales in line with historical performance. This leads to 3% operating margins for BBY - again, this number appears optimistic as operating margins in Q1 of the current fiscal were only 2.2% of sales. The chart below shows my assumptions around COGS and operating margins for BBY.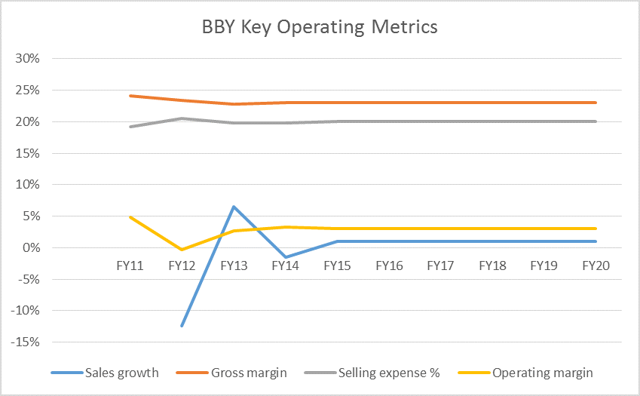 Source: BBY 10-K (FY11-FY13)
Valuation model
In my model, I assume a discount rate of 12% and a terminal value growth rate of 1% for BBY. The discount rate is higher than what I normally apply, but given BBY's significantly greater business risk I feel this is appropriate. The model leads to a fair market value (FMV) of $21 for BBY, which is a 25% discount to the current share price. This indicates that BBY appears to be materially overvalued at current prices, even with a seemingly low P/E ratio of 9.4. This is why I maintain that BBY is a value trap - a stock can have a low P/E ratio if it is in the middle of a secular earnings decline, which I believe to be true in the case of BBY. The valuation model is attached below.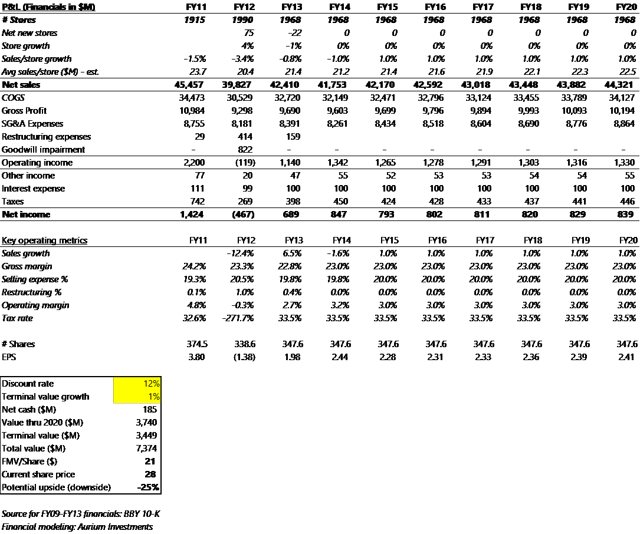 Summary
Best Buy is in the midst of a restructuring plan to improve its operations. However, even if it were to improve its operating margin by 100 basis points, it would still be 11% overvalued according to my model. Although BBY is focusing on its online store and seeing growth in online revenue, the user experience is far behind Amazon.com. Unless it fundamentally transforms its business model, it is destined to decline and die. The turnaround is a chimera - shares should be avoided at all costs.
Disclosure: I have no positions in any stocks mentioned, and no plans to initiate any positions within the next 72 hours. I wrote this article myself, and it expresses my own opinions. I am not receiving compensation for it (other than from Seeking Alpha). I have no business relationship with any company whose stock is mentioned in this article.