When it comes to my equity investments, I particularly look for two characteristics as indicators of undervaluation: Share repurchases and insider purchases.
Share repurchases and insider transactions are strong bargain indicators
Share repurchases are, of course, a straightforward and powerful management tool, indicating that the management of a company believes its shares are undervalued. In my opinion, it always pays to look for companies that invest substantial amounts of their total shareholder remuneration funds (funds for share buybacks and dividends) in buybacks. Repurchases signal that management views its own stock as a good investment which is good for investor confidence. Furthermore, share repurchases do not require the company to make a formal commitment; they can be conducted opportunistically and at any time the company sees fit to do so. Dividend increases, on the other hand, as an alternative to share repurchases, are considered permanent by management and shareholders.
Share repurchases have been an ongoing theme in the financial sector and the basic materials sector over the last two to three years. The financial sector still suffers from the aftermath of the financial crisis leading many institutions to be trading below book value. Hence, share repurchases make a hell of a lot of sense.
The basic materials sector has also gradually gravitated towards share repurchases in 2012 and 2013 as the pricing environment put pressure on companies' bottom lines. Share repurchases, therefore, are a tool for management to signal its commitment to shareholder value building in times when markets are rough.
Insider purchases carry many of the same implications as share repurchases. Usually a company executive or shareholder will use an extraordinary event to load up on shares and try to capitalize on some short-term selling pressure in the shares or in the market. In other words: If the company buys back its own shares or insiders buy shares, investors should pay very close attention.
Not only will investors know where well-informed top executives/insiders put their dollars, but also how company executives/insiders view their own company as opposed to other investors. I think one of the best endorsements of a company is when an insider buys shares against market sentiment. Of course, company executives usually have better information than outside investors which allows them to better judge the intrinsic value of a security.
KMI insider transactions
Large insider transactions are what happened this week at Kinder Morgan, Inc. (NYSE:KMI). Fayez Sarofim, director of Kinder Morgan, purchased a whopping 400,000 Class P common stock at the beginning of June. 200,000 shares were bought at an average price of $34.15 and 200,000 shares at an average price of $33.49 for a total consideration of $13.5 million. Mr. Sarofim, according to a Forbes Profile, is a billionaire who made his money in asset management and now directly holds approximately 22.8 million shares of Kinder Morgan (Source: Forbes online):
Egyptian-born investor Fayez Sarofim, nicknamed "The Sphinx," holds a growing cache of stock in Kinder Morgan, the energy transportation company. He is one of the firm's early shareholders, serving as a director from 2007 until its February 2011 IPO. He maintains his post as a director, and has upped his stake by one million shares in the past year. The son of a wealthy Egyptian cotton farmer, he received an M.B.A. from Harvard Business School before starting his own investment firm, Fayez Sarofim & Co., in 1958. He made his fortune as a buy-and-hold specialist with long-term investments in Philip Morris, Coca-Cola, and Procter & Gamble. In 1997 he was inducted into the Texas Business Hall of Fame. Fayez Sarofim & Co. currently has $31 billion in assets under management. He donates to numerous causes including hospitals, schools, and the arts. He sits on the board of the Memorial Sloan-Kettering Cancer Center as well as the Texas Heart Institute.
Mr. Sarofim's recent purchases of KMI come after the billionaire investor snatched up another 400,000 shares of KMI in August 2013 for reported average transaction prices of $37.63 and $37.80 per share (average prices reported per company filings).
When Richard Kinder announced his open market purchases of Kinder Morgan shares in February and May 2014, I have aggressively pounded the table for KMI. The insider transaction summary table below highlights that insiders have consistently been loading up on KMI over the last months.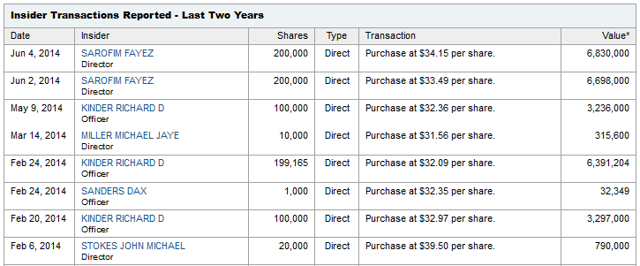 (Source: Yahoo Finance)
Chart situation
In the short term, I expect positive impulses from the broadly enacted insider transactions in Kinder Morgan.
Kinder Morgan shares popped nicely after knowledge about another round of insider purchases at KMI made headlines: Shares were up 1.7% in yesterday's trading session and up 3.5% over the last five trading days.
Kinder Morgan's share chart also shows that the company has rebounded strongly from its mid-March bottom and has been picking up momentum lately.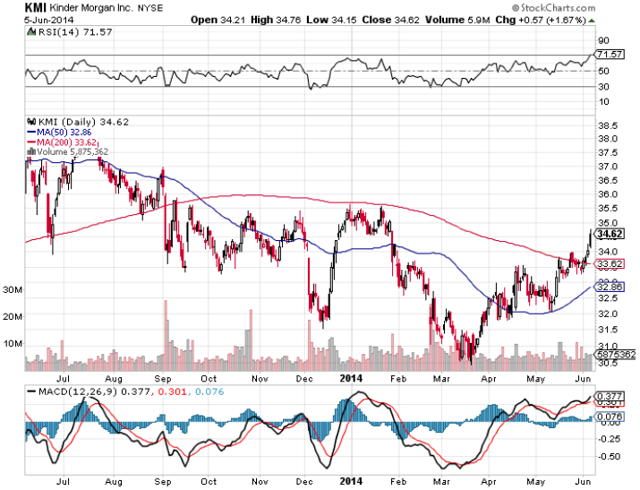 (Source: StockCharts.com)
Conclusion
I find it fascinating when insiders, whether they are company executives or large shareholders, use sell-offs to load up their trucks. Next to Richard Kinder, we now see the second billionaire taking advantage of lower KMI market prices and adding to his existing KMI position. Forbes ranks Mr. Sarofim #328 on the list of U.S. billionaires. Insider transactions are also linked to short-term abnormal returns -- at least for countries that have strong shareholder protection rights and good corporate governance practices which is largely the case in the United States, Canada and Western Europe (Fidrmuc, Korczak (2010) and Ozkan, Trzeciakiewicz (2013)).
KMI investors are now fortunate enough to be able to invest alongside two highly successful billionaires. What more can you ask for? Strong Buy.
Disclosure: I have no positions in any stocks mentioned, and no plans to initiate any positions within the next 72 hours. I wrote this article myself, and it expresses my own opinions. I am not receiving compensation for it (other than from Seeking Alpha). I have no business relationship with any company whose stock is mentioned in this article.