Troubled times or time to buy?
Have you seen the gold market lately? Consumption is down in China, and India has yet to recover from the special tax placed on gold last year. The gold market is entrenched in a bearish state that shows no sign of abating and very few are ready to step into the line of fire.
Accordingly, a large percentage of respected gold analysts are calling for a year-end price of around $1,200 per troy ounce. There are even a few analysts that see gold going south of $1,100.
My question is this: if gold continues to get beaten down, then what kind of shape are the gold mining companies in? Is there money to be made with these companies or just false hope?
Here is a rundown on some of the most interesting plays in the gold mining arena:
Newmont Mining (NYSE: NEM) is trading just above the shares' 52-week low and hovers below the 200-day moving average. The forward price to earnings on Newmont Mining at this level is 16.18. But the shares are also bringing in around $16.00 in revenue per share while actual book value is $20.15.
There could be some value here at these prices. Newmont Mining still has $1.56 billion in total cash, as well as operating cash flow of $1.3 billion. However, its earnings growth situation is ugly, down 68% year over year.
Dividend, too, has been cut steadily and now sits at only $0.10, or 0.4% yield. This pales in comparison to the trailing annual dividend yield of 4.20%. One bright spot for Newmont Mining is that the company is holding very little debt at $6.76 billion.
Goldcorp Inc. (NYSE: GG) is another company in this sector that is hovering just above its 52-week low. The forward price to earnings is 22.37, which seems a little rich at these levels.
But there are good items on its sheet too. Goldcorp is still producing almost $5.00 per share in revenues and the loss in quarterly revenue has stabilized at around 7% - much better than some of its counterparts.
Another interesting thought on Goldcorp is that short shares seem to be falling. Total shorts declined by around 3 million shares from April-May 2014. The company also has cash on the books with $1.09 billion total cash and almost $900 million in operating cash flow.
As well, Goldcorp's debt situation is encouraging at only $2.93 billion, which is very low for the sector. Goldcorp has seen dividends fall but at $0.60 per share that still equates to a reasonable 2.6% yield. That equals its trailing annual dividend.
Freeport-McMoRan Copper & Gold Inc. (NYSE: FCX) has been rated by most analysts as a good long-term investment in the gold mining sector and right now the share price hovers just 15% below the 52-week high.
FCX has experienced a decline in short shares too, by around 1.5 million since April-May 2014 and the stock now carries an extremely low forward price to earnings of 10.68. Other financial ratios are good too, with a PE of 13.96 and PEG of just 0.50.
Freeport's numbers look positive with quarterly revenue growth expected to be around 9% for the year. The company did not experience a drastic loss in quarterly earnings growth like most of its counterparts did - only -21%.
Other stats look promising too. Revenue per share is at $20.82 and overall book value per share at $20.36. The one negative is the debt that the company is carrying at almost $21 billion. Still, Freeport-McMoRan has sufficient total cash at $1.3 billion and operating cash flow of $6.51 billion, translating to a healthy current ratio of 1.80.
One of the more interesting aspects is the dividend of $1.25 which is good for a healthy 3.70% yield, quite a bit higher than the US Treasury 10-year note.
Freeport-McMoRan gets my pick out of this list as the company is most likely to soar when gold begins to climb.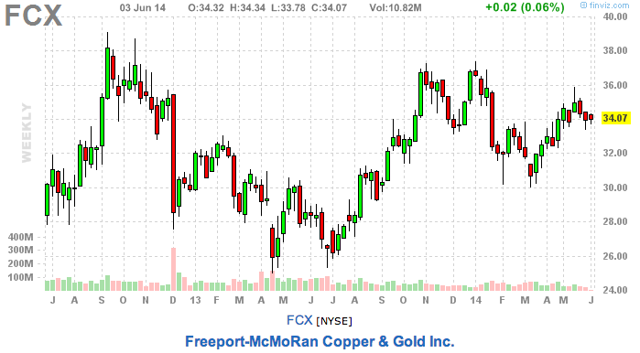 Barrick Gold Corporation (NYSE: ABX) is no exception to the rule of falling gold prices. Its share price is just above the 52-week low and well below the share price's 50-day moving average. The share price's forward price to earnings at these levels is 13.31 which is below other gold mining companies.
But its stats don't look nearly as attractive as some of the other gold miners. Barrick Gold experienced a decline in quarterly revenue growth of over 22% and the company's quarterly earnings growth was crushed some 89% from last year. Barrick Gold is still producing $11.05 of revenue per share and has a book value of $11.67 at these levels.
Again, the short sellers have been buying back their shares, but fairly quietly, at just over 1 million between April and May 2014. The company still has money to spare with total cash around $2.67 billion and operating cash flow of $3.74 billion. The company does has some debt at $13 billion, so that might be a concern. Barrick Gold is still offering a dividend of $0.20, good for a small 1.2% yield.
Bottom line
Not all of these gold miners can be relied on to give investors significant returns.
Barrick Gold is in turmoil after the failed acquisition of Newmont Mining and the shutdown of the Pascua-Lama project. The company is bleeding money and until Pascua-Lama comes back online, Barrick Gold's problem could continue to fester for some time.
Newmont Mining may not be in any better position. Newmont's revenue growth projects need to see gold around $1400 an ounce to break even and Newmont is struggling with capex/revenue, which is actually running 5% below historical levels.
Newmont must surely realize that a company needs to spend money to make money and until Newmont invests in the future, production will continue to decline. As mentioned above, both Barrick Gold and Newmont Mining carry more debt-to-equity and this will be an additional problem going forward for both companies. Furthermore, neither Barrick Gold nor Newmont Mining carry a large enough dividend to help investors ride out the storm, as the gold price continues to bottom.
The remaining two companies, Goldcorp and Freeport-McMoRan, look to be more stable.
Goldcorp is still growing and has very little debt and also operates in the friendlier territories of Canada, Mexico and Brazil. It has continued to spend money on capex projects to help lower all-in cash costs and can achieve positive cash flow at $1200 an ounce.
Goldcorp is also raising money for future capex spending projects. Even with its recent offering of $1 billion in unsecured notes, Goldcorp's debt-to-equity is still better than either Barrick Gold or Newmont Mining. Goldcorp also offers a decent dividend yield that could help the investor wait out the current bear market.
Freeport-McMoRan also looks stable right now even with the company's ongoing problems in Indonesia.
Management's presentation at the recent Deutsche Bank 2014 Global Industrials and Basic Materials Conference was nothing short of positive and highlights some of the differences Freeport has against its competitors.
Fundamentally, Freeport's competitive advantage flows from its significant copper discoveries and the company's ability to manage its balance sheet. Freeport sees the copper market as positive and Chinese demand to be 'very healthy' as the nation rolls out its power grid. The company also has a high number of high quality oil and gas assets that further diversify the business.
Some analysts believe Freeport-McMoRan's addition of deep water leases in the Gulf of Mexico could further help revenue growth because the play is large enough to support the building of new facilities.
All things considered; Goldcorp and Freeport-McMoRan are better choices for investors looking to capitalize on the low share prices of gold mining companies.
But how long does an investor need to wait before feeling comfortable enough to invest? The answer could be sooner than you think.
The downside risk from here is limited and if recent management guidance is anything to go by, FCX could be in for a good ride ahead.
Disclosure: I have no positions in any stocks mentioned, but may initiate a long position in FCX over the next 72 hours.
Business relationship disclosure: This article was co-written by Daniel Shosky as a guest piece for Marwood Capital. We have no business relationship with any company mentioned.