Herb Greenberg has a great column on the last of a dying breed: the stock-picker (a group that includes yours truly). I admit that the machines are much faster than we are, but we humans still have many advantages, namely the irrationality of our fellow humans.
Despite the hand-wringing, this has been a very good time to be a stock-picker. Let's look at the Rydex S&P 500 Equal Weight ETF (RSP) compared with the S&P 500 Spyders (SPY):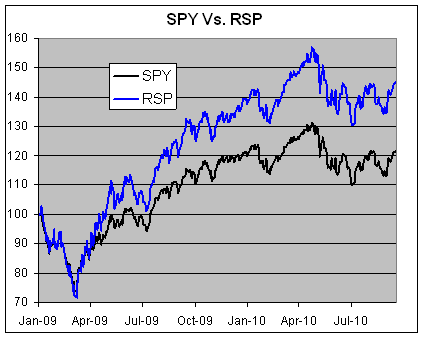 In other words, the average stock has beaten the index by a good margin.
Will this divergence continue? It's hard to say. I think one factor that will help is the persistence of low inflation, if not deflation.
When the pricing environment is so hostile to price increases, this may place a greater premium on companies that are more efficient or they offer something unique. The more diversity their is in rewards, the more opportunities there is for stock-pickers to find above-average profit opportunities.
Disclosure: None