2013 was a good year for Wal-Mart (NYSE:WMT). Its share price moved more than 13% last year, from $69.24 per share to $78.69 per share. Year-to-date, the stock dropped more than 1.8%. Nevertheless, the stock still has a great upside potential.
Wal-Mart operates in the Discount, Variety Stores industry. The industry has benefited from relatively stable demand conditions over the past few years. The industry is forecast to grow by 1.1% to $2.4 billion in 2013-14. In 2014, global retail sales are expected to grow by 4.1% and eventually grow to 4.2% by 2016. As the world's biggest retailer, Wal-Mart is well-positioned to benefit from the growing industry.
Wal-Mart operates through three segments: Wal-Mart U.S., Wal-Mart International, and Sam's Club. Among them, Wal-Mart U.S. is the company's largest division, and accounted for 59% of total sales and 83.2% of total operating profit for financial year 2014. The difference in sales and operating profit can be attributed to increases in operating efficiency and cost cutting efforts.
The focus of Wal-Mart U.S. segment has shifted in recent years. Instead of opening new stores, the company is working to improve its current stores and experimenting with new formats. The segment has a strong track record of improving operating efficiency, and this should continue to be the case moving forward. Operating margins from this segment should continue to increase, as operating income will grow at a faster rate than sales. The segment continues to add share in many key categories such as consumables, grocery, health and wellness and entertainment. I look for Wal-Mart to continue to gain significant share in the entertainment category. Certain entertainment products, namely televisions, have stagnated in terms of new and exciting technological development. With a lack of new and exciting products, consumers are beginning to focus more on price when making a purchasing decision. This trend works in Wal-Mart's favor as the company is able to price many items below competitors.
Looking at Wal-Mart International segment, the company is growing quickly in foreign markets. The International segment has shown decent revenue growth in the recent few years (except the last year) suggesting there is a potential opportunity for Wal-Mart to further invest in foreign countries. In 2010, the company generated 24% of its total sales from the international segment which increased to 26.10% in 2011 and 28.9% in 2014.
As of April 30, 2014, the second largest number of stores by country for Wal-Mart's is Mexico, where it operates 2207 stores, which account for more than 1/3 of the total units of Wal-Mart International. The next four largest store distributions by country for the company are the United Kingdom, Brazil, Japan and China.
Wal-Mart sales in Mexico remained weak in 2013 due to low consumer confidence and slowdown in the economy. As a result, Wal-Mart's comparable store sales in the region have declined by 2.2% on average for seven consecutive quarters. The company's sales in Mexico will improve in the coming years as the country's economy is expected to rebound. Mexico's economy is expected to grow 3.9% this year, compared to the 1.2% growth in 2013. A huge presence in Mexico will allow Wal-Mart to take full advantage of the improving economy. As the economy improves, consumer spending will increase. A rise in consumer spending will impact positively on the company's sales.
Wal-Mart plans to invest $1.8 billion in Mexico this year. The company expects to spend $633.38 million on opening new stores, $263.9 million on remodeling and maintenance, $90.48 million on logistics and $143.26 million on e-commerce and other technology. Wal-Mart's Mexican unit plans to return $1.66 billion to shareholders via dividends and share repurchases in 2014.
Another important growth market for Wal-Mart is China. Although Wal-Mart does not generate much revenue from China, the country will provide great growth opportunities to the company in the coming years. Its Chinese subsidiary generated sales of 11.54 billion yuan ($1.89 billion) in 2013. The grocery retail market in China is growing at a rate of 7% annually due to steadily rising disposable incomes and increasing urbanization. To benefit from the growing market, Wal-Mart plans to expand its operations in China over the next two years. The company plans to open 110 stores in China over the next three years. The company is also planning to expand its e-commerce in the country. Over the past few years, the increase of mobile phone usage in China gives retailers who use e-commerce services an open opportunity to grow sales in the coming years. In China, 58% of respondents in the PwC report said they shopped online at least once a week. By comparison, only 42% of U.S. respondents said they shopped online at least once a week. As Wal-Mart intends to expand its e-commerce in China, it will benefit from the growing online shopping trend in the country.
E-commerce presents excellent opportunities to Wal-Mart in many of the international markets. For example, despite negative comps in the U.K., total online sales increased 18.6% last year. This channel continues to provide many opportunities to improve sales while working to improve margins. The company's online sales increased by more than 30% in the last fiscal year and projects more than $13 billion in web sales this year. In addition to e-commerce, Wal-Mart is expanding offerings in many ways. In the U.K., it continues to expand the "Click and Collect" program. This program allows consumers to make purchases online and then drive to the store to pick up their items. The research found that 35% of online shoppers in the U.K. buy online and collect from store, compared with 13% in the U.S. and 5% in Germany. By 2017, 76% of U.K. shoppers are expected to use the service. The success of this initiative in the U.K. is a positive sign, and the program will likely be expanded into new global markets in the coming years.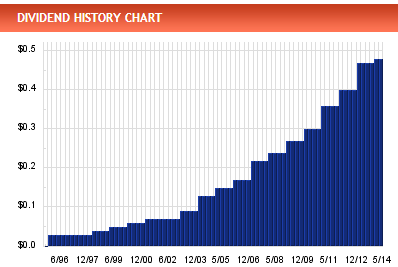 Source: dividendchannel.com
Wal-Mart is also attractive for dividend investors, offering a current yield of 2.50%. The company has paid a quarterly dividend since 1973, and has increased dividends in each of the last 41 years. During fiscal year 2014, it returned $12.8 billion to shareholders in the form of dividends and share repurchases. Over the past ten years, Wal-Mart has increased its annual dividend by 13.9% per year, which is quite nice. A 13.9% growth in dividends translates into the dividend payment doubling almost every five years. Analysts are expecting that the company will report revenue of $487.11 billion in this fiscal year and $506.52 billion in the next fiscal year. EPS is estimated to be $5.18 and $5.63 in the current year and next year, respectively. As the company's revenue is expected to grow, so are its dividends. Its current dividend payout ratio is only 39%, which leaves room for future payout growth.
Bottom Line
The future of Wal-Mart looks bright. It is a company that holds a dominant position in the retailing industry. The company will continue to expand its business all over the world. China will provide great opportunities in the coming years. Besides this, Wal-Mart will see good days in Mexico. It is a great dividend stock for long-term investors. In my opinion, Wal-Mart is an attractive investment for long-term investors.
Disclosure: I have no positions in any stocks mentioned, and no plans to initiate any positions within the next 72 hours. I wrote this article myself, and it expresses my own opinions. I am not receiving compensation for it (other than from Seeking Alpha). I have no business relationship with any company whose stock is mentioned in this article.