Investors can be harsh sometimes, as they were when Chipotle Mexican Grill (NYSE:CMG) reported that sales in restaurants opened for at least a year had surged over 13% in the first quarter. Rising commodity prices outweighed Chipotle's best comparable restaurant sales in nearly a decade. As a result, shares fell from over $600 to under $500 by the end of April. Food expenses have increased from 33% to 34% and can potentially rise further. Even so, earnings and revenues were up year-over-year and comparable sales guidance increased for 2014 due to greater traffic and an increased average check. Restaurant level operating margin declined because of the higher food, beverage and other operating expenses.
In order to deal with food inflation, the company has stated in the earnings call that it will review its menu prices on a market-by-market basis compared to competitors and then increase prices on average somewhere in the mid-single digits. The average increase is expected to be around 6%. While price increases can potentially cause some customers to lose their appetite, they have accepted price increases in the past. This will be the first broad price increase in 3 years. So far, Chipotle has already increased prices in one-third of the chain.
Chipotle's vigorous earnings growth has earned it a premium valuation. Revenue is on track to grow more than 20% in 2014 and historically, CMG has had an exceptionally strong return on capital plus its EVA profit trend has been outstanding. The consensus opinion on Yahoo! (NASDAQ:YHOO) Finance is 2.0, where 1.0 is a strong buy and 5.0 indicates a sell. CMG has a mean price target of $609.83 out of 24 brokers, indicating that shares can potentially rise a fair amount from the market open of $558.84 on June 5th 2014.
There are validated reasons for this opinion considering the company's very strong underlying comp momentum, debt-free balance sheet with a growing cash balance, industry leading margins and a low double-digit unit growth profile. Problems beyond the control of management add an element of risk for this fast-casual restaurant chain such as food inflation and the ongoing debate over minimum wage. Both of which affect the entire restaurant business and not just CMG alone, so consider this when making your own assessment. While Chipotle cannot control rising food expenses, the company is trying to diminish this threat by the way it implements price increases.
So what does the future hold for investors in this popular restaurant chain? Well, according to the I Know First self-learning algorithm, Chipotle has a bullish signal in the 3-month and 1-year time horizon, but has a bearish signal for the 1-month time horizon. I believe that the decision to increase menu prices can potentially hurt customer traffic, and ultimately its top-line for the immediate quarter, which would be reflected in the next earnings release. However, any consumer reaction will likely be limited for the short term. This coupled with higher commodity prices has put pressure on margins. Marketing expenses will go up as well, especially in the second and third quarter for the introduction of a new advertising campaign. However, for a long-term investor, a minor dip in the short term should not cause any loss of sleep. Driven by stable traffic with a strong market position, new menu launches, media exposure, and of course, its highly efficient business that has consistently converted revenues into profits, will be enough to withstand pressure and provide value for shareholders for the mid to long-term time frame.
Sales Mix
Management's attitude on pricing is to earn pricing power. What they mean by this is that if they focus on creating the restaurant experience, cooking and delivering high quality food, then they have permission to increase prices. At the mid-single digit range, CFO Jack Hurtang stated in the earnings call that Chipotle still has more room to increase prices if need be in the future judging based on market by market pricing.
So menu prices are increasing, but they are not increasing flatly across the board. The company is using a strategy of encouraging consumers to select lower-cost proteins such as chicken by increasing the price gap from steak. The price gap has been historically around $0.30-$0.40, but Chipotle intends to increase this price differential to around $0.70-$0.80 more for steak. Beef prices have risen recently and this will help the company adapt. Chart 1 displays the annual average value of retail and wholesale beef in the United States from 2006 until 2013 (in cents per pound of retail equivalent).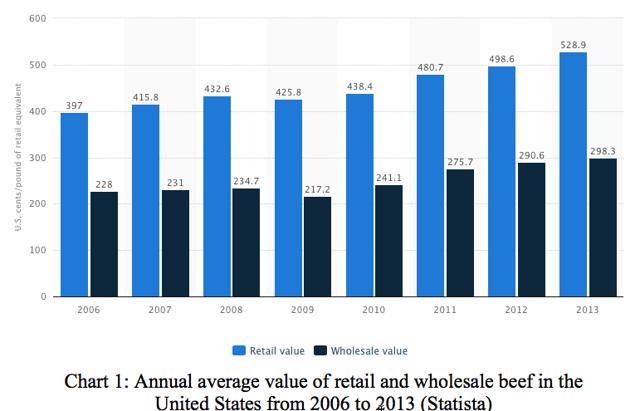 Click to enlarge
The company has already noticed that some customers are choosing chicken instead of the steak option. Not only is this good for its profit margins, but this also makes the price transition smoother for customers to accept by keeping a more affordable yet still delicious option. With an average increase of around 6% plus, same-store-sales growth should offset increased operating expenses.
Where Can We Expect Future Growth
Chipotle finished the previous quarter with over $1 billion in cash and cash equivalents with no debt. Forty-four new restaurants were opened this past quarter bringing the total restaurant count to 1,637. Management outlook for 2014 expects 180-195 new restaurants. Long-term growth potential is dependent on international expansion, ShopHouse and Pizzeria Locale. So far, the company has opened up a third restaurant in Paris, six in London and one in Frankfurt; a total of ten restaurants in Europe. However, more immediate growth will be driven by the development of Chipotle restaurants in the United States. Hurtang stated in the earnings call that the company's best use of cash was to invest in "our high returning restaurants but we'll also opportunistically participate in share buybacks and we'll continue to nurture our growth seeds. ShopHouse, Chipotle and international markets and Pizzeria Locale each of which we expect will provide future opportunity to invest in growth."
During the first quarter, Chipotle purchased about $13 million worth of shares, with another $77 million left in the share buyback program previously approved by the Board of Directors, and the Board approved another $100 million buyback. Referring to Pizzeria Locale, Chairman and Co-CEO Steve Ellis answered a question in the earnings call that "...we're seeing the traffic increase and we're seeing patterns that are very similar to what we saw with Chipotle in the early days and we find that to be very encouraging and so, but we're not disclosing volumes..."
The Fast Casual Restaurant Industry Is Still Heating Up
For the past six decades, the restaurant industry has increased its share of every dollar spent on food in the United States from 25% in 1955 to 47% today. Improved same-store sales and customer traffic plus a positive outlook among restaurant operators propelled the National Restaurant Association's Restaurant Performance Index to rise for the second consecutive month. The RPI was up 0.3% from March at 101.7 in April. This has been the 14th consecutive month the RPI stayed above 100. The Current Situation Index grew 0.5% to 101.3 in April. This index measures same-store sales, traffic, labor and capital expenditures. Over 50% of restaurant operators reported a same-store sales gain between April 2013 and April 2014. Operators also reported a net gain in customer traffic levels. The Expectations Index, which measures restaurant operator's six-month outlook reached its strongest level in two years, at 102.2. While 46% expect to have higher sales in the upcoming months, respondents were less optimistic about the overall economy.
Within the larger trend of fast casual growth is the fast casual trend that includes Chipotle. The fast casual segment grew sales by 11% in 2013 and unit count by 8%, according to Technomic's newly released 2014 Top 500 Chain Restaurants report. The report explained the appeal of fast casual and attributed its growth to its better than fast food, the ambiance of the restaurants and the "fresh, made for you" appeal. Fast casual restaurants resonate with many customers because it provides a delicious and healthier meal than fast food brands but is also less expensive than casual or fine dining options. Fast casual restaurants have outpaced all other classes for five consecutive years. In 2013, growth in traffic for fast casual was 8% followed by fine dining at 6%.
The trend toward sourcing healthy options and sustainability will remain strong in 2014, according to the National Restaurant Association. Chipotle fits this mold precisely with its "food with integrity" mantra, along with the company's commitment to treat animals, the environment and people well. This customer trend translates to massive growth for restaurants in this subset of the industry.
Algorithmic Market Prediction System Analysis For CMG
I Know First: Daily Market Forecast utilizes an advanced self-learning algorithm based on artificial intelligence, machine learning and incorporates elements of artificial neural networks as well as genetic algorithms in order to model and predict the flow of money between markets from 3 days to a year. It separates the predictable part from stochastic (random) noise and then creates a model that projects the future trajectory of the given market in the multi-dimensional space of other markets. The algorithm outputs the predicted trend as a number, which in turn, is used by traders to identify when to enter and exit the market. While the algorithm can be used for intra-day trading, the predictability tends to become stronger over longer time-horizons such as the 1-month, 3-month and 1-year forecasts. Algorithmic forecasts are intended to be utilized in conjunction with traditional forms of analysis in order to reduce risk and optimize returns.
The market prediction system was created over two decades ago and has been continuously enhanced by scientist and mathematician Dr. Lipa Roitman and his team of researchers. The algorithmic prediction system has been available to the public since 2010 via I Know First. CMG is one of over 1,400 assets that the algorithm makes daily predictions for. Chart 2 shows the historical correlation between CMG's actual market movement against the algorithmic prediction's performance since the end of January 2014 until May 15th 2014.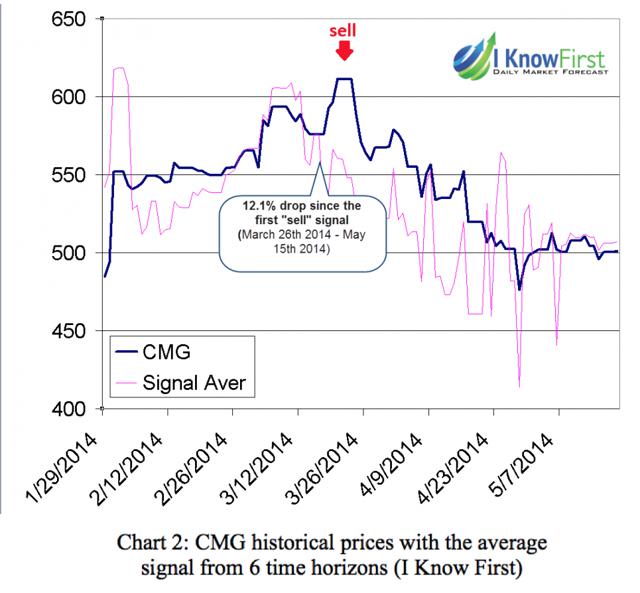 Click to enlarge
The thick blue line shows the actual historical prices versus the average signal forecasted from each of the six time horizons from three days to one-year ahead. The positive or negative (up or down) signals of the forecast were added to the actual last known price at the time of the forecast. Thus, when the signal line is above the actual line, it indicates a "buy" signal, and if below, then a "sell" signal. Each point on this chart was taken from the actual daily forecast published in the morning before the next market open.
Chart 3 shows the most recent algorithmic forecasts for Chipotle in the 1-month, 3-month and 1-year time horizons. The forecast is color-coded, where green indicates a bullish signal and red indicates a bearish signal. Deeper greens signify that the algorithm is very bullish and vice-versa for deeper reds. The signal is the number flush right in the middle of the box and the predicted direction (not a specific number or target price) for that asset, while the predictability is the historical correlation between the prediction and the actual market movements. In other words, the signal represents the forecasted strength of the prediction, while the predictability represents the level of confidence. Ticker symbols for other assets have been removed; however, you can still see their signal and predictability. Further explanations are available here.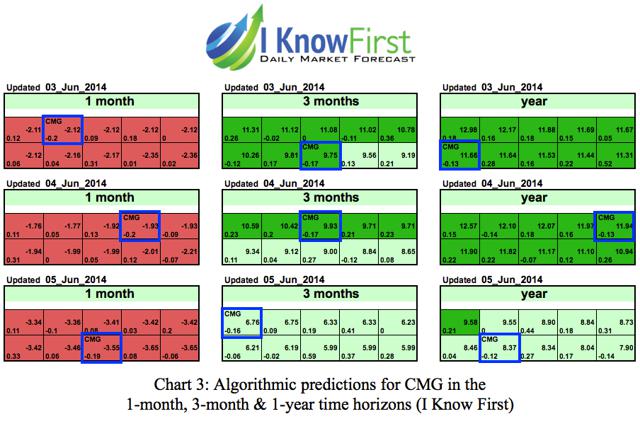 Click to enlargeAs a general rule of thumb, we never suggest blindly buying a recommended algorithmic stock pick at first sight without your own analysis as well as for the purpose of recognizing any patterns over a few days. In the most contemporary algorithmic predictions for Chipotle, the forecasts are bearish in the 1-month time horizon but bullish in the 3-month and 1-year time horizons. After recognizing the general coloring of the forecast, the next thing to be noticed is the predictability indicator. The predictability is very weak in each time horizon and this should be taken into consideration. Usually, a predictability of 0.2 or higher is preferable. The signal strength consistently indicates positive movement for CMG in the 3-month and 1-year time horizons, but becomes noticeably weaker in the June 5th forecast. While CMG will likely follow this predicted trend, the weak predictability suggests that the algorithm is unsure about the actual magnitude of this movement.
Assets that have a growing signal and predictability over all six time-horizons are preferable, and for this reason the algorithm has indicated that there are better market opportunities. All in all, the algorithm is bullish on CMG but use caution, as the predictability is certainly weak. Professional and retail investors use these algorithmic predictions as a tool to enhance portfolio performance, double-check their own analysis and act on market opportunities faster. Chipotle was a top stock pick from our best aggressive stock picks forecast. We determine our aggressive stock picks by screening our database daily for higher volatility stocks that recently moved often strongly up or down. These aggressive stocks present more opportunities, but are also more risky. Chart 4 displays the Best Aggressive Stocks forecast with the corresponding returns from May 1st, 2014 for the 1-month time horizon.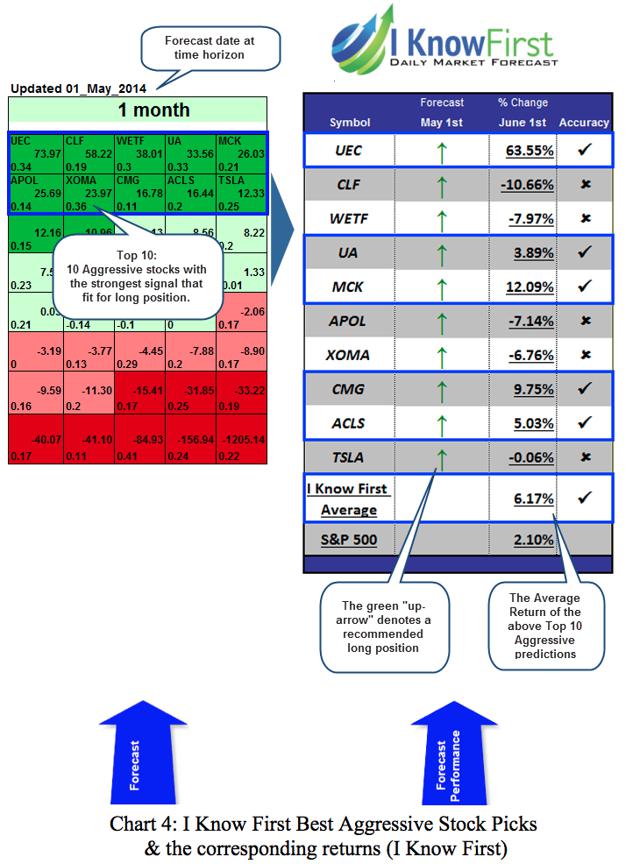 Click to enlarge
In this algorithmic forecast from one month ago, each asset highlighted has been clearly identified with a deeper green coloring in this color-coded forecast. Chipotle had a signal of 16.78 and a predictability of 0.11. Both the signal and the predictability are stronger in this forecast than they are in each of the time horizons in the most recent algorithmic forecasts. Comparing the algorithms performance results from May 1st's 1-month forecast to the most contemporary forecast is an excellent strategy for rationalizing your expectations utilizing algorithmic trading as one tool in your analysis toolbox.
Conclusion
Between rising commodity prices putting pressure on margins and the potential for customers to not react well to rising prices plus expenses from a new marketing campaign will have a negative effect on share value. When this pressure is reflected in the next earnings release, investors will react as they did to the first quarter earnings report. However much of this will likely be an overreaction and the stock will recover and flourish as it becomes more evident that Chipotle can deal with this pressure and mitigate the unfavorable variables.
Chipotle's valuation is steep, but the Mexican grill can and will continue to grow due to domestic expansion, international expansion, same store sales growth and new concepts such as ShopHouse can prove fruitful well down the road. Fast casual is a consumer megatrend that is fueling growth within the restaurant industry. While the algorithmic forecast is bearish in the short term, it is still bullish in the mid to long-term time horizon. I would recommend holding this asset, but purchasing CMG right now may not be the best timing. Shares are volatile enough to allow for good entry points when shares have a more attractive valuation. According to I Know First's self-learning algorithm, CMG may provide this opportunity soon. Don't be surprised if the market reacts negatively to pressure put on margins in the short term, as investing in CMG will pay off down the road.
Business disclosure: I Know First Research is the analytic branch of I Know First, a financial startup company that specializes in quantitatively predicting the stock market. Joshua Martin, an I Know First Research analyst wrote this article. We did not receive compensation for this article (other than from Seeking Alpha), and we have no business relationship with any company whose stock is mentioned in this article.
Disclosure: I have no positions in any stocks mentioned, and no plans to initiate any positions within the next 72 hours. I wrote this article myself, and it expresses my own opinions. I am not receiving compensation for it (other than from Seeking Alpha). I have no business relationship with any company whose stock is mentioned in this article.