On June 4 United Development Funding IV (NASDAQ:UDF) listed its common shares on Nasdaq under the ticker symbol UDF. The company started a tender offer to purchase up to $35 million in value of common shares for a purchase price of $20.50 per share, net to the seller in cash. On the first day of trading, UDF opened trading at $21.04 with around 212,000 share traded. Shares remained flat on the second day of trading and closed at $19.60.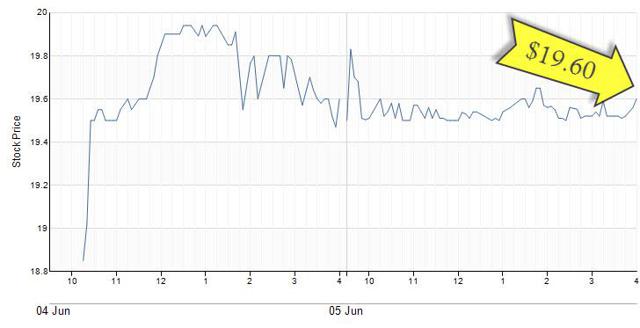 UDF is a mortgage REIT with a differentiated model that provides debt and equity capital solutions to leading developers and home-builders. The Grapevine, Texas-based REIT provides financing for acquisition and development of land in supply constrained markets by providing loans to developers and homebuilders for finished lots, as well as homebuilder lines of credit for construction of single-family homes.
UDF commenced its capital formation as a non-traded REIT, one of 6 public REIT products incubated on RSC Capital's (RSCC) wholesale/retail broker-dealer platform. UDF operate in select markets across the country where capital requirements inherent in land acquisition and development and the scarcity of favorable financing options present a desirable solution to builders and developers.
To address these needs, UDF loan offerings range from equity and land asset holdings to mezzanine and debtor-in-possession financing to secured first lien loans, giving the company the flexibility and agility to structure and quickly execute effective transactions.
Here is a snapshot of the company's target loan markets: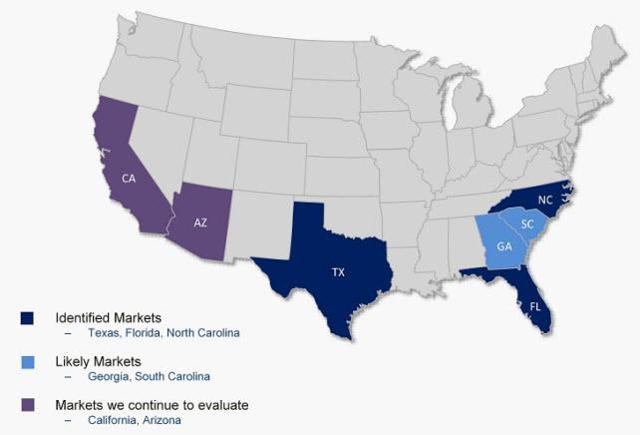 UDF targets the largest US markets where single family building permits are the strongest.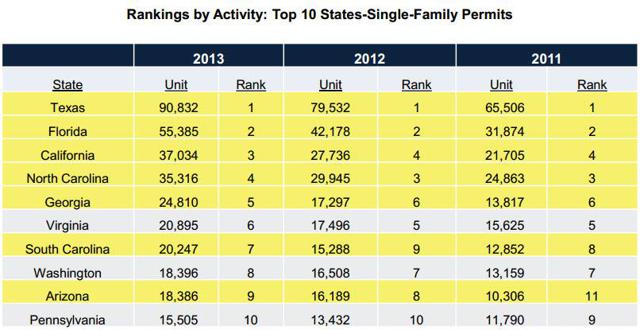 Accordingly, UDF focuses on the Top 20 CBSAs with the highest housing permit volumes.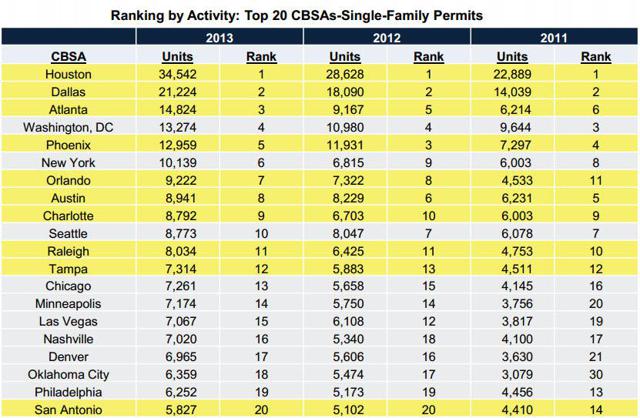 UDF has 120 loans in its portfolio (as of the listing) with a portfolio size of $544.8 million. The company's average loan duration is 33 months and with an average loan-to-value of 85%. The company currently has no credit defaults in its portfolio.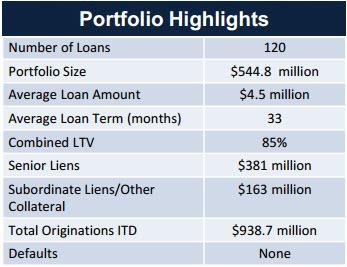 UDF's loan portfolio consist of development loans (66%), finished lots (19%), homebuilder credit lines (11%), ad reimbursement notes (4%).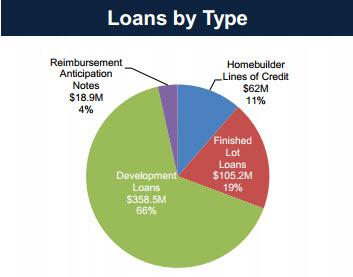 Most (99%) of the company's loans are in Texas: Dallas/Fort Worth (67%), Austin (13%), San Antonio (9%), and Houston (9%). The remaining exposure (1%) is in Florida.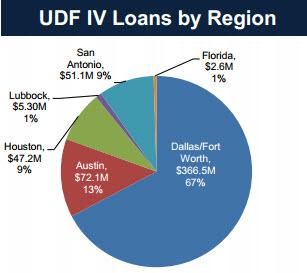 According to FDIC data, during the housing recession, banks significantly reduced their portfolios of construction and development loans and have only recently begun to increase their construction and development lending.

Notwithstanding the improving trends and strong fundamentals in housing, local and regional banks remain unable or unwilling to significantly increase lending to developers and homebuilders.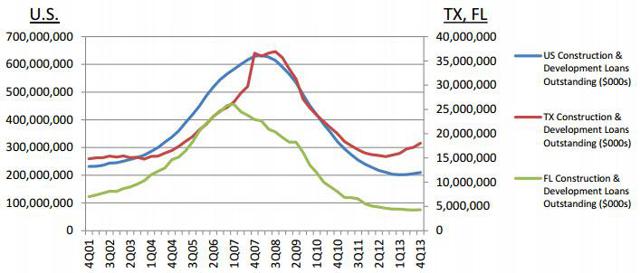 UDF's differentiated business model is now an attractive public REIT alternative and one in which I have a strong interest to become a shareholder.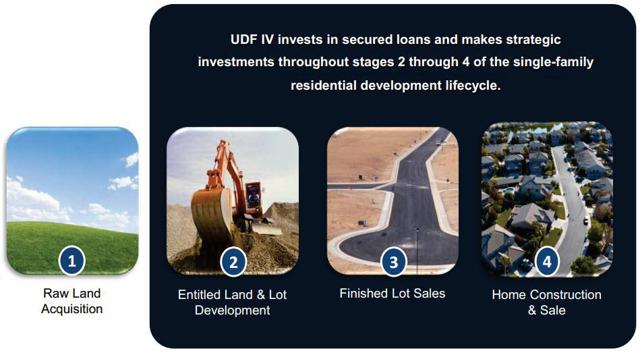 Let's Dig Deeper
UDF provides an investment alternative to regional banks and homebuilders for investors to participate in the continuing U.S. housing recovery. The value proposition is unique in that this REIT is the only platform that is focused exclusively on single family residential finance. The REIT has a broad range of alternative exit strategies - selling a new home, a finished lot or land to be developed.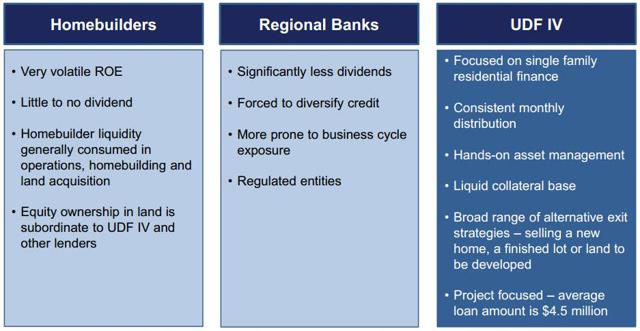 As noted above, UDF was once a non-traded REIT so unlike a traditional IPO, proposed UDF investors can assess the company's track record of revenue and earnings growth. Here is a snapshot of the loan growth:

Here is a snapshot of historic revenue growth: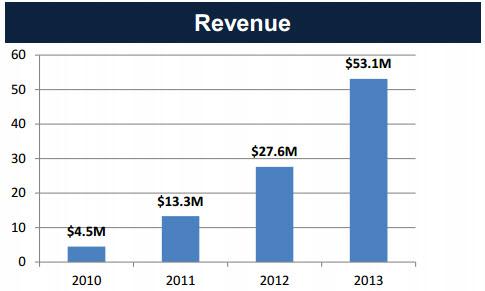 Here is a snapshot of historic Modified Funds from Operations (or MFFO) growth: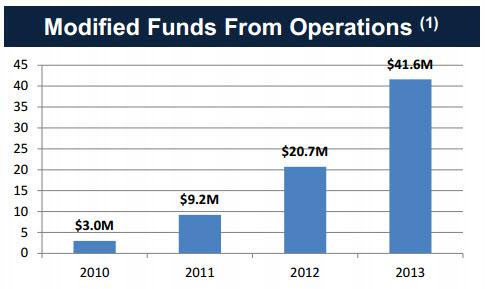 Here is a snapshot of Net Income growth: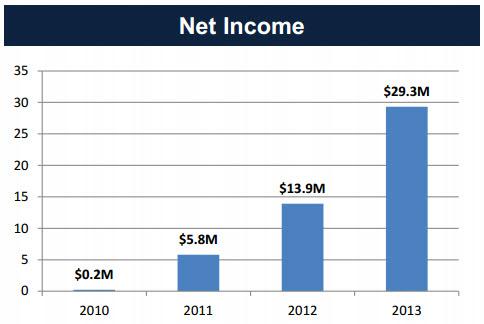 Here is a snapshot of Shareholder Equity growth: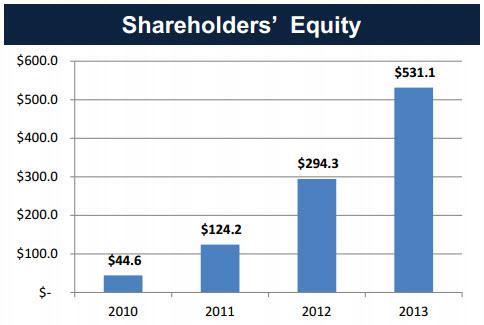 As evidenced below, UDF has created most of its value with equity, consequently the company's balance sheet has modest debt (under 6% total debt to total market cap).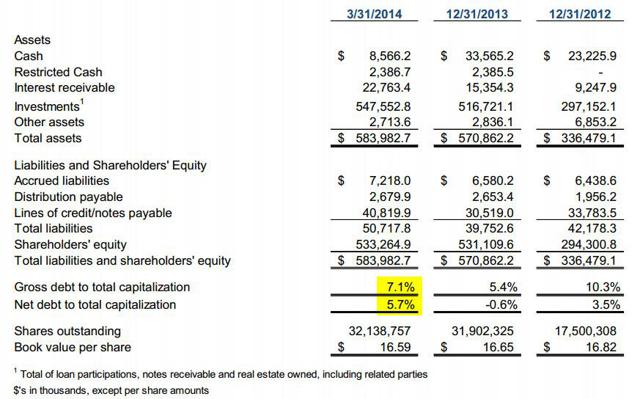 UDF has historically paid base distributions monthly to yield an annual distribution of $1.64 per share. In 2014 the company paid out $1.64 per share (through June) and the company plans to payout $1.75 per share in 2015. The company's current dividend yield is 8.20%.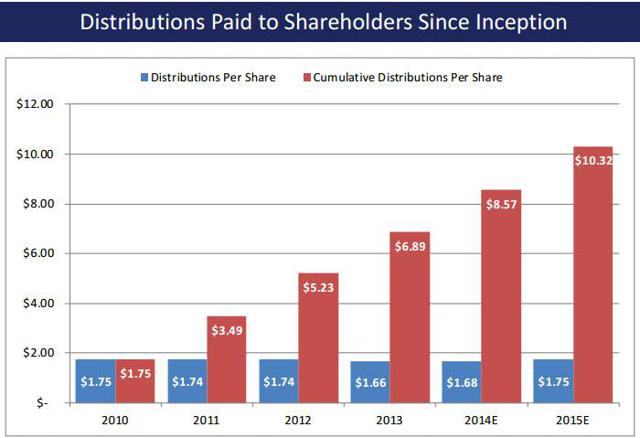 Since UDF is a REIT that lends to homebuilders and developers in select geographic areas there is really no direct peer; however, here are some comparables from Regional Banks, Homebuilders and Specialty Finance / Commercial Mortgage REITs:

Some Final Thoughts: UDF raised around $615 million utilizing the RCS Capital (Nick Schorsch platform) model and during that time the company was able to aggregate loans that averaged around 13%. With very little leverage in place, UDF has the opportunity to lever up the portfolio and increase its earnings capacity. (Note: UDF is no longer affiliated with RCS and UDF is externally managed.)
In addition, the housing market is continuing to recover (creating demand) however, banks are still extremely sensitive to providing funding for regional homebuilders and developers. After reviewing the UDF management profile and briefly speaking with the company's CEO, Hollis M. Greenlaw, I am fairy bullish on the sector and this REIT.
As we have seen with many non-traded REIT listings, the initial share price after listing usually declines by around 10-15%. I believe that phenomenon is usually driven by the broker dealers and financial planners that "churn" shares. Although I can't say that UDF will decline by that amount, I intend to monitor the shares to establish an entry price at around $19.00.
I have some experience in the homebuilding sector as my mother has been an on-site residential sales agent for over 25 years and I have witnessed the cycles of wealth creation (and destruction). The snapshot below clearly illustrates the value proposition for UDF and the underlying dynamics that provide the ingredients that make this mortgage REIT something special.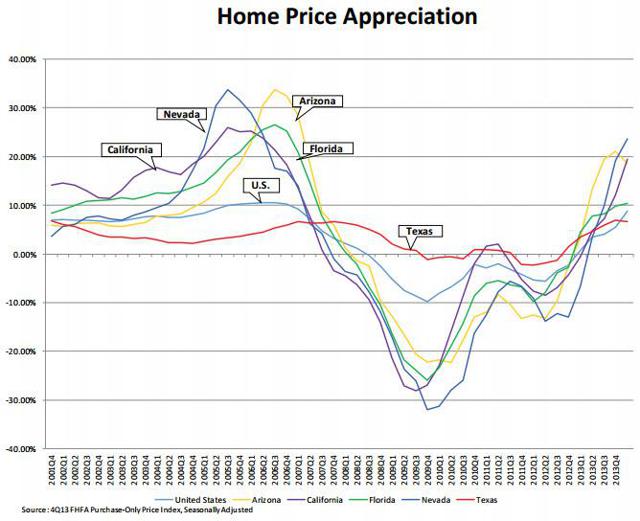 For more information on my REIT portfolio, check out my monthly REIT newsletter HERE.
Sources: SNL Financial and UDF Presentation.
Peer Group: (NASDAQ:OZRK), (NYSE:PB), (NASDAQ:TCBI), (NYSE:CFR), (NYSE:DHI), (NYSE:LEN), (NYSE:BRP), (NASDAQ:LGIH), (CLNY), (NYSE:RWT), (NRF), (ARCP), and (NYSE:STWD).
Disclaimer: This article is intended to provide information to interested parties. As I have no knowledge of individual investor circumstances, goals, and/or portfolio concentration or diversification, readers are expected to complete their own due diligence before purchasing any stocks mentioned or recommended.
Disclosure: I am long O, DLR, VTR, HTA, STAG, UMH, CSG, GPT, ARCP, ROIC, HCN, OHI, LXP, KIM, WPC, DOC. I wrote this article myself, and it expresses my own opinions. I am not receiving compensation for it (other than from Seeking Alpha). I have no business relationship with any company whose stock is mentioned in this article.