Phillips 66 (NYSE:PSX) operates as in four segments: Midstream, Chemicals, Refining, and Marketing and Specialties. However, most people think of it primarily as an oil refiner. The chart below gives a better idea of the actual breakout of its business.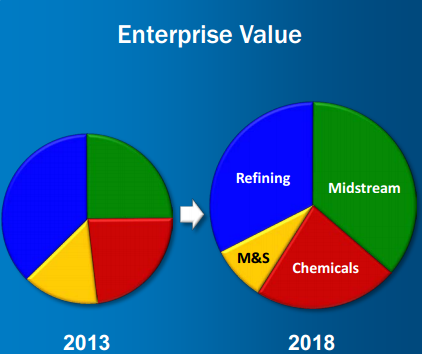 As readers can see the Refining and the midstream businesses comprise the bulk of its business, although the chemicals business is non-negligible.
I will concentrate on the refining end of the business in this article. However, in order to reassure readers, the following chart depicts just how well PSX has been performing relative to its peers in all three of its main businesses in terms of return on capital.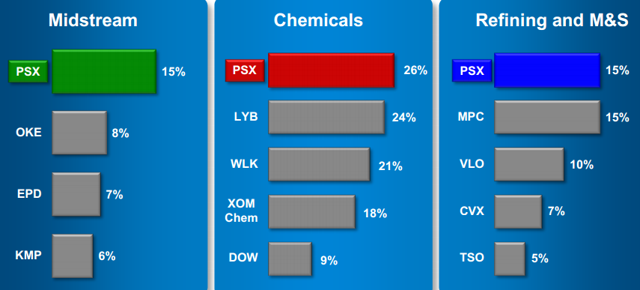 As readers can see PSX is tops in performance in all three of its main business areas.
In the refining business there are some secular trends that should give PSX an edge over much of its competition. First and foremost there is a lot of Bakken and Canadian oil sands oil that is easily and cheaply available to refineries in the north-central US. PSX operates 15 refineries worldwide. Of these, 11 are in the US. Of those 11, two have easy access to Bakken and Canadian oil sands oil -- The Wood River Refinery in Roxana, Illinois (305 Mbpd capacity) and the Billings Refinery in Billings, Montana (58 Mbpd capacity). These refineries most likely generate the Chicago 2-1-1 (WTI) crack spread (or a close facsimile), which is averaging $22.73 in Q2 2014. The table and the chart as of June 4, 2014 are below.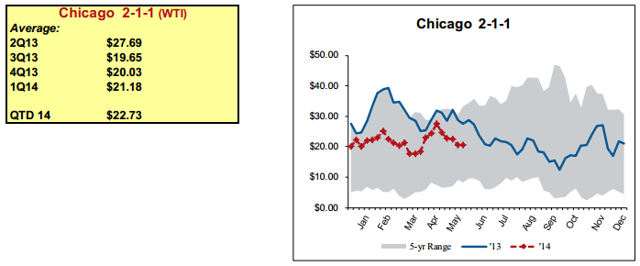 This compares favorably to the most often cited crack spread, the Gulf Coast 3-2-1 spread (see table and chart below).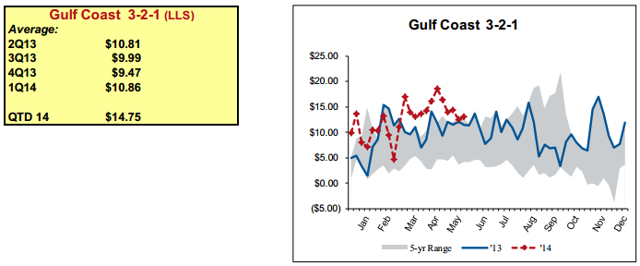 In Q2 2014 this crack spread has been improving. I am inclined to believe that that is at least partially due to the newly available cheaper crude that has only recently become available from Cushing, Oklahoma. In January 2013 the 400,000 bpd Seaway Pipeline opened for business. Enbridge (NYSE:ENB) now expects the twinning of it to 850,000 bpd capacity to go online by the end of Q2 2014. This will bring significantly more WTI oil from Cushing to the Texas Gulf Coast. In January 2014 the TransCanada (NYSE:TRP) Keystone South Pipeline opened for business. It will transport 700,000 to 800,000 bpd from Cushing, Oklahoma to Port Arthur, Texas. Another Enbridge pipeline, the Flanagan South Pipeline, from Pontiac, Illinois to Cushing, Oklahoma is expected to go online in Q3 2014. The initial capacity will be 600,000 bpd. This should allow for more cheap oil transport from the Bakken and Canada to the main hub in Cushing, Oklahoma. All these developments mean that PSX's Gulf Coast refineries should have better access to cheaper oil. That should positively impact the Gulf Coast 321 crack spread, which is what we are already seeing (see table above). That in turn should make PSX more profitable. PSX has 733 Mbpd in refining capacity on the Gulf Coast that could benefit from the above circumstances.
PSX also has the Ponca City Oklahoma Refinery (210 Mbpd capacity) and the Borger Refinery (73 Mbpd in capacity in the Texas panhandle), which both should benefit from their proximity to Cushing, Oklahoma. Beyond that PSX has 359 Mbpd in West Coast capacity that is usually highly profitable in part due to the high gasoline prices charged on the West Coast. In sum it appears that PSX's refining business is set up to do very well.
Also of interest to investors is that PSX pays a 2.4% dividend. Plus it has recently agreed to buy a 7.1 million barrel storage facility near Beaumont, Texas (Gulf Coast) from Chevron Corp. (NYSE:CVX). This has a storage capacity of 4.7 million barrels for crude and 2.4 million barrels for refined products. I expect that this will help PSX's nearby Westlake, LA refinery (239,400 bpd of capacity) be more efficient and more profitable. Further many have been lobbying to allow the US to export oil and refined products more easily. It seems likely that the refined products export ban will be the first to be eased. The extra refined products storage capacity would come in extremely handy in that case. The marine terminal for the storage facility has two docks capable of handling 750,000 barrel oil tankers, one barge dock, and rail and truck loading and unloading infrastructure. This recent acquisition should stand PSX in good stead in future years.
PSX is reasonably valued with a 13.06 PE and a 10.51 FPE. It has an analysts' next five years EPS growth estimate per annum of 10.25%. In 2014 alone PSX is expected to grow EPS by 23.90%. All told PSX's prospects look good. It is not overvalued. It is deserving of investors interest. It appears to be a long term buy.
The two year chart of PSX may provide some technical direction for a trade.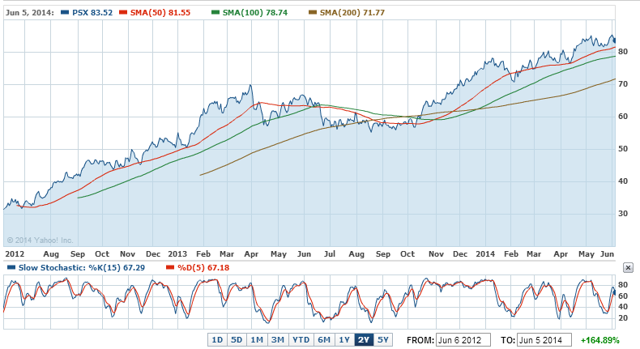 The slow stochastic sub chart shows that PSX is near overbought levels. The main chart shows that PSX is in a strong uptrend. There does not appear to be any reason this won't continue. Investors should always worry about a drop in oil prices and/or an economic slowdown. However, barring such events, PSX looks set to profit very nicely in future quarters. If you think, as David Tepper indicated he did after the recent ECB easing actions, that the market is going up, PSX might be a good stock to be invested in. If the US economy and/or oil prices start to fall appreciably, I would tend to sell it quickly though. You could always buy it back when you were expecting an upswing in the US economy. I do note that many people have US GDP growth estimates for Q2-Q4 2014 of more than 3%+. If those prove accurate, PSX will likely be a good stock to own. Analysts give it a mean recommendation of 2.1 (a buy). They may be correct.
NOTE: Some of the above fundamental fiscal information is from Yahoo Finance.
Good Luck Trading.
Disclosure: I have no positions in any stocks mentioned, but may initiate a long position in PSX over the next 72 hours. I wrote this article myself, and it expresses my own opinions. I am not receiving compensation for it (other than from Seeking Alpha). I have no business relationship with any company whose stock is mentioned in this article.