In May 2014 we added 217,000 net new payrolls and unemployment, the U-3 broad measure, was unchanged at 6.3%. May growth was below the average of March and April, 245,000 new payrolls average in March and April of 2014. Much will be made, and it is reasonable, that we have now surpassed the 2007 employment levels. There are 17 million more Americans, according to the US Census. It took us a post WWII record 6 years to generate the number of jobs lost in the great recession. We are back to that square 1. This is a milestone and worthy of mention. However, we are a larger nation and the jobs we lost, in many cases, are better than the jobs we have created, in terms of wages and benefits. Stagnant or declining earnings tell this story and keep our economy weaker than our standard measured numbers report.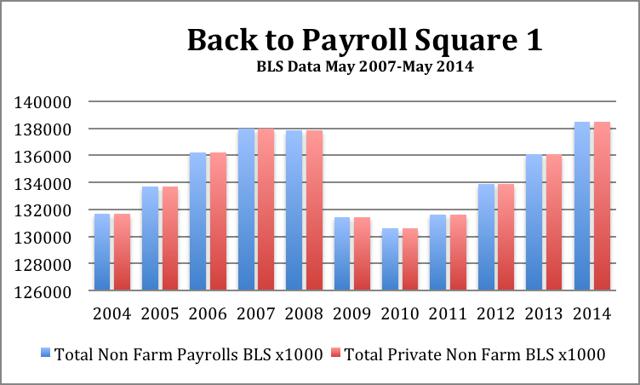 The May 2014 numbers loom larger than usual as the payroll numbers have been strong the last few months but, the first quarter of 2014 GDP was very weak, an annualized contraction of 1%. Clearly the winter was hard on retail and new economic activity. Payroll growth has now been strong and bodes well for a much stronger spring 2014 GDP print. Asset prices have clearly priced this expectation and continue to dramatically outperform the economy overall. This is making us increasingly nervous. The economy and wages/salaries need to gap up in growth, or asset price gains will rest on an increasingly questionable basis.
The Federal Reserve revealed, Thursday 05 June, that American wealth has surged and is now well above the 2008 levels. Leadership in wealth creation centered in equity markets and higher end home values. This is compounding the growing severity of inequality and attention to this feature of the US economy, especially aggressive since 2008 and the great recession. Only about 1 in 7 American household has meaningful direct holdings of financial assets. This concentrates the benefits of growing wealth. Mostly problematically, the usual wealth effects have not arrived in the US economy. Normally, we expect rising wealth to create rising demand and this pushes up consumer demand and economic growth. This is not occurring and we expect the increased concentration of gains is largely responsible for the limited wealth effect. Higher income households save more and this reduces the wealth effect.
Disclosure: I have no positions in any stocks mentioned, and no plans to initiate any positions within the next 72 hours. I wrote this article myself, and it expresses my own opinions. I am not receiving compensation for it. I have no business relationship with any company whose stock is mentioned in this article.