I am a big fan of Canada's BNN (Business New Network) and the show "Market Call" in which host Mark Bunting interviews professional money manager and takes calls from viewers. It's great to see these professionals discuss their approach and picks. One of the recent guests was Teal Linde who writes a newsletter (top rank by Hulbert Interactive) and is also a money manager based in Vancouver. I found his investment philosophy and style intriguing. Linde discussed his top picks with Bunting, which I have analyzed below. You can watch video clip here.
Teal Linde has a website, which you may want to explore. Linde articulated his investment approach on BNN as follows:
"If you want to achieve double-digit returns, your best bet is to find and own companies that can grow their earnings per share at a 15%-20% annual growth rate, year after year after year. These kinds of stocks are typically more volatile and most investors do not like volatility. Advantage for a "do-it-yourself" investor who spends a lot of time to get to know a company and understand what it's doing, is that if you know what you own, you can better tolerate the volatility and therefore have a better return potential."
Now on to Linde's top picks:
Air Lease (NYSE:AL)
Investment Thesis
Earnings are expected to grow at 29% this year and revenues are growing at about 20%-22%. Trading at 18X earnings. Growth valuation multiples are very attractive. They buy new planes from Boeing (NYSE:BA) and Airbus (OTCPK:EADSY) in bulk, so they get volume discounts, and are 1st in line. They then go to the smaller airlines around the world who, if they want to buy a plane from Boeing, have to pay full price and wait further back in line, and probably have higher cost of capital. It is cheaper for them to lease from this company than it is to buy direct. Linde says that AL is like a distributor for Boeing and Airbus.
AL Current Valuation
AL

Industry Avg

S&P 500

Price/Earnings

21.3

22.9

18.3

Price/Book

1.6

2.9

2.6

Price/Sales

4.9

1.5

1.7

Price/Cash Flow

6.7

5.8

11.1

Dividend Yield %

0.3

0.8

2.3
Data as of 06/04/2014, *Price/Cash Flow uses 3-year average.
Forward Valuation
AL

S&P 500

Forward Price/Earnings

15.1

17.0

PEG Ratio

0.4

-

PEG Payback (Yrs)

4.8

-
(Source: Morningstar.com)
My Take on AL
AL appears to be in an early stage of ramping up and is well positioned on the secular growth of air traffic in Asia and appears to have a long growth runway ahead of it. It has a very experienced management team and seems to be executing very well. I think this is a BUY.
Signature Bank (NASDAQ:SBNY)
Signature Bank is a full service commercial bank, which offers a variety of business and personal banking products and services, as well as investment, brokerage, asset management and insurance products and services through its subsidiary. The Bank operates Signature Financial, a specialty finance subsidiary engaged in equipment finance and leasing, transportation finances and taxi medallion financing
Investment Thesis
SBNY is the fastest growing bank in America that has branches. Have gone from a single branch in 2001 to 27 branches, just in the New York City area. They focus on serving privately owned businesses, their owners and their senior managers. Clients are high net worth. They grow by recruiting teams of bankers from larger banks along with their client books. Growing their earnings per share this year at about 21% and revenues at around 23% and are trading at around 21X earnings. Currently only in NYC but there is nothing to stop them from taking this business model and taking it to other states. Expanding into Connecticut later this year, followed by New Jersey
Current Valuation
SBNY

Industry Avg

S&P 500

SBNY 5Y Avg*

Price/Earnings

26.8

14.8

18.3

20.9

Price/Book

3.2

1.4

2.6

2.1

Price/Sales

8.8

3.3

1.7

5.7

Price/Cash Flow

45.9

13.7

11.1

21.9

Dividend Yield %

-

1.9

2.3

-

Price/Fair Value

-

-

-

-
Forward Valuation
SBNY

Industry Avg

S&P 500

Forward Price/Earnings

18.2

-

17.0

PEG Ratio

1.2

-

-

PEG Payback (Yrs)

8.4
(Source: Morningstar.com) Data as of 06/04/2014, *Price/Cash Flow uses 3-year average.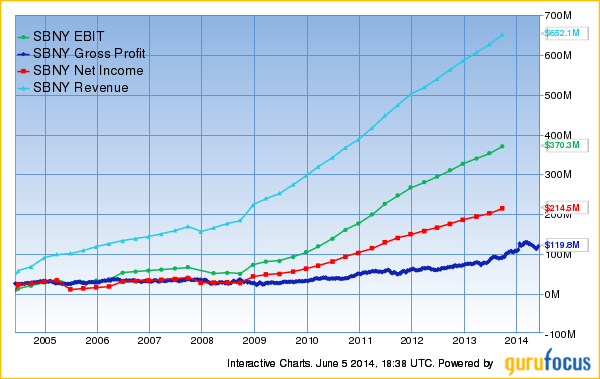 My Take on SBNY
The banks income statement looks impressive. Revenue and Income are growing in the mid-teens. It would be interesting to see how the bank expands outside NYC. However the price has run up quite a bit and I would wait for a correction to take another look at this name. WAIT and BUY on weakness.
Element Financial (OTC:ELEEF)
Element Financial Corp provides asset-based financing solutions to the end-users, distributors & manufacturers of capital equipment. It operates in four business units: Element Finance, Element Capital, Element Fleet & Element Services.
Investment Thesis
Element is taking advantage of what happened in 2008 when a lot of US industrial companies deferred or stopped purchases of new equipment. There is a lot of new equipment being purchased and leased now and, at the same time, a lot of companies that were doing the leasing have either retreated or downsized. Made a big acquisition and about 75% of the financing was considered to be equity.
Current Valuation
EFN

S&P/TSX

Price/Earnings

222.2

17.2

Price/Book

1.6

1.9

Price/Sales

13.6

1.8

Price/Cash Flow

43.3

9.2

Dividend Yield %

-

3.1

Price/Fair Value

-

-
Forward Valuation
EFN

S&P/TSX

Forward Price/Earnings

15.3

16.3

PEG Ratio

Too New

-
(Source: Morningstar.com) Data as of 06/04/2014, *Price/Cash Flow uses 3-year average.
My Take on ELEEF
It's a new 2.5 year old company which appears to be growing rapidly at reasonable valuation. Heavily into financing rail cars and trucks- a lot of it which needs to be replaced to new regulations and an aging fleet. It is a serial acquirer which will likely to be acquired itself. It is a speculative buy in my books, with a caveat that you need to get out at the top of the business cycle. ELEEF is seeing a lot of insider buying - which is strong sign of under-valuation. I think ELEEF is a BUY.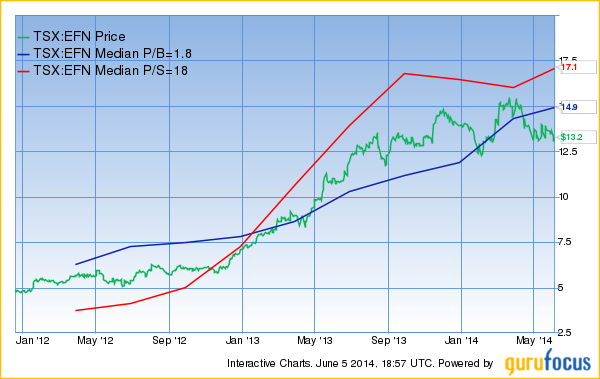 Note to readers: If you want to keep track on MarketCall on BNN - you can do so on here . This site compiles comments made by experts on TV call in shows talking about stocks. The stocks can be cross referenced by experts or by stock. This makes it very easy to get a good overview of how a stock is felt about by many experts, or if you like an expert to see what other things she or he has been talking about.
Disclosure: I have no positions in any stocks mentioned, but may initiate a long position in AL, ELEEF over the next 72 hours. I wrote this article myself, and it expresses my own opinions. I am not receiving compensation for it (other than from Seeking Alpha). I have no business relationship with any company whose stock is mentioned in this article.