Introduction:
In my last article: "Dividend Growth Investing: Retiring On Dividend Income (Part 2) we took a look at how a Dividend Growth Portfolio could provide an annually increasing income stream for retirees. Our example profiled a 1 million dollar portfolio with a 4% yield and Dividend Growth Rates of 4% and 6% a year.
Now, I understand that every investor faces different realities in terms of the size of their retirement portfolio. There are many investors, both older and younger, that have portfolios that do not approach $1 million dollars. Some have considerably less than that and their own approach to investing might take on different strategies to increase the size of their individual portfolios.
While there are a number of different ways to fund the retirement years, I think that we can all agree that having a nest-egg of some kind is going to help that process along. Creating an income from selling stocks; using dividends to fund retirement; or using alternative vehicles such as annuities and reverse mortgages all require assets from which to draw.
The sooner one starts in the accumulation of those assets the better. There is no time like the present and whether you save a small amount of your current income or a large amount, time has a way of growing the amount of money that one has available to them in the future.
One Size Does Not Fit All:
One of the things about DGI that seems to bother critics of the strategy is that there are so many nuances to the strategy. Some DGI reinvest dividends and some do not. Some DGI have a minimum yield threshold before they consider a purchase and some do not. Some will invest in REIT's and MLPs while some might not. Some will sell a position where the company they own has eliminated, reduced, or frozen the dividend, while some will not.
I could go on, but in many of the articles that are published at Seeking Alpha, you can see the different points of view in many of the comments being made and in many of the examples that Dividend Growth Investors share.
The way I go about investing in my portfolio might be different that the way that you invest in your portfolio. But, I believe that there are some basic components of the Dividend Growth strategy that just make sense to me. My own metrics include:
Investing in companies that are priced at a value to their intrinsic worth.
Investing in companies that have a history of increasing dividends.
Investing in companies that increase those dividends annually.
Investing in companies with earnings growth that can support dividends in the future.
Being willing to adapt and change as underlying fundamentals of stocks within your portfolio change.
Not always being a "buy and hold" investor, but becoming more active in my portfolio management to become a "buy and monitor" investor, instead.
A Real Portfolio:
In 2009, I created a portfolio to supplement my mother's retirement income. She was very conservative and she would ladder Certificates of Deposit in order to supplement her income.
That was well and good when interest rates were high, but as these CD's began to mature, our options to roll the money into equal or greater interest rates dried up. As an alternative, we decided to take each maturing CD and invest that money into the stock market, specifically in Dividend Growth stocks. I have written about this portfolio and you can go back and look at the flow of the articles if you would like.
The portfolio was begun with a $100k CD that matured and that money was put into 10 stocks with equal $10k positions. The stocks were Coca-Cola (NYSE:KO), Abbott Labs (NYSE:ABT), Colgate Palmolive (NYSE:CL), Johnson and Johnson (NYSE:JNJ), Procter and Gamble (NYSE:PG), McDonald (NYSE:MCD), Altria (NYSE:MO), AT&T (NYSE:T), Kimberly Clark (NYSE:KMB) and Chevron (NYSE:CVX).
A second CD matured in 2010 and we took that 100k and invested equal amounts of money, 10k each, into the same 10 stocks.
The third CD matured in 2011 and we added an additional $5k in each of our original positions and added 5 new positions with a $10k investment in each one. Those additional companies were Microsoft (NASDAQ:MSFT), Intel (NASDAQ:INTC), Reynolds (NYSE:RAI), Exxon (NYSE:XOM) and Verizon (NYSE:VZ).
Bringing Things Up To Date:
This portfolio is held in a taxable account. Dividends that are received from the portfolio have not been reinvested into the existing holdings, but instead have been used to supplement my income and for spending toward different expenditures as these have presented themselves.
The cost basis for the companies in the portfolio has been recapped from each of the investment "baskets." Stock splits and stock spin offs have been accounted for in the numbers that are provided.
When we look at the price appreciation for the portfolio, the results through May 30th look like this. The overall portfolio has increased in value from $300k to the current value of $506k.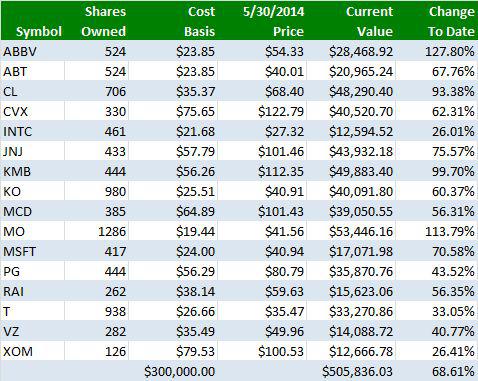 The next table shows the projected income for the portfolio in 2014 and the dividend growth rates for the 1-3-5 year periods.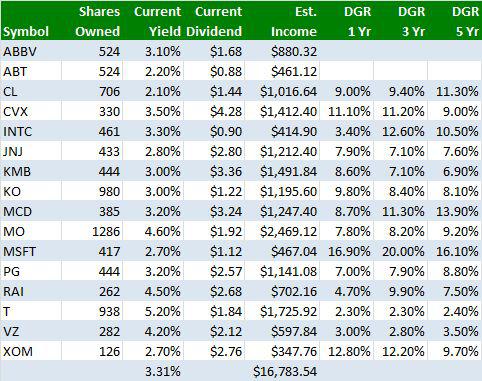 The portfolio has a current yield of 3.31% and projected income from dividends this year is $16,783.54. That might change as some of these companies are expected to increase dividends this year and at the end of the year, a recap will be provided.
Some Thoughts About The Portfolio:
When we added these companies to our portfolio, we followed our own metrics for investing in a DG portfolio.
All of the companies purchased were bought, based on traditional fundamental analysis and represented what we felt was a value at the time of purchase.
Each of the companies in the initial group was a member of the Dividend Champions universe. That means that they had a history of paying and increasing dividends on an annual basis for at least 25 years at the time of purchase.
The more recent purchases, Intel, Microsoft, Reynolds American, Verizon, and Exxon Mobil are also members of CCC stock group and at the time of purchase, represented what we felt, based again on fundamental analysis, a value.
We have held these positions with no changes. We have not "rebalanced" the portfolio. We have not sold any of our positions. We have not made any additional purchases.
Conclusion:
Our portfolio was designed with the specific goal of creating an increasing income stream. We have achieved that goal and at the same time had a very favorable price appreciation for the stocks in our portfolio.
The income stream should continue to grow year over year, but it is important to understand that changes to the components of the portfolio can and will be made as situations present themselves.
While no one can predict the future, being able to purchase these companies at favorable price levels has given us a cushion against market corrections.
We do not have to ever sell the individual stocks in the portfolio for income. We expect these companies to continue to grow our income moving forward and since they are held in a taxable account, leaving these stock to heirs triggers a stepped up cost basis at some point in the future.
Disclosure: I am long ABT, ABBV, CL, CVX, JNJ, KO, KMB, MO, MCD, PG, T, VZ, XOM. I wrote this article myself, and it expresses my own opinions. I am not receiving compensation for it (other than from Seeking Alpha). I have no business relationship with any company whose stock is mentioned in this article.