As we have been bullish on the market for the past few years, our portfolios have been fully invested for the most part. This has forced us to use margin on corrections, be they general market or security specific, and to sell into rallies. In short, our trading activities are risky due to the financing aspect, and as trades reach levels which we view as fair, we are quick to pull the trigger. This is the case today, and we will explain it further in the article, but we want to be clear that this move should not be misconstrued as a move to the bearish camp, as we remain quite bullish.
Chart of the Day:
We are still waiting for the small caps to catch fire, and right now, they are basically tracking the general market. We went bullish on the iShares Russell 2000 ETF (NYSEARCA:IWM) near the recent lows, and are waiting on that to pan out. Yes, there have been gains, but when compared to the S&P 500, we have not seen outperformance, which is something we did in fact expect.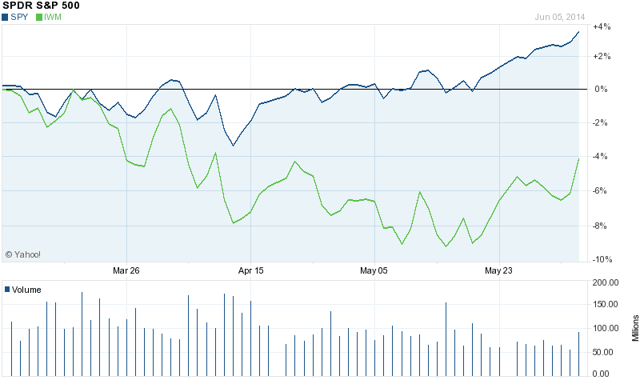 Source: Yahoo Finance
We have economic news today, and it is as follows:
Nonfarm Payrolls (8:30 a.m. EST): Est: 220k Act: 217k
Nonfarm Private Payrolls (8:30 a.m. EST): Est: 230k Act: 216k
Unemployment Rate (8:30 a.m. EST): Est: 6.4% Act: 6.3%
Hourly Earnings (8:30 a.m. EST): Est: 0.2% Act: 0.2%
Average Workweek (8:30 a.m. EST): Est: 34.5 Act: 34.5
Consumer Credit (3:00 p.m. EST): Est: $15.0 B
The Asian markets are mixed today:
All Ordinaries -- up 0.50%
Shanghai Composite -- down 0.54%
Nikkei 225 -- down 0.01%
NZSE 50 -- up 0.44%
Seoul Composite -- CLOSED
In Europe, the markets are higher this morning:
CAC 40 -- up 0.75%
DAX -- up 0.39%
FTSE 100 -- up 0.47%
OSE -- down 0.45%
Looking To Take Profits
Regarding our trade on Boeing (NYSE:BA), we are looking to take profits heading into the close on this Friday. It is still our belief that the shares will continue to trend higher and will be a big winner over the next few years, however, we like to manage our risk and margin properly, and that is what this trade is all about.
Having bought near the lows on margin, it now appears time to take profits and reduce risk. We cannot stress enough that we still like the name for a long-term play.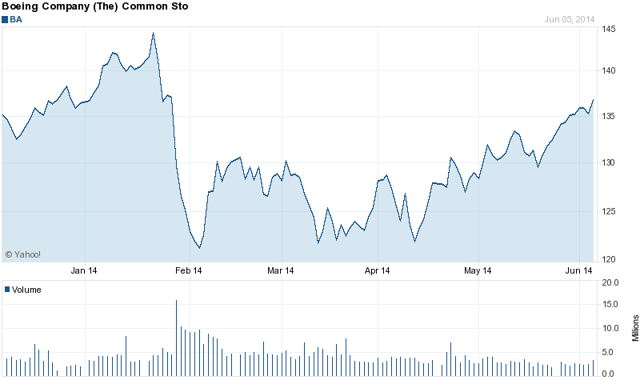 Source: Yahoo Finance
If we did not own the shares on margin, we would probably hold, but with the big run-up in shares, we think it prudent to take profits now that most of the gains we had anticipated have been realized.
As We Look Ahead
In the next few months, we will probably make a few big rebalancing moves in our portfolios to position ourselves for the end of the year. Even though we are looking to reduce our risk by exiting an aerospace and industrial play, as explained before, we think that the second half of the year will see the industrials outperform as global growth kicks in and the possibility that the EU members start to see real growth.
For those looking for a diversified way to play the industrials, we think that the Industrial Select Sector SPDR ETF (NYSEARCA:XLI) is the way to go, especially if the S&P continues to outperform the small caps. Also on our watch list are Honeywell (NYSE:HON) and United Technologies (NYSE:UTX), two companies which are levered to a rebound in the US economy, as well as the red-hot aerospace sector. The fact that we like these names should not be a surprise to readers, as we have discussed these two companies before, but we are looking at going overweight these names and/or the sector.
Disclosure: I am long BA. I wrote this article myself, and it expresses my own opinions. I am not receiving compensation for it (other than from Seeking Alpha). I have no business relationship with any company whose stock is mentioned in this article. I will look to sell BA during the session. Also, UTX has previously been recommended.