Ion Geophysical (NYSE:IO) is shifting focus away from products and focusing more on services. This shift is and will continue to hinder Ion's total revenue growth for several quarters. Ion will need their service revenue to offset declines in product revenue. However, Ion's service revenue will have difficulty growing while the exploration industry reduces spending. These factors make Ion Geophysical a risky investment with limited upside.
Legal Troubles Under Control
Since 2009, Ion Geophysical has been fighting a patient infringement lawsuit filed by WesternGeco (subsidiary of Schlumberger Limited (NYSE:SLB)). The WesternGeco lawsuit hasn't settled but the total impact of the case on Ion's operations has become clearer. In August 2012, WesternGeco was awarded $105.9 million in damages. Ion Geophysical setup a loss provision for this case which is currently $123.8 million. Ion is well positioned financially to suffer a $123.8 million loss without severally impacting their core business. Ion has cash in excess of $197 million and $127 million credit facility which will more than adequately cover legal expenses.
Good Start To 2014?
Ion Geophysical had a challenging 2013. Ion's equity fell over 46% while the S&P 500 gained 30%. The company increased their legal accruals, incurred restructuring charges, and inventory write-offs. As a result, Ion reported negative EPS of ($1.59). Ion appears to have put 2013 behind them and is off to a better start in 2014. In 2014, Ion's equity is up 26% compared to only 4% for the S&P 500. Ion reported first quarter EPS of $0.46 which is a significant improvement from 2013's first quarter EPS of $0.01.
Was 2013 A Bump In The Road Or Is Ion's Core Business In Trouble?
Ion is restructuring their business. Ion is transitioning from a product and service company to strictly a service company. This transition resulted in significant inventory write-downs and restructuring charges in 2013. Despite 2013's restructuring charges, Ion's total net revenue and service revenue grew 21% and 47%, from 2011-2013. Total revenue grew despite product revenue declining 16%, during the same period. Although focusing on services, product revenue still represents 23% of total revenue. Product revenue's decline will continue to weigh on total revenue growth. Additionally, Ion's service revenue growth is becoming more uncertain due to trends in the exploration and production industry. Currently, the E&P industry is shifting away from exploration spending.
Ion wrote in their 1Q-2014 10Q:
Recently, we have seen reduced levels of exploration-related spending by E&P companies, which are reportedly focusing more of their current spending towards production optimization of existing assets.
The reduced exploration spending will impact Ion's multi-client business which represents 31% of revenue as 1Q of 2014.
Is exploration activity going to increase in the short to medium-term?
Exploration companies need higher oil prices to warrant increased exploration spending. However, oil prices are forecast to remain flat or even decline, according to U.S. Energy Information Administration. Below is a chart showing, the EIA's estimated oil prices for the next 7 years.
| | | | |
| --- | --- | --- | --- |
| | Reference | High Oil Price | Low Oil Price |
| 2013 | 106.5 | 106.5 | 106.5 |
| 2014 | 98.9 | 98.9 | 98.9 |
| 2015 | 97.1 | 131.7 | 73.6 |
| 2016 | 93.4 | 139.1 | 70.0 |
| 2017 | 91.8 | 144.0 | 69.0 |
| 2018 | 92.5 | 146.4 | 68.8 |
| 2019 | 94.4 | 148.3 | 68.7 |
| 2020 | 96.6 | 150.3 | 68.9 |
| 2021 | 99.1 | 151.7 | 69.2 |
EIA Annual Energy Outlook 2014
As shown above, U.S. Energy Information Administration only forecasts significantly higher oil prices in their High Oil Price scenario. The High Oil Price scenario requires strong demand for oil. Yet, several economic regions are struggling to sustain positive GDP growth which will slow demand for oil.
Currently, the European Union is struggling to maintain positive GDP growth. Over the last 4 years, EU GDP growth has slowed from 2.1% in 2010 to 0.1% in 2013. The United States has faired slightly better than the EU but is still struggling to maintain positive GDP growth. The United States GDP growth has slowed from 2.5% in 2010 to 1.9% in 2013. Another troubling sign, the United States experienced a 1% contraction in the first quarter of 2014. Two major economic regions are struggling to grow their economies. This will keep global demand for oil from growing substantially.
Another, issue for higher oil prices is increasing supplies. The United States is the third largest oil producer and is estimated to drastically increase production. The chart below shows the estimated increase or decrease in production for several major countries.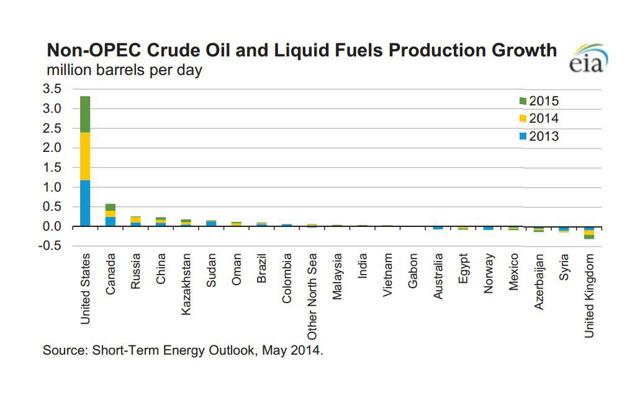 EIA Short-Term Energy Outlook
According to the EIA, the United States is forecasted to produce an additional 3.2 million barrels per day by 2015. Additionally, the EIA's Short-Term Energy Outlook report states:
EIA expects the combination of total liquids supply growth from countries outside of the Organization of the Petroleum Exporting Countries (OPEC) and noncrude oil supply growth in OPEC member countries to exceed world liquids demand growth over the next two years.
Slow global economic growth and increasing global supplies will cause oil prices to decline or remain at current levels. As a result, exploration spending should remain flat or even decline.
Conclusion
Ion Geophysical's legal risk appears to be behind them. They received positive news which resulted in the reduction of their legal expense estimates being reduced from $193.3 to $123.8 million. The company has been transitioning from a product provider to strictly a service company. Product revenue will continue to decline which needs to be offset by services revenue. However, current market conditions make service revenue growth difficult and uncertain. Ion Geophysical had a difficult 2013 and 2014 could be as challenging, despite a solid first quarter.
Disclosure: I have no positions in any stocks mentioned, and no plans to initiate any positions within the next 72 hours. I wrote this article myself, and it expresses my own opinions. I am not receiving compensation for it (other than from Seeking Alpha). I have no business relationship with any company whose stock is mentioned in this article.