Monday morning fast approaches and time is running out for the bears. We know what Monday morning means... a gap up of at least 0.5%, preferably 1% due to:
a report from China
merger and acquisition
mutual fund Monday
it's not Sunday
by mathematical process 98.9298% of all Mondays must start with a gap up
S&P 1116 has held like a rock all week after the (wait for it) gap up this past Monday to take us over that very important level. You can work off overbought conditions by time or price. It is being worked off by time this week in the general indexes. The most overbought of individual stocks are not coming in at all and just marking time as well. Just as this week's gap up took the S&P 500 over a key level (the 200-day simple moving average) next Monday's gap up will take us over a key level (1131). If only every day could be a Monday, S&P 2000 would shortly be here. (Click to enlarge)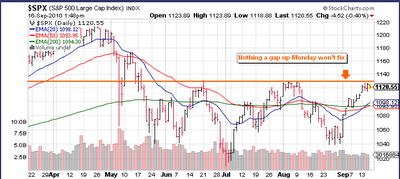 Therefore bears are losing their window if they cannot break this market in the next day and a half. Always Up Monday fast approaches.
Disclosure: None