Aeropostale (NYSE:ARO), a mall-based specialty retailer of casual apparel for young women and men, has been one of the worst stock to own over the last year or so. The company reported a weaker-than-expected fiscal first-quarter results, lowered its guidance for current quarter and gave new details on plans to close stores, which resulted in its shares dropping more than 20 percent in a single day last month. Overall, it's down 76.5 percent in the last twelve months, which compares to declines of 43.9 and 20.6 percent, respectively, in American Eagle (NYSE:AEO) and Abercrombie & Fitch (NYSE:ANF).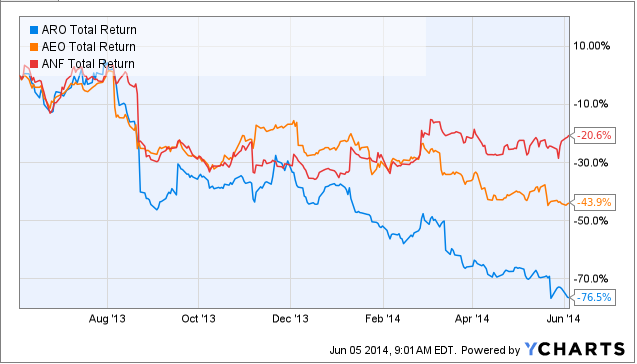 So is this an opportunity to pick up Aeropostale stock cheaply? Let's take a look at the pros and cons.
Cons:
Declining sales & margins
The company has hit a rough patch of late and is struggling to revive its sales and earnings growth. For the fiscal year ended on February 1, 2014, Aeropostale reported net sales of $2.09 billion, a 12.3 percent decline compared to FY 2012. The downtrend continued in the first quarter of 2014, as net sales reduced 12.5 percent compared to same period last year. According to consensus analysts' estimates by Reuters, the revenues are expected to decline 12.8, 8.8 and 8.4 percent (yoy), respectively, in the second, third and fourth quarter of the current fiscal.
While the revenue slide began just last year, Aeropostale's margins have been falling for quite a while now. Over the last four years, gross margins have shrunk by 10.9 percentage points to 17.1 percent last year, while operating and net margins fell into the negative territory in 2013. The year-after-year decline in gross margins means fewer funds available for operating expenses, which further suggests that the company will have a hard time returning to profitability anytime soon.
Closing store could result in significant costs
In an on-going effort to optimize its real estate portfolio so as to increase sales per square foot, Aeropostale is considering roughly 170-180 locations for store closure over the next several years, according to its recently filed Form 10-K with the US SEC. Of these, it plans to close around 50 stores in 2014, in addition to 48 and 19 closed, respectively, during fiscal 2013 and 1Q14. Upon any such closure, the closing costs, including fixed assets and inventory write-downs, is likely to adversely affect its earnings and cash on hand. For instance, if the company decides to close any store before the expiration of their lease terms, then it may incur payments to landlords to terminate or buyout the remaining term of the lease. It could also incur costs related to employees at such stores, irrespective of whether they terminate the lease early or not. Metaphorically, it's like curing cancer, where the company does away with underperforming or loss-making stores, but there will be undesirable effects during the course of the treatment.
Increasingly competitive industry conditions
In the increasing competitive and price sensitive teen and child specialty retail industry, it is important to anticipate, identify and respond to consumers' fashion preferences in a timely manner, or else there are profitability risks. Aeropostale's key competitors are now operating a more promotional business, similar to its own. Nevertheless, the management has admitted that they are facing increased competition based on price and promotion than ever before. Unequivocally, greater or continued promotional activity in the industry could have a material adverse effect on its sales and results of operations. In times as such, cash is the king and there's no doubt that Aeropostale has been burning cash like anything. According to a statement by Morgan Stanley, even a rosy FY 2014 outlook would imply a $92 million cash burn for the fiscal. And with a little over $24.5 million remaining on its balance sheet at the end of first quarter, there are significant liquidity concerns despite securing a $150 million credit facility from Sycamore Partners late last month. In addition, Aeropostale has high operating lease costs, which somewhat limits its cash flow generation abilities.
Pros:
Possible buyout candidate
Despite all the negativity around the company over the last few years and significant headwinds it might face in the years ahead, it makes for a decent takeover target, especially at current price levels. It becomes an easy buyout candidate for industry giants such as American Eagle and Abercrombie & Fitch, who have cash piles [1,2] greater than Aeropostale's enterprise value of just $291 million. In addition, a number of investors such as Sycamore Partners and Hirzel have increased their stakes in the company, but it's too early to comment on a possible public-to-private transaction. The teen apparel retailer is said to have reached out to private equity firms and investment banks earlier this year to look for possible future strategies and suitors, but it seems that terrible sales growth and low cash are likely to prevent any immediate buyout actions.
Store productivity
The company's endeavor to shut down stores that are producing losses or that are not as profitable as it expects, would help generate better sales per square foot in the future, while also increasing average unit retail. It also plans to remodel a select number of existing stores during the current fiscal year. Although its main focus is to achieve growth by integrating fresh and new fashion into its assortment, while staying true to the heritage of the Aeropostale brand, it has been burning a lot of cash to enhance its supply chain and to deliver store productivity improvements. It has also implemented a workforce management system that enables more efficient store payroll planning.
Launch of 2 new brands
Despite sagging sales, it's coming out with new collections that could change the potential buyers' perception. In January, the company announced its partnership with Warner Bros and Pretty Little Liars costume stylist Mandi Line to launch the Pretty Little Liars Collection by Aeropostale. The collection features outfits on the personalities and distinctive styles of fashion-forward characters of the popular drama series. The collection's prices are set in the range of $18 and $72 range, which should resonate well with cost conscious teenage buyers.
Last winter, Aeropostale also introduced an exclusive outfit collection in partnership with Bethany Mota, an established social media starlet, having around 5 million subscribers to her YouTube Channel. The inaugural collection featured a range of products designed by Bethany to reflect her own lifestyle. It is priced in the range of $5-$78 and consists apparel, accessories and jewelry. Clearly, a change from basic logo products to a more fashion-relevant range is likely to a have a positive impact on the Aeropostale's results in the mid- to long-term.
Verdict
Aeropostale's top and bottom line are both in downtrends and it seems the retailer won't be able to revive either of those anytime soon. The company is likely to face significant challenges going ahead, and its profitability is likely to be weighed down by increasing costs and competition. In my view, the cons outweigh the pros in this case. But considering that the stock is already down 76.47% in the last twelve months and in absence of a clear plan, there could be more price volatility in the future. As a result, I recommend using option spreads for maximizing returns and limiting risks. In particular, I recommend purchasing long straddles - at strike price $3.50 - for July or October expiries.
Disclosure: I have no positions in any stocks mentioned, and no plans to initiate any positions within the next 72 hours. I wrote this article myself, and it expresses my own opinions. I am not receiving compensation for it (other than from Seeking Alpha). I have no business relationship with any company whose stock is mentioned in this article.