EOG Resources, Inc. (NYSE:EOG) has become one of the largest, independent oil and gas exploration and development companies in the country since it was founded in 1999. With a market capitalization of more than $58 billion, the resource company is among the largest companies in the domestic energy exploration sector.
EOG Resources dependent on domestic shale plays
EOG Resources has proved reserves in the U.S., Canada, Trinidad and Tobago, the U.K. and China. With the majority of its operations (and reserves) being located in the United States, EOG Resources' enterprise value is largely dependent on organic production growth stemming from its shale plays across the country (mainly Eagle Ford, Bakken and Leonard).
The growth prospects of the domestic shale oil and gas business have been well publicized. Though production growth in the Eagle Ford and Bakken shale plays has been slowing, production is still estimated to increase further in the years to come. The chart below from EOG Resources' most recent Sanford C. Bernstein Strategic Decisions Conference investor presentation highlights record production growth in the most relevant shale plays in the country (Eagle Ford and Bakken):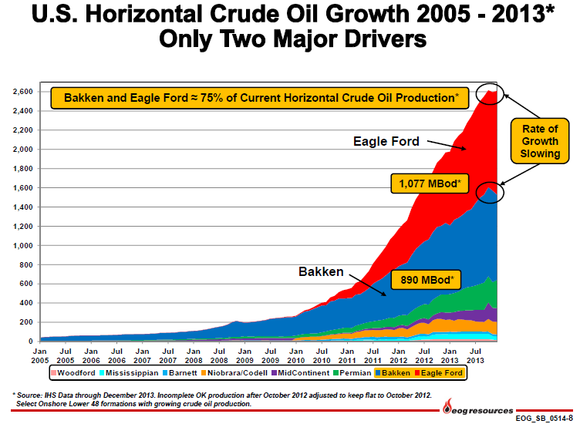 (Source: EOG Resources Sanford C. Bernstein Strategic Decisions Conference Investor Presentation, May 29, 2014)
Soaring domestic crude oil production driving profitability
Domestic crude oil production has been soaring over the last three years and EOG Resources capitalized on this trend. EOG Resources estimates, that it will be able to increase organic crude oil production by 29% this year over the levels reached in 2013. Should the company succeed, EOG Resources will have achieved a four-year compound annual growth rate of 40% in crude production. A stunning annual growth figure.
EOG Resources' first quarter results highlighted the progress the company has made compared to last year: In the first quarter 2014, EOG Resources' total production increased by 18% to 50.7 MMBoe over last year with results largely driven by crude oil, condensates and natural gas liquids. U.S. crude oil and condensate production jumped 45% y-o-y to 258.1 MBbl/d while total crude oil/condensate production increased 42% to 266.5 MBbl/d. U.S. crude oil and condensate production accounted for approximately 97% of total first quarter crude oil and condensate production.
With a strong focus on expanding its horizontal drilling program and industry-leading organic production growth rates, it comes as no surprise that EOG Resources reported outstanding first quarter results. Total operating revenues increased 22% to $4.1 billion compared against last year's $3.4 billion. EOG Resources' operating income rose 30% from $833 million in Q1 2013 to $1.1 billion in the most recent quarter. Strong financial results trickled down all the way to the bottom line with net income per diluted share jumping 33% to $1.21. Adjusted earnings also improved markedly over last year and were reported at $1.40 per diluted share, which widely beat the consensus estimate of $1.17.
But EOG Resources did not only substantially increase production, net operating revenues and earnings; first quarter results also showed a meaningful improvement in the company's cash flow profile: Operating cash flows jumped a whopping 59% y-o-y while the company's free cash flow also received a boost of 67% to $444 million.
Focused capital expenditures supporting production growth
EOG Resources' first quarter results have shown that the company reaps the rewards from its all-in approach to domestic liquids production. EOG Resources continues to allocate capital expenditures heavily to its highly promising exploration and development plays in key production regions such as the Eagle Ford, Bakken and Leonard.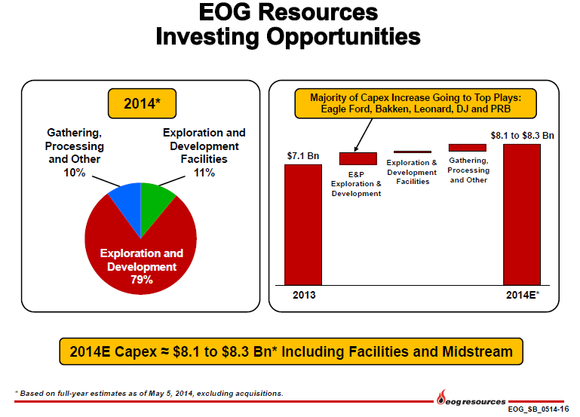 (Source: EOG Resources Sanford C. Bernstein Strategic Decisions Conference Investor Presentation, May 29, 2014)
Underlying business performance strength reflected in industry-leading share price performance
Recent operational successes have also been reflected in EOG Resources' stock price. Over the last year, EOG Resources gained approximately 61% in value while Anadarko Petroleum (NYSE:APC), for instance, returned 16% and Occidental Petroleum (NYSE:OXY) only 6%.
Final assessment
EOG Resources is an interesting investment for investors who want to gain exposure to a shale player focusing on domestic liquids production. Even though production growth rates will slow at some point, the Eagle Ford and Bakken reservoirs still offer significant upside potential for the company. Strong y-o-y improvements in production, revenues, operating income and cash flow suggest that EOG's growth story is far from being over. Long-term Buy.
Disclosure: I have no positions in any stocks mentioned, and no plans to initiate any positions within the next 72 hours. I wrote this article myself, and it expresses my own opinions. I am not receiving compensation for it (other than from Seeking Alpha). I have no business relationship with any company whose stock is mentioned in this article.