This week CNBC is running a series called "Man vs. Machine" that discusses program trading and debates its impact on financial markets. One segment focused on Exchange Traded Funds, with some of the participants taking the view that ETFs were "monsters in the making" essentially because so many investors had become undiscerning market-timers (which in turn created a number of problems the participants debated).
Among the evidence cited was that correlations of stocks in the S&P 500 (SPY) to the index had risen dramatically in the past two years. That may be true but it doesn't prove their point. Of course correlations rose during that extraordinary period. As many market historians will tell you, "The only thing that rises in a meltdown is correlations." So our recent past may not be the most meaningful period on which to reach a conclusion about long term trends.
But nonetheless it got us thinking about indexing in general (not solely ETFs). The basic idea behind indexing is that markets are quite efficient and so it makes no sense for most investors to pick stocks and/or time the market, and they should instead simply "own the market" with an index investment. Although academics still argue about the degree to which markets are efficient (we're on the less-than-perfect side of the spectrum) there is no doubt that idea has escaped from the ivory towers to the general investing public, as the popularity of index investing proves.
From 1993 through the end of 2009 (the most recent data available), the value of assets in both equity index mutual funds and equity ETFs has grown from a mere $25 billion to $1.27 trillion (Figure 1), an increase of more than 5,000%, or a compound growth rate of 28% over the 16 year period. More significantly, perhaps, these index investments have gained considerable market share in the overall mix of equity investment funds: indexed assets now account for 25.7% of all fund assets, up from just 3.3% in 1993 (Figure 2).
Figure 1: Assets of Equity Index Funds (in billions)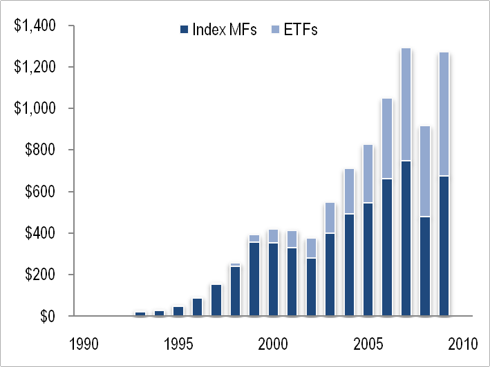 Source: Investment Company Institute
Figure 2: Index Fund Assets as a Percentage of all Fund Assets
(among equity funds)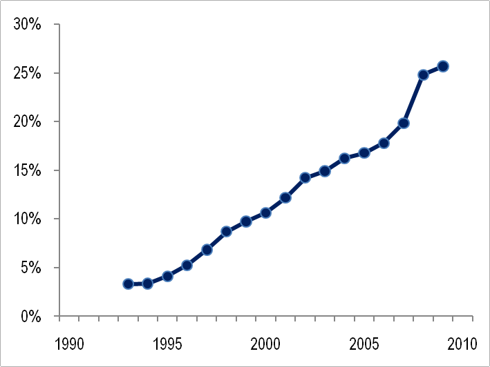 Source: Investment Company Institute
(Click to enlarge)
But if everyone were an indexer, markets would become perfectly inefficient. For example, if market participants could only buy or sell S&P500 index funds (but not the stocks in the index individually) then the relative price of stocks in the index would never change, regardless of the fortunes of those companies, and correlations would be 100%.
Though obviously an absurd proposition, as a mental exercise it helps illuminate what I call the Central Paradox of Indexing: if investors index because markets are efficient but widespread indexing causes markets to become less efficient, then at what point does indexing become self-defeating?
We don't pretend to know the answer, and pose the question here primarily in hopes of soliciting feedback from the community. For what it's worth, our hunch is that the trade-off isn't linear but rather geometric, whereby with indexers in the minority there is probably little effect on efficiency (as it were) but as indexers become more dominate the "penalty" to efficiency increases more quickly.
But back to the "monsters in the making" comments about ETFs. To blame ETFs for the market's ills has a whiff of elitism about it in our opinion. For decades many academics and investing professionals alike have encouraged the investing public to accept market returns. Now that ETFs have helped democratize that process some are complaining that they are ruining the market.
As we see it, the problem — if there is one — may be self-correcting: highly inefficient markets would encourage investors out of index investments, and vice versa. And, obviously, fund investors of all stripes — indexers and non-indexers — are far from the only market participants.
The real advantage of ETFs in our view isn't that they capture the returns of efficient markets, it is that they allow ordinary investors to efficiently allocate assets between markets (or segments thereof, like sectors) or even to own a version of the market more to their liking, such as with fundamentally-weighted ETFs.

Although no one on the program said this, I suspect that those who view ETFs as potential monsters might recommend in their next breath that the government protect us from them. No doubt there are investors — perhaps too many — who will wind up hurting themselves with ETFs. Like nail guns, they are a great tool unless you shoot yourself in the foot, but I wouldn't want to have to build a portfolio without them.
Disclosure: No positions