By Fathom Consulting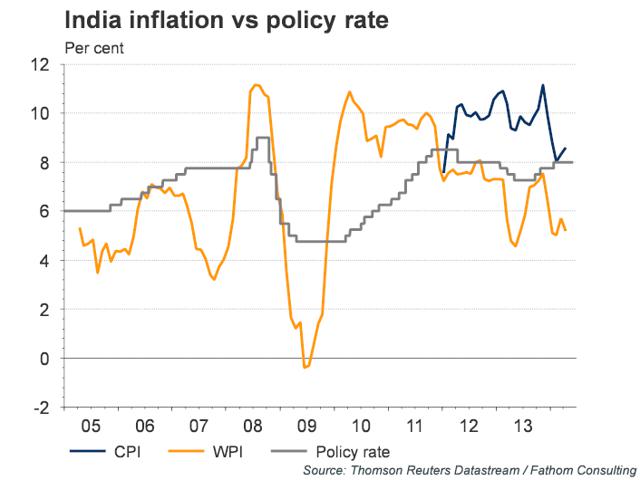 In its first monetary policy review since May's general election, the Reserve Bank of India (RBI) maintained its repo rate at 8% - the main policy rate has now been left unchanged at two consecutive meetings.
This pause was widely expected. Mr. Rajan has acted aggressively when this was called for in order to establish his inflation-fighting credentials, to dampen down inflation expectations, and to spearhead his revamp of the monetary policy framework - with quite some success so far. Following three rate hikes amounting to a cumulative 75 basis points between September and January, the RBI is now allowing time for the disinflationary effects of these increases to filter through the economy. The signs are encouraging: upward momentum in the CPI has moderated; core inflation has been trending down since October; and the RBI now sees the risks to its central forecast of 8% CPI by January 2015 as "broadly balanced." A wait-and-see stance is also justified ahead of this year's monsoon season. As always, this will have a significant impact on agricultural output, and by extension food prices, which make up a large portion of the CPI basket.
What came as something of a surprise was the slightly dovish tone to the accompanying statement, according to which "…if disinflation adjusted for base effects is faster than currently anticipated, it will provide headroom for an easing of the policy stance," adding that further policy tightening will not be warranted if the economy stays on its present course. This is a clear acknowledgement of the improvement in the inflation picture compared to last summer, which has helped the currency strengthen and stabilise. As such, the amount that can be remitted under the Liberalised Remittance Scheme has now been increased by two-thirds to $125k, without any end-use restrictions, while there is even speculation that the central bank intervened to stem the rupee's rise this week.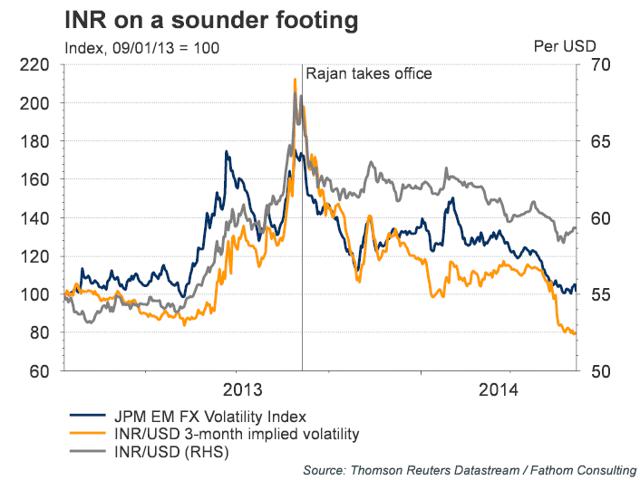 However, it is premature to think that the scenario of a rate reduction has become more likely at this juncture. In our view, the RBI knows full well that it needs to remain as vigilant on inflation as ever; to the extent that Mr. Rajan's stance has shifted to the dovish side, it has done so only on the surface.
First, interest rates will only be cut when CPI inflation - the RBI's recently-adopted policy anchor - shows clear signs of moderating. In this regard, there is some way still to go. Wholesale price inflation has declined meaningfully in the past six months - from 7.5% in November to 5.2% in April. Nevertheless, this has yet to be reflected in retail prices. CPI inflation stood at 8.6% in the twelve months to April, up from 8.3% in March. Moreover, recent disinflationary pressures have in good part been a corollary of subdued GDP growth. And, even if the RBI is successful in meeting the 8% CPI inflation target by the beginning of next year, it will be hard for Mr. Rajan to take his eye off the ball for long in view of the 6% CPI objective he has set himself for January 2016.
Second, and perhaps more importantly, containing inflationary pressures does not rest solely on the RBI's hands, but very much depends on Mr. Modi's new government delivering on a number of fronts - enacting meaningful fiscal consolidation, sustainably reining in the country's current account deficit and removing domestic supply bottlenecks. It is in this light that we interpret the slightly dovish undertones in the latest RBI statement. More than anything else, Mr. Rajan is signalling his preference for working together with the government. Up until May's election, it was predominantly Mr. Rajan's steady hand that guided the economy through the turbulence triggered by Fed tapering, thereby lending credence to Mr. Modi's anti-inflation campaign. Now, the RBI governor is effectively showing that he wants to cooperate with the fiscal authority in boosting economic growth, backing his constructive rhetoric with a 50 basis point reduction in the Statutory Lending Ratio - the proportion of deposits that banks must invest in government debt and similar approved securities - to 22.5%. With most banks already well above the regulatory limit, this is largely a symbolic gesture. Nevertheless, it communicates support for Mr. Modi's ambitious growth agenda.
Governor Rajan's stance has theoretical as well as practical underpinnings. On the one hand, it is consistent with, and a natural extension of the governor's strong views on the desirability of international central bank co-operation - the airing of which caused quite a stir in central banking circles earlier this year. On the other, Mr. Rajan is well aware that, in order for the Indian economy to embark on a virtuous growth/inflation trajectory, he needs Mr. Modi's help as much as Mr. Modi needs his. In game-theoretic terms, the envisaged departure from a dysfunctional, 'selfish' partitioning of objectives - whereby the government pursues growth without much regard for the inflationary impact of its policies - is a dominant equilibrium. Fiscal discipline and pursuit of structural reforms should help make monetary policy less aggressive than it otherwise would need to be.
It remains to be seen how such a symbiotic relationship plays out. Will a credible deficit reduction plan vindicate the RBI's 'cooperative' strategy? In this regard, it is encouraging that Finance minister Jaitley seems to share Mr. Rajan's mindset: "short term disciplining till we reverse the present trend will give us long term benefits", he recently remarked. Mr. Jaitley also commended the RBI's "calibrated approach" to striking a balance between growth and inflation, and pledged that the government will do its part to address the problem of price rises through supply-side measures.
Still, living up to these promises will not be straightforward for Mr. Modi. His administration is facing a difficult set of initial conditions, against which it needs to reignite GDP growth from sub-5% levels while at the same time reining in the budget deficit, which stood at 4.5% of GDP in the fiscal year to March. Weak business investment, stagnant industrial production growth and considerable banking system problems (rising bad loan exposures, recapitalization needs for state-controlled institutions) do not leave much room for manoeuvre.
And while India's balance of payments picture has improved of late, the underlying detail is rather uninspiring. First, although the current account deficit as a share of GDP shrunk by three percentage points to 1.7% in fiscal year 2013/14 relative to the previous year, around two-thirds of that adjustment was due to curbs imposed on gold imports and a sharp drop in manufacturing on the back of lower growth - neither of which will necessarily last for long, particularly if GDP starts to recover. Second, virtually all of the capital inflows in Q1, in excess of $9 billion, were portfolio flows - far from the surge in FDI India needs to see. This should serve as a reminder that India's finances remain highly vulnerable to shifts in external funding conditions. In this regard, a scenario in which US interest rates start moving higher "sooner and at a faster pace" than the FOMC now projects, as Kansas City Fed President George suggested this week, could have consequences reminiscent of last summer's sell-off for those emerging markets like India that have particular dependence on foreign capital inflows.
We do not deny that it can be acceptable for a developing economy that is growing rapidly to run a modest current account deficit - of the order of 2% to 3% of GDP - and to tolerate a rate of inflation that is a little above the average of the advanced economies. The so-called 'Balassa-Samuelson effect' tells us that an increase in wages in the tradable goods sector, associated with a period of rapid growth in productivity, must also push up wages in the non-tradable sector, thereby producing a higher 'equilibrium' rate of inflation across the economy as a whole. In this respect, the RBI's ultimate target for CPI inflation of 6% appears to make sense. However, tolerance for a current account shortfall and a relatively higher inflation rate will only be consistent with a healthy growth/inflation mix as long as the economy stays on a path that encompasses fiscal discipline and a credible monetary authority as its overarching anchors. On both these accounts, there is still work to be done by both Mr. Modi and Mr. Rajan.
Even if Mr. Modi succeeds in reviving India's economic growth soon - for example, by pushing through with large-scale investment projects - the implications for inflation will be far from benign unless the structural, supply-side reforms begin to bear fruit. As such, the RBI needs to stay vigilant, since the risks are skewed to the upside whether Mr. Modi succeeds in jumpstarting growth, or fails in his supply-side reforms.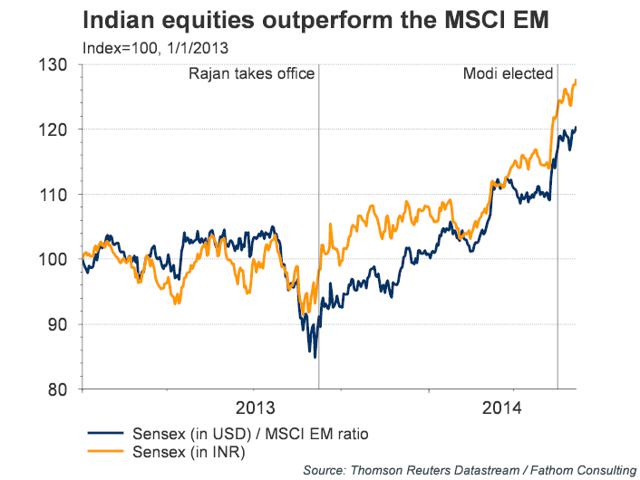 Local assets rose following the RBI's statement, breathing more life into the rally that has been in place since Mr. Modi's victory. Equities have reached new all-time highs, comfortably outperforming other emerging markets since the start of the year, and bond yields continue to decline. But, for all the positive sentiment, there is a lot priced-in and expectations are high, as is the associated execution risk. Moreover, the odds are that the external environment gets progressively less favourable in the coming quarters, as the Fed comes closer to its first rate hike and China's slowdown has the potential of escalating further, thereby rendering domestic adjustment more challenging. The RBI is sending the right signals and so far, Mr. Modi appears ready to respond, but there is still a long way to go - on the harnessing of inflation, the articulation of a concrete fiscal agenda and the implementation of structural reforms. We would look to use the current buoyant market conditions to gradually lighten up on positions and prepare for a pick-up in volatility, rather than chase this rally.
Disclosure: I have no positions in any stocks mentioned, and no plans to initiate any positions within the next 72 hours.
Business relationship disclosure: Alpha Now at Thomson Reuters is a team of expert analysts that are constantly looking at the financial landscape in order to keep you up to date on the latest movements. This article was written by Fathom Consulting, an independent commentator and analyst. We did not receive compensation for this article, and we have no business relationship with any company whose stock is mentioned in this article.