Energy has been one of the market's top performing sectors recently and because of this we have been adding names to our watch lists in case a time comes when we want to either further diversify or take profits in current portfolio holdings and reinvest those funds elsewhere. With that said we do have a name we have added to our junior E&P watch list that we wanted to share with readers today, but we have not yet done our normal due diligence on the name.
Copper continues to fall and it appears that we will in fact test the $3 level in that market, but the big news might be in the gold market where it does look like the moves by the ECB and the Europeans have provided some support. The highly liquid gold ETFs would be the way we would trade this, but at this point we feel that there are far better trades out there than this one that have lower risk and the opportunity for better returns.
Chart of the Day:
Part of the reason we are not too interested in this trade is because we think that there is a good chance that gold first builds a base in the $1,250/ounce area before making a move. The past three trading sessions have seen the market trade in a $10/ounce trading range.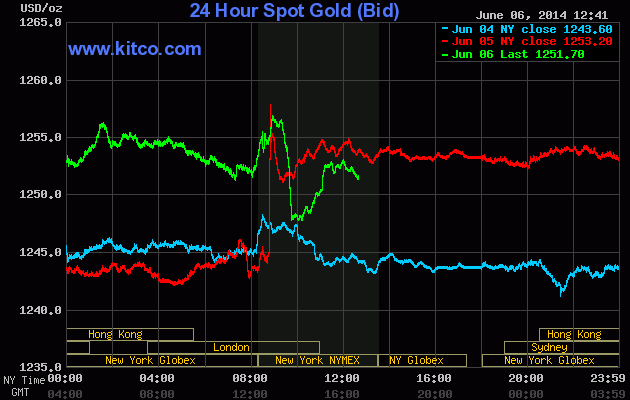 Source: Kitco
Commodity prices are as follows (at time of submission):
Gold: $1,252.60/ounce, down by $0.70/ounce
Silver: $18.98/ounce, down by $0.103/ounce
Oil: $102.40/barrel, down by $0.08/barrel
RBOB Gas: $2.9401/gallon, down by $0.0162/gallon
Natural Gas: $4.726/MMbtu, up by $0.025/MMbtu
Copper: $3.045/pound, down by $0.0455/pound
Platinum: $1,452.30/ounce, up by $7.20/ounce
Mining Equipment Manufacturers
When it comes to the mining equipment manufacturers we can only get excited about Deere (NYSE:DE) due to the continued bull market that the US farmer is experiencing. Outside of farming we think the picture is a good bit cloudier in regards to how these companies will do and why we remain skeptical about Caterpillar (NYSE:CAT) and Joy Global (NYSE:JOY) despite recent bullish news from the two companies.
Many will question our thinking on this, especially because we have been absent the big run in Caterpillar shares this year, but having invested and worked with commodities for the last decade we find it hard to believe that cap-ex will increase in any meaningful way moving forward with miners looking to cut back. Further, the lack of new production via new mines and the closing of higher cost mines leads us to believe that actual demand growth will be more stagnant than many believe.
Joy Global's stock is at a 52-week high after recent results and analyst upgrades. It has worked its way towards some interesting levels in the chart and with that and our view on the business moving forward we still want to avoid names such as these.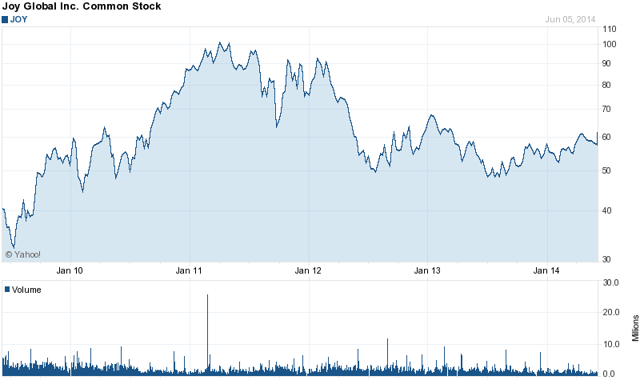 Source: Yahoo Finance
With the recent comments from Rio Tinto's (NYSE:RIO) CEO concerning the iron ore pricing and how competitors might be impacted we think that the mining equipment makers could come under further pressure as iron ore miners could join the coal miners in significantly cutting back on spending. Obviously Joy Global would be most impacted by our thinking but Caterpillar could find their mining equipment segment as an anchor moving forward; something we think the bulls might not be fully respecting.
Adding To Our Watch List
We continue to add names to our watch lists for different shale plays as we look for more interesting investment ideas. With yesterday's production news from Abraxas Petroleum (NASDAQ:AXAS) we have decided to add it to our juniors list for further research. The Eagle Ford and Williston Basin explorer intrigues us but as of now we have done very little research on the name. We only mention it as we feel that some of our readers with time on their hands might be able to do their own due diligence on the company before we can deliver our verdict.
Disclosure: I have no positions in any stocks mentioned, and no plans to initiate any positions within the next 72 hours. I wrote this article myself, and it expresses my own opinions. I am not receiving compensation for it (other than from Seeking Alpha). I have no business relationship with any company whose stock is mentioned in this article.