Manufacturing stocks and the whole sector for that matter, regardless of its strong growth in the past five years, has yet to be fully trusted by investors. This is due to various reasons, including the problematic occurrences with the automotive industry during 2009 (bailouts of General Motors (NYSE:GM) and Chrysler).
American Axle & Manufacturing Holdings Inc. (NYSE:AXL) focuses primarily on manufacturing, engineering, designing and validation of drivetrain and driveline systems for the automotive industry in the United States. Although it is important to know that AXL is currently expanding and has, according to its website, a global reach, meaning that sales depend on foreign markets too. Summarizing, American Axle produces parts for many top automakers including General Motors, Tata Motors (NYSE:TTM) and numerous others.
The company of interest, American Axle & Manufacturing Holdings Inc. has undergone a colossal growth of 630% over the past five years and 83% in 2013. Although, as can be expected within every company in a cyclical economy, AXL is currently undergoing a slight pullback (-9% year-to-date). This, rather than making the company less attractive, actually has exactly the opposite effect. It causes AXL to become even more undervalued, consequently creating a bigger potential return.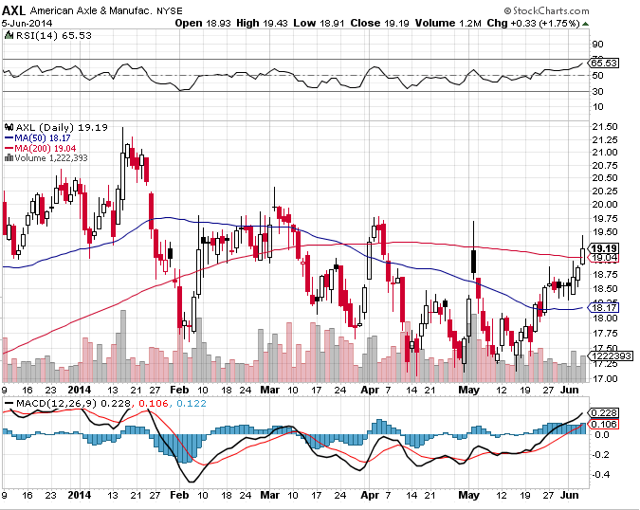 As can be observed, AXL has been trading with its 200 day simple moving average (NYSE:SMA) being below its 50 day SMA since the end of March 2014. This strongly indicates that since the beginning of April this year the stock has been at a very affordable and strongly undervalued price level.
How Undervalued Is AXM Really?
Earlier this year AXL managed to reach $20, at which it was already pretty cheap, trading at just over 7 times its earnings (especially after considering the growth of its earnings). Analyst expectations for 2014 puts earnings at around $2,41 per share (and $2,67 in 2015). This would mean that the stock's price-to-earnings (P/E) ratio is just above 7 for 2014, and almost 6 for 2015. In terms of the market as a whole, those P/E values are less than half the average.
American Axle's 2 most influential competitors, Dana Holding Corporation (DAN) and Magna International Inc. (MGA) are considerably less undervalued and additionally have several lower indicators. For example, AXL's gross margin is 0,15 whilst DAN's is 0,14 and MGA's is 0,13. Another very important factor to compare is their EPS forecast for the coming years. Analyst's estimate DAN to have $1,82 earnings per share (NYSEARCA:EPS) in 2014 and $2,13 in 2015. This means that even though AXL and DAN have roughly the same share price, AXL has significantly higher EPS estimates, which again reinforces its undervaluation.
Conclusion
As you can see, AXL is suffering hugely from an active overselling of its stocks. If AXL continues to grow as it has over the past five years and it follows its historic chart and predicted growth pattern then it is definitely time to add this stock to your portfolio. Lastly, to complement this, Bank of America (NYSE:BAC) estimates car sales in the Unites States to reach a new high in 2018 with 18 million predicted units to sell. Deriving from this, we could forecast the coming five years to be potentially just as good in terms of growth of the company, or even superior, to the five past years.
In terms of how long this stock should be held; it clearly depends on how well it performs, but an objective and rational advance would be to keep it until it reaches atleast its main (DAN, MGA) competitors P/E ratios and a plateau-price has been reached. This could take several years, especially if BAC's car sale predictions are correct and the markets follow their current trends.
Lastly, here are some final key points for AXL:
Earnings estimates for 2014: $2.41 per share

Earnings estimates for 2015: $2.67 per share

52 week range is 16.17 - 21.48

Current share price is $19,19
Disclosure: I have no positions in any stocks mentioned, and no plans to initiate any positions within the next 72 hours. I wrote this article myself, and it expresses my own opinions. I am not receiving compensation for it (other than from Seeking Alpha). I have no business relationship with any company whose stock is mentioned in this article.