Oracle (NASDAQ:ORCL) handily topped expectations for both first quarter earnings and revenue as the company said its hardware business "grew faster than expected."
The company reported first quarter earnings of $1.4 billion, or 27 cents a share, on revenue of $7.5 billion, up 48 percent from a year ago. Non-GAAP earnings were 42 cents a share. Wall Street was looking for earnings of 37 cents a share on revenue of $7.3 billion.
According to Oracle, both the software and hardware businesses performed better than expected. Both co-presidents, Safra Catz and Mark Hurd, were quoted in a statement. Catz said:
Our software business grew strongly in all regions with new license sales up 25%. Our hardware business also grew faster than we expected with Sun Solaris servers and Exadata leading the way.
Hurd, who just joined the company, previewed Oracle OpenWorld: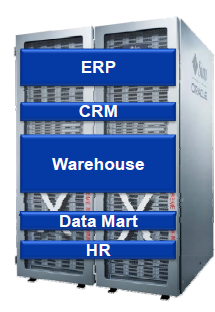 Next week at Oracle OpenWorld we will announce two new high-end systems that combine Sun hardware with Oracle software.
Hurd also touted Oracle's R&D spending for the year. At HP, Hurd was knocked for scrimping on R&D.
CEO Larry Ellison said the Exadata pipeline tops $1.5 billion, up from $1 billion a quarter ago. The pipeline, however, doesn't reflect actual sales.
By the numbers:
New software license revenue was up 25 percent from a year ago to $1.28 billion.
Updates and support revenue was $3.45 billion, up 11 percent from a year ago.
Hardware systems revenue was $1.7 billion, or 8 percent of revenue.
Services revenue was $1.06 billion, up 18 percent from a year ago.
Revenue in the Americas was $3.9 billion followed by $2.38 billion in Europe, Middle East and Africa and $1.2 billion in Asia Pacific.
Database and middleware revenue was $3.25 billion, up 17 percent from a year ago.
Applications revenue was $1.48 billion, up 8 percent from a year ago.