One of the most popular and controversial equities, Apple (NASDAQ:AAPL) has put its investors through a roller coaster ride of value over the past few years. Fueled by market dominance and technological innovations, Apple quickly became one of the fastest growing stocks in history. After peaking at just over 700$ in September of 2012, Apple shocked the market and lost over 40% of its equity value, despite consistently beating analyst earnings estimates. Since then, countless analysts have attempted to explain Apple's price movement and have had widely varying opinions on its future prospects. Apple is an extremely unique animal with remarkably low correlation to the rest of the market, and many unique factors contribute to its erratic behavior.
After seeing a period of rapid growth and innovation, the market expected too much from Apple, in terms of both innovation and earnings growth. In September 2012, Apple hit a share price roadblock and still continued to lose value despite beating analyst earnings estimates. This phenomenon can be explained by a number of contributing factors. Investors expected too much innovation from Apple. Until this point, Apple had been releasing drastically new products in both the smartphone and tablet markets. The iPhone 3G introduced revolutionary data speed to the smartphone market, followed by the iPhone 4 which changed screen resolution standards. However, September 2012 marked the release of the iPhone 5 and a new set of iPad tablets, which were considered only minor improvements from the previous models. Apple had seemingly lost its innovative touch, causing investors to flee from the stock, worried about future prospects.
Another contributing factor to Apple's erratic price movement arises from the diverse body of Apple investors. Over 62% of Apple's shares are held institutionally, which restricts the volume of shares actively traded. The majority of institutional shares are held in mutual funds, managed long equity style. Shares not held by institutional investors are divided amongst a diverse blend of owners with strong opinions of the company. The remainder of investors consist of super-bulls and super-bears, whose convictions manifest themselves in the way Apple is traded. Due to this blend of contributing factors, Apple has behaved like no other stock since September 2012.
It seems that Apple has found an opportunity to innovate once again. The advancement of the iPhone, iPad, and iPod lines had pretty much come to a halt, with only minor hardware and software improvements being the outlook. The case was similar with its computer product line. A few years back, Apple made a large improvement to Mac computers by choosing to use Intel processors and hardware. This leaves Apple's least popular product line, the Apple TV. Steve Jobs once referred to Apple TV as "a hobby," and its previous lack of popularity reflected that sentiment. Previous models of Apple TV's were restricted by choppy video playback due to lack of proper hardware, limited video codecs and streaming capabilities, and being constrained to certain types of media playback. The concept of Apple TV came before the proper hardware was in place to make it a great product. Apple is poised to bring innovation back to the market with its next line of Apple TVs, due to new software and hardware improvements. With the iOS 8 platform, users will be able to play content on Apple TV sets through "peer to peer AirPlay," a new feature that lets the device connect directly connect to the Apple TV, where it would previously have had to been on the same Wi-Fi network, performance restricted by network speed and connectivity. Competing products such as Google's Chromecast do not offer such features and must be connected to the same Wi-Fi network. Next generation Apple TV will sport a 64-bit processor, which corrects video choppiness, one of the largest complaints with previous Apple TV models. Apple has also announced a game pad controller designed to be used with iOS gaming devices. Previously, gaming had been limited by input and screen size, with the former being remedied by this new release. The release of a gaming pad also implies a future of iOS gaming on Apple TV devices. Apple has also been in talks with Comcast, whose cable services have over a 20% market share. The partnership would yield a TV cable box offered by Apple with Comcast cable service. This rumor implies that Apple could be developing a long awaited standalone TV set, instead of an auxiliary Apple TV device. This product would allow access to a whole new set of customers who want to streamline their Apple devices for use in the home. To compliment this, Apple has also developed a set of tools called HomeKit, which allows Apple devices to control certain home devices such as security systems. HomeKit could be used in conjunction with new Apple TV sets or current Apple TV devices. By pursuing this new line of products, Apple has poised themselves for sustainable long term growth. However, despite this outlook, potential investors are still posed with the same question: is it a good time to buy Apple? In order to further examine this, analysis was performed to determine Apple's relative value of how it is trading to its peers and how it has been valued historically.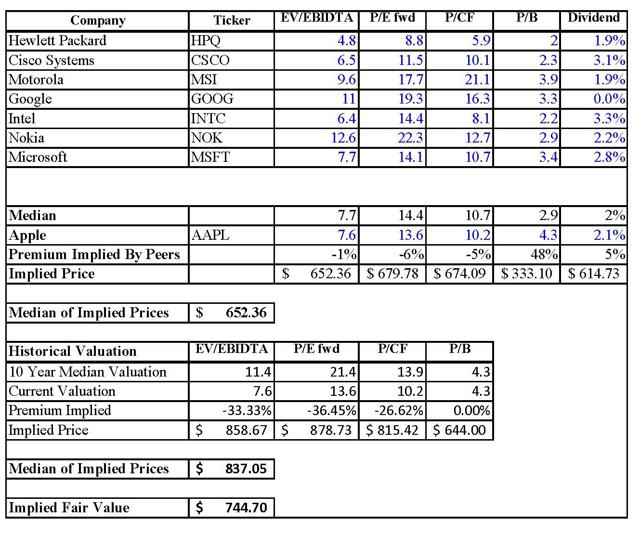 Click to enlarge
(Source: Matoaka Capital LLC, Yahoo! Finance)
Relative to its peers, Apple seems to be fairly valued. However, this is quite a phenomenon, because Apple has previously been extremely overvalued relative to competitors. To better illustrate this, Apples current valuation was compared to its median 10-year valuation. This analysis shows that Apple is trading at about a 30% discount to how it has previously been valued. This, blended with a relatively cheap to fair peer valuation, poses Apple as a potential attractive buy. Combined with pursuing a previously untapped market, Apple could yet again see superb share price growth in the coming years.
Disclosure: I have no positions in any stocks mentioned, and no plans to initiate any positions within the next 72 hours. I wrote this article myself, and it expresses my own opinions. I am not receiving compensation for it (other than from Seeking Alpha). I have no business relationship with any company whose stock is mentioned in this article.
Additional disclosure: The information contained herein is not necessarily complete and its accuracy is not guaranteed by Matoaka Capital L.L.C its operating entity or the principals therein.Principals of Matoaka Capital L.L.C may or may not hold or be short of securities discussed herein, or of any other securities, at any time.