Up 5.84% year to date, shares in PepsiCo (NYSE:PEP) have outperformed both the S&P 500 (+4.95% YTD) and Coca-Cola (NYSE:KO), which has seen the value of its shares go down by 0.82% since the beginning of this year. At the current price of $87.76, Pepsi is trading less than 1% below its 52-week high of $88.48.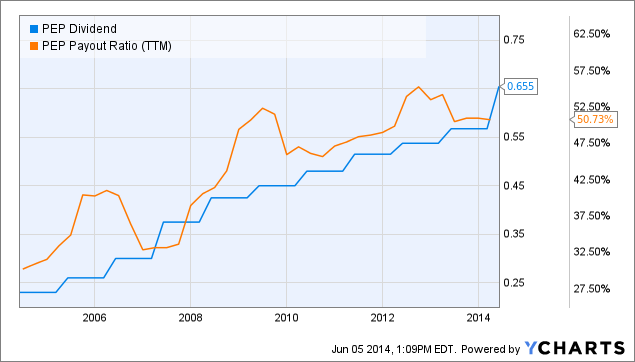 PEP Dividend data by YCharts
Pepsi raised its dividend by 15% last month, to $0.655/quarter ($2.62/year), which at the current price per share gives us a dividend yield of 2.99%. For comparison, shares in Coca-Cola currently yield 2.98%, while shares in Dr. Pepper Snapple Group (NYSE:DPS) yield 2.80% at current levels.
Over the past decade, Pepsi has increased its dividends at a higher pace than its earnings per share, which have led to a payout ratio that is now over 50% on a TTM basis. This is still well under Coca-Cola's payout ratio (58.79%), but higher than Dr. Pepper's 45.62%.
The average analyst estimate for Pepsi's earnings per share in the current fiscal year stands at $4.54 (5.1% higher than last year), a number that is expected to grow by a further 7.7%, to $4.89, next year.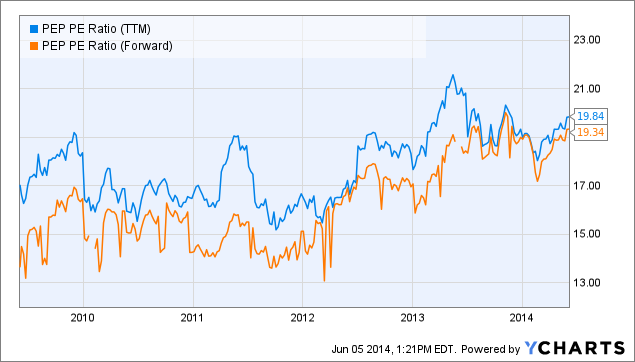 PEP PE Ratio (TTM) data by YCharts
Pepsi is currently trading at price to earnings ratio (TTM) of 19.84, which is quite a bit higher than its 5-year average of 17.2. Its forward P/E ratio stands at 19.34, which is also quite high. The current price per share is 17.94 times as high as the expected earnings for the next fiscal year. I have added the P/E ratios for KO and DPS for comparison in the table below.
| | | | |
| --- | --- | --- | --- |
| | P/E ratio | P/E ratio (forward) | 5-year average P/E ratio |
| PEP | 21.88 | 19.33 | 17.2 |
| KO | 19.83 | 19.68 | 18.3 |
| DPS | 17.57 | 16.83 | 14.9 |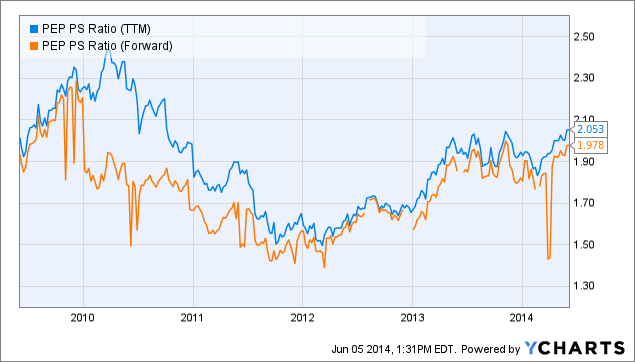 PEP PS Ratio (TTM) data by YCharts
Pepsi's current market cap is $133.08 billion, which gives us a TTM price to sales ratio of 2.053. For the current fiscal year, analysts are expecting Pepsi to have $67.20 billion in sales, giving the company a forward price to sales ratio of 1.98. Both the TTM P/S ratio and the forward P/S ratio are well above Pepsi's 5-year average of 1.8.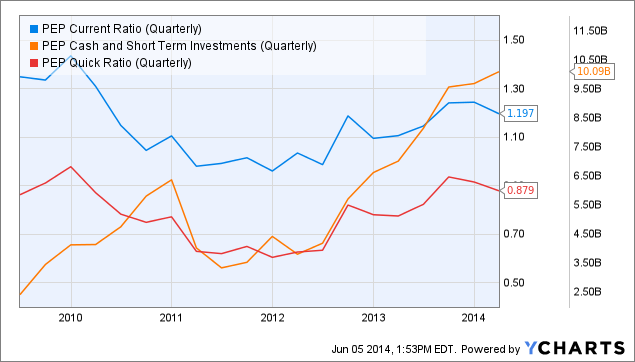 PEP Current Ratio (Quarterly) data by YCharts
Pepsi's balance sheet looks very good with a current ratio of 1.197 and a quick ratio (current ratio minus inventories) of 0.879. Furthermore, the company has $10.09 billion in cash and short-term investments ($6.63 per share), which is 7.58% of the current market cap.
Pepsi still has a lot of room left to grow outside of the U.S., especially in China. My fellow Seeking Alpha contributor Adnan Riaz recently wrote an excellent article on this subject that I would recommend reading. It can be found here.
Expanding globally subjects the company to a lot of currency risk. A strong dollar can reduce profits when a large part of the company's income is in foreign currency. In its most recent quarterly report, Pepsi stated:
"Based on the current foreign exchange market consensus, the company currently expects foreign exchange translation to have an unfavorable impact of approximately 4 percentage points on full year core EPS growth in 2014."
Conclusion:
Pepsi's foreign expansion leads to currency risks. A strong USD is currently putting some restraint on the company's expected profit for the current fiscal year. Still, analysts expect earnings per share to grow at mid-single digits this year and next year. Pepsi's dividend has grown at a higher pace than its earnings per share over the past decade, which has pushed the payout ratio up to 50.73%. Pepsi's balance sheet looks very good. A large amount of cash and short-term investments (over $10 billion) provide extra safety for the dividend.
Pepsi is a dividend aristocrat, meaning it has increased its dividend for over 25 years in a row. I have no doubt that it will be able to continue doing this, although I would be concerned if the payout ratio goes up a lot more. The company is currently trading at a premium to its 5-year average price to earnings and price to sales ratios, but I feel this can be justified by its international growth.
Disclaimer: I am not a registered investment advisor and do not provide specific investment advice. The information contained herein is for informational purposes only. Nothing in this article should be taken as a solicitation to purchase or sell securities. Before buying or selling any stock, you should do your own research and reach your own conclusion. It is up to investors to make the correct decision after necessary research. Investing includes risks, including loss of principal.
Disclosure: I have no positions in any stocks mentioned, and no plans to initiate any positions within the next 72 hours. I wrote this article myself, and it expresses my own opinions. I am not receiving compensation for it (other than from Seeking Alpha). I have no business relationship with any company whose stock is mentioned in this article.