Our recent articles have covered a number of recent IPOs with high dividend yields from a variety of sectors, such as Energy, Financial, and Basic Materials. These stocks all have well-covered dividends/distributions, with good prospects for future dividend growth, and this week's stock is no different in those respects.
Profile: We've added this week's focus stock, which yields 6%, to the Energy section of our High Dividend Stocks By Sector Tables.
What caught our eye about Athens-based Dynagas LNG Partners, (NYSE:DLNG), was not only this new LP's (November 2013 IPO) current involvement in the fast-growing LNG business, but the fact that it has an interesting niche in that business.
Unlike conventional vessels, its winterized vessels can traverse the Northern sea route, in subzero and ice bound conditions, from Norway to Asia, which cuts down significantly on its delivery times, since this route is over 40% shorter. In addition, there are no piracy worries, as with routes around Africa.
Asia has become a major center of demand for LNG over the past several years: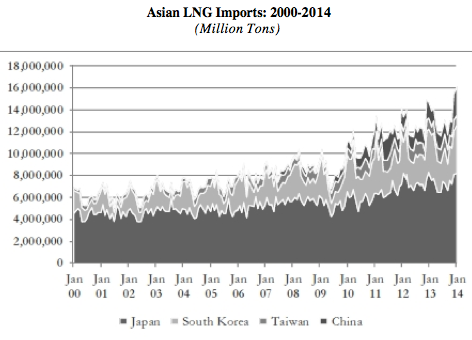 (Source: DLNG website)
DLNG's customers appreciate this also, as they're all on multi-year contracts for the firm's vessels, which provides DLNG with the benefits of stable cash flows and high utilization rates.
Future Growth Pipeline: In addition to its current LNG Carrier fleet of 3 vessels, DLNG also has purchase options on 7 LNG Carriers from Dynagas Holding Ltd, (its sponsor). 4 of such 7 LNG Carriers are already employed by its sponsor on charters averaging 5 years in duration. All such optional vessels are ice classed 1A FS or equivalent and winterized.
Recent Developments: On 4/17/14 DLNG entered into an agreement to purchase from Dynagas Holding Ltd., the Partnership's sponsor, 100% of the ownership interests in the entity that owns and operates the Arctic Aurora, a 2013 built ice class liquefied natural gas carrier, for an aggregate purchase price of $235 million. The Arctic Aurora is currently operating under a time charter with Statoil (NYSE:STO) initial term of five years that expires in July 2018. This acquisition will improve the average age of DLNG's fleet, bringing it to just 5.3 years.
DLNG's management believes that this acquisition will generate annual gross revenues of approximately $28.3 million and annual net cash from operations of approximately $21.7 million. DLNG had Cash from Operations of $44.20 Million in 2013, so this is a significant increase, and should result in increased distributions going forward.
On 4/7/14, DLNG entered into a 13-year contract for its vessel, Clean Force, with Gazprom. This new contract extends the average length of DLNG's contracts out to 7 years.
Dividends/Distributions: As a result of the pending closing of the Arctic Aurora vessel deal, DLNG's board said that it expects to increase its next distribution per unit by between $0.0225 and $0.0275 (an annualized increase of between $0.09 and $0.11 per unit).

We did a rough projection on how this new vessel should impact DLNG's future distributions, revenues, adjusted EBITDA, and Distributable Cash Flow. Prior to the Aurora purchase, DLNG projected revenues of $85.8 million/year for 2014 and 2015, $78.4 million for 2016, and $31.5 million for 2017.
With the Aurora kicking in $28.3 million/year, DLNG should be able to increase its distributions in 2014 and 2015. Since this is only the first of 7 vessels that DLNG has options on from its sponsor, it seems reasonable to expect that there will be more vessels purchased in the future, which will reverse the distribution decline shown for 2016 and 2017 in the table below. It would probably only take the addition of 2 more vessels to accomplish this, which would leave a total of 4 that it has options on.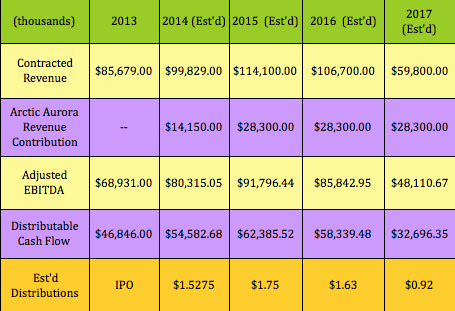 Options: Although DLNG does have options, we haven't been able to add any trades to our Covered Calls Table or Cash Secured Puts Table, as its options are very thinly traded, and don't offer very attractive yields yet.
Valuations: DLNG doesn't look undervalued on a PEG basis for 2014. However, its 2015 EPS estimates may increase, if it continues to add more vessels. DLNG was initiated with positive ratings by analysts from these firms in May: Stifel-(Buy), Clarkson Capital- (Outperform), and Zack's-(#1 rating).

DLNG is cheaper on a straight P/E basis, and is "with the pack" on Price/Book.

Financials: DLNG's Management Efficiency ratios look much better than average, as do its margin and debt figures:

Performance: With those analyst upgrades, DLNG has gained over 7% over the past trading month.

All tables furnished by DoubleDividendStocks.com, unless otherwise noted.
Disclaimer: This article was written for informational purposes only.
Disclosure: Author owned no shares of DLNG at the time of this writing.
Disclosure: I have no positions in any stocks mentioned, but may initiate a long position in DLNG over the next 72 hours. I wrote this article myself, and it expresses my own opinions. I am not receiving compensation for it (other than from Seeking Alpha). I have no business relationship with any company whose stock is mentioned in this article.