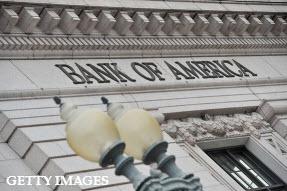 Bank of America (NYSE:BAC) just can't seem to catch a break at the moment. Nonetheless, the stock continues to show strong resiliency in the face of continued negative headlines. This is telling of a potential trend reversal in the making. In the following sections, I will lay out my case as to why Bank of America may be on the cusp of a major rally.
Issues brought forth by detractors
Several issues have been brought forth by those who have questioned the bank's future prospects. The following is a short list of the major ones as I see it.
A regulatory error was discovered that caused the bank to pull its capital return plan
This size of BAC's dark pool was overstated
BAC has further legal risk related to the housing debacle yet to be settled and
EPS stands to take a hit due to a lack of reserves set aside
The regulatory environment going forward appears murky and unfavorable to the big banks going forward
BAC has weak corporate governance evidenced by the mistakes
These are the main complaints by BAC's detractors that have reverberated over the past several months just after BAC beat earnings and rallied to a 52 week high of $18. I submit most of these issues are well known and currently priced in to the stock. This fact is often overlooked.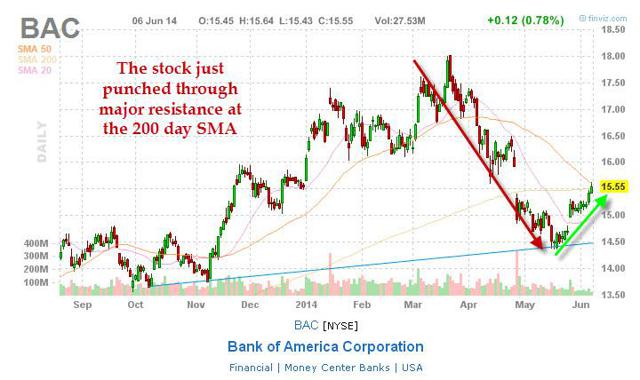 (Source: Finviz.com)
I agree some of these issues are valid, yet I believe Bank of America has the ingenuity and wherewithal to overcome these obstacles and continue to deliver for investors. In the following section, I will make my case.
Positives developments for Bank of America
Macro level Positives
The US housing market is recovering
In a recent Wall Street Journal piece, Philadelphia President Charles Plosser was quoted as saying the fundamentals of the U.S. housing market are still sound despite the recent slowdown in home sales. Plosser stated at a luncheon in Washington:
"Some express concern that the housing recovery in recent months is waning. I'm actually more optimistic. I think the fundamentals of housing are still sound, even though sales have leveled off. More importantly, prices…are still rising, even over the last three months. Now, if prices are rising and sales are falling, or at least stabilized, that suggests that it's not just weak demand that's causing the problem. It could be restrictions in supply."
The U.S. housing market has been on a tear in recent years, yet has slowed somewhat in recent months. This is entirely normal. I have been involved in Texas real estate for the last ten years. I can tell you from personal experience, at least in Texas, things are still going well. Recently, some of the burdensome requirements for getting a mortgage have been relaxed. We are nowhere near the end of the housing market rally in my opinion.
Market participants' shift from growth to value continues
A major paradigm shift has occurred which will underpin BAC. The high-flying momentum stocks have severely sold off. Market participants are no longer satisfied with ephemeral valuation metrics such as the number of eyeballs and the like. BAC has actual earnings that are projected to grow long-term.
The North American Oil & Gas Renaissance secular growth story
The North American oil and gas renaissance has just begun. I never see this brought up as a positive for bank of America. New and diverse geographical areas formerly thought to be void of recoverable petrochemicals have been discovered from the Appalachians to the Rockies. There is currently very little or no midstream infrastructure to accommodate the production.
This phenomenon is basically a two-fold positive for Bank of America. First, the bank may see an influx of loan requests from midstream players looking to finance major infrastructure projects. Second, there is a lot of money being made that may increase deposits significantly.
Company specific positives
Bank of America CEO Brian Moynihan has done a fantastic job of bringing a top notch team together and turning the bank around. How do I know this? The proof is in the pudding, as it were. This maxim implies that there is a lot of evidence supporting my assertion. The highlights of the positive developments follow.
Average loans and leases are up approximately 11% year-over-year with the bank posting $271 billion in 2013 vs. $244 billion in 2012.
Deposits are up nearly 16% year-over-year growing from $221 billion in 2012 to $256 billion in 2013.
Net income was up nearly threefold year-over-year with the bank posting $11.4 billion in 2013 vs. $4.2 billion in 2012. Furthermore, diluted EPS was up significantly year-over-year at 0.90 for 2013 vs. 0.25 in 2012.
Of the six major banks, Bank of America has the highest projected EPS growth rate of them all by a wide margin.
Over the past three years, Bank of America has reduced non-interest expense by approximately 11%. Bank of America has been laser focused on cost-cutting. Moreover, the bank uncovered significant cost synergy savings. I expect this trend to continue for some time.
Revenue has stabilized at approximately $90 billion per year. Nevertheless, an uptick in revenue growth going forward must occur for the stock to move significantly higher. The financial engineering and cost-cutting benefits will diminish at some point.
The stock appears undervalued on an absolute and fundamental basis.
Bank of America shares are trading for one of the lowest forward P/E ratios amongst all the big banks. There is no doubt the stock is a buy compared to the competition.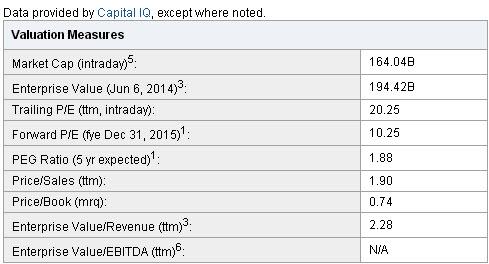 (Source: Yahoo.com)
The bank has a forward P/E ratio of 10.25. Furthermore, the stock is trading at a price to tangible book value of 1.1 while the company's peers are trading for 1.6.

(Source: Scottrade.com)
This implies there is 45% upside left in the stock just to reach par with its peers. The stock is currently trading $15 when it should be trading for more like $22.
Taking all these factors into consideration, I see blue skies ahead for the Bank of America. And by the looks of the charts, I am not alone. The worm has definitely turned evidenced by the reversal of trend in recent weeks. Nevertheless, there is still plenty of meat on the bone for potential investors. At least 16% upside remains just to reach the previous highs.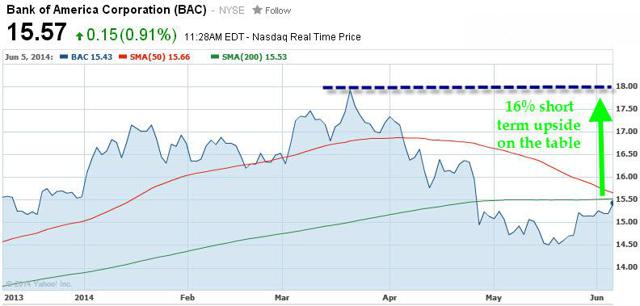 (Source: Yahoo.com)
A stealth rally has occurred over the past few weeks and appears to be picking up steam. BAC shares are up 4.75% for the month and 1.87% for the week. Moreover, the 50-day SMA is now trending upward and never breached the 200 day SMA major support level.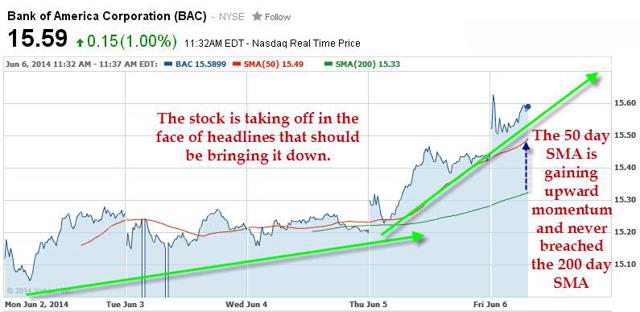 (Source: Yahoo.com)
Downside Risks
It would be remiss of me not to include the potential downside risks related to the company's prospects. Below is a list of the top potential downside risks I see presently.
The housing market slumps
War breaks out between Russia and Ukraine bogging down the global recovery
The China bubble pops causing global deflation of asset values
Regulatory risks related to the implementation of Dodd Frank.
Presently unknown litigation risks surface
Another major error in the banks numbers is found. I am bullish on the banks future prospects, yet even I have had enough of the mistakes. If another major error is found. I may reconsider my position.
A US economic downturn
A flattening yield curve is an issue for the banks in regards to profitability
Conclusion
The entire brouhaha over Bank of America's past transgressions and future growth prospects has been entirely overblown. The company is well positioned to take advantage of the tremendous growth prospects offered by the revival of economic strength in the US and around the globe. The company has an unparalleled global footprint and a well-diversified earnings structure.
Bank of America continues to focus on maintaining a fortress balance sheet, has attractive projected EPS growth, an established track record of improvement, and is the preeminent global banking industry leader. What more could you ask for? Nonetheless, always layer into any position over time to reduce risk. The market is at all-time highs as we enter the summer doldrums.
Disclosure: I have no positions in any stocks mentioned, and no plans to initiate any positions within the next 72 hours. I wrote this article myself, and it expresses my own opinions. I am not receiving compensation for it (other than from Seeking Alpha). I have no business relationship with any company whose stock is mentioned in this article.