The Bureau of Labor Statistics reported today that the broad unemployment rate, U-6, fell to 12.2 percent in May. As the following chart shows, that was a new low for the recovery. The decrease was especially welcome because it was accompanied by an increase of 192,000 in the civilian labor force, reversing some of April's losses. The standard unemployment rate remained at 6.3 percent in May, also a low for the recovery.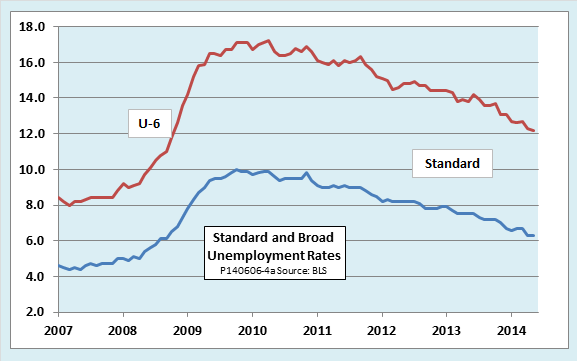 In another welcome development, the share of unemployed workers out of work for 27 weeks or more fell to 34.6 percent in May. That, too, is a low for the recovery, although long-term unemployment remains high by historical standards. The mean and median duration of unemployment also declined in May.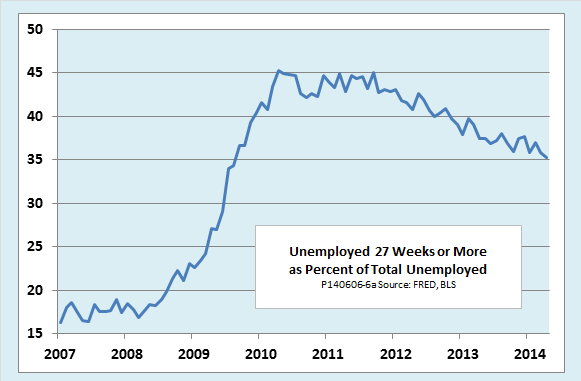 Involuntary part-time unemployment also fell. This group, which the BLS refers to as working part-time "for economic reasons," include those whose employers have reduced their hours because of slack business conditions and those who can only find part-time work. As the next chart shows, the percentage of people in the labor force with involuntary part-time work resumed its downward trend in May, but has not yet reached February's low. The number of people working part-time because that is what they prefer ("noneconomic reasons") rose in the month.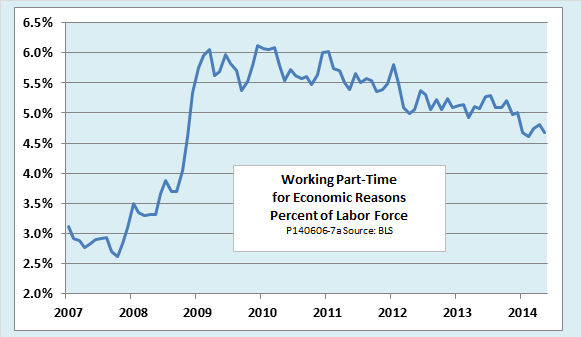 All of the data given above come from the monthly survey of households. Turning to the separate survey of business establishments, the BLS reported that the number of payroll jobs increased by 217,000 in May. That is slightly higher than the average of 190,000 per month over the past year, but about typical if we omit the weather-related slowdown of December and January. The gains were broadly based, with increases in goods producing industries, services, and government. Healthcare services and hospitality showed especially strong growth.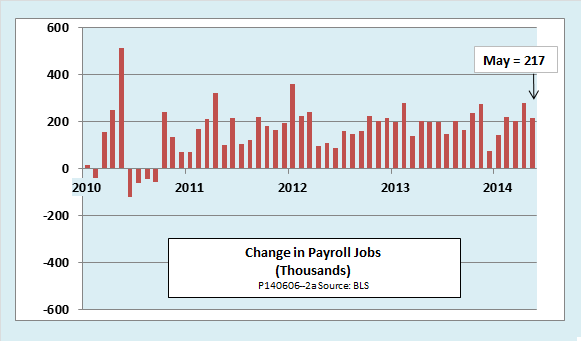 All in all, it was a positive jobs report with few weak spots. The continued good news from the labor force suggests that second quarter GDP data, which will not begin to be released until July, will show a return to growth after the winter pause.
Follow this link to view or download a short slideshow with additional charts of the latest employment situation