by David Urani
Recession has sent much of the American public into a mindset of frugality, and one big step in adjusting one's lifestyle down is to eat more inexpensively. For many, that translates into a larger focus on good 'ole home cooking. More frequent stops to the grocery store as opposed to eating at restaurants is one way to cut down on the monthly food budget. That being said, grocers haven't been enjoying as good of a run as you might think. The reason is that there has been a bout of deflation in food items, and a good part of that has been competition between grocers. That's right, there's a price war in the supermarket sector.
Being the 800 lb gorilla in the industry, Kroger's vast economies of scale have been a handful for the competition. In fact, Kroger (NYSE:KR) seems to be going so far as to sacrifice some of its own profit growth for the sake of taking market share from the others through value offerings. That admittedly may not be the best strategy for the near term but Kroger has a bigger grand scheme in place. Its stated number one objective is its "Customer 1st" program which involves building customer loyalty, largely through its membership cards. Individuals' shopping preferences are recorded each time they visit a store and tailor-made coupons are offered based on shopping styles. Meanwhile, a significant portion of its extra cash is being used for store remodels to enhance the shopping experience. Its hope is that today's price investments can divert traffic its way, and then that a large proportion of that traffic is held onto through its customer first approach.
Here's an overview of its fiscal second quarter results:
Kroger's second quarter turned out better than we had expected, starting with higher sales. With identical sales growth at 2.7% excluding fuel, it was near the high end of management's guidance for the year. Management estimates that overall inflation for the Company, excluding fuel, was 1% year over year, primarily as a result of higher perishables prices. Grocery prices excluding milk decreased by approximately 1.6% year over year. The Company noted both a higher number of households at stores as well as increased purchases from loyal households. It is clear that Kroger continues to gain customers while also becoming more attractive to existing customers as it exercises value pricing. There does continue to be a price war in the industry, but with its economies of scale, Kroger is coming out a winner. Nevertheless, aggressive pricing continues to pressure gross margin (decreased to 22.4% from 23.0% year over year and from 22.6% sequentially). Fuel sales also improved from the previous year, with its margins rising to $0.143 per gallon from $0.136.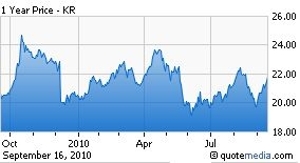 Overhead costs did fall during the quarter versus the previous year (decreased as a percentage of revenue to 17.1% from 17.4% year over year), although they rose when excluding fuel operations. Management noted rising costs resulting from compensation claims and a transition with a new banking partner for its finance operations. As we noted above, gross margins are still shrinking but the Company has made clear that it intends to drive traffic and loyalty with price incentives and in that respect it is succeeding. The increased sales during the quarter were able to offset the lower margin. Additionally, the increase in sales translates into strong cash flow which the Company is using both to invest in infrastructure as well as to return to shareholders with stock repurchases (the Company repurchased 7.3 million shares for $148.3 million during the quarter. $409.2 million remains authorized for repurchase).
Despite the heated competition in pricing and subsequent decrease in gross margin, Kroger is driving strong sales results and is clearly outperforming the competition. As a result, it was able to yield improved profits and cash flow. Pricing does look to have begun to stabilize, although we are not expecting significant improvement in that regard. Even if the Company does find room to increase prices, it is likely to do so slowly so as to avoid spooking customers. Although the economy remains weak, we believe Kroger offers attractive value for cash-strapped customers. Meanwhile, we see Kroger as a winner in the ongoing competitive pricing war.