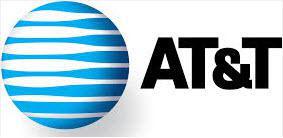 I recently penned a series of articles regarding the fact I believe AT&T (NYSE:T) presents an excellent investment opportunity for dividend and income investors. In the comments section of the articles, there was a barrage of comments debating the current positives and negatives regarding the stock. I have determined the genesis of the controversy is the fact many positive and negative catalysts currently do exist. This has given rise to an immense amount of fodder for both bulls and bears to make their case. A majority of past articles have solely focused on one side of the coin or the other, my articles included.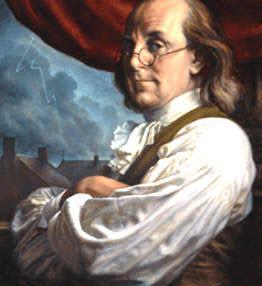 So, I have decided to use the Ben Franklin technique for analyzing difficult situations and making tough decisions as the outline for this article. Benjamin Franklin would make a list of positives and negatives in order to clearly analyze difficult situations. This resulted in him having many successful endeavors. I discovered this from reading his personal letters published in a book by Leonard W. Labaree.
In the following sections, I will use the Ben Franklin analysis technique and do my best to discern reality from repartee and deconstruct the good, the bad and the ugly truth regarding AT&T.
The Good, The Bad and The Ugly Truth Regarding AT&T
The Good
A series of positive fundamental improvements and initiatives have occurred over the last few years and quarters. Furthermore, several recent developments bode well for the stock.
AT&T macro positives
The hunt for yield continues
The Fed's zero interest rate policy in conjunction with its quantitative easing policy has substantially diminished opportunities for income investors on the hunt for yield. Baby boomers have essentially been left out in the cold. Fixed income instruments such as bonds and CDs have virtually no yield currently. AT&T's outstanding 5.2% dividend yield is highest amongst all the DOW blue chips presently.

(Source: Finviz.com)
This high dividend yield coupled with the company's opportunity for growth suggests a scenario where investors can achieve both capital gains in combination with income production.
A shift from high risk momentum stocks to solid dividend paying stocks is underway
A major paradigm shift is underway which should underpin AT&T's stock. The high-flying momentum stocks have severely sold off. Market participants are no longer satisfied with ephemeral valuation metrics such as the number of eyeballs and the like. Prescient investors are demanding earnings and income, as they should.
AT&T specific positives
AT&T's management has done an amazing job over the last couple of years and shareholder may be on the cusp of reaping the benefits. How do I know this? The proof is in the pudding, as it were. This maxim implies that there is a lot of evidence supporting my assertion. The highlights of the positive developments follow.
Solid revenue growth
Total revenue of 128.8 billion was up 1.9% year-over-year in 2013. The solid revenue growth was driven by several key segments. Wireless, wireline data and managed IT services were all up over 5%.
Strong EPS growth
After adjustments, full-year 2013 EPS was up 8.2% which marks the second straight year of growth above 8%. The earnings per share of a company, or EPS, is conceivably the most important statistic to understand before investing in a company's stock. Each time you consider starting a position in a stock, you should prudently scrutinize its earnings information. The reason earnings are so vital to investors is because they tell you about the relative profitability of a company.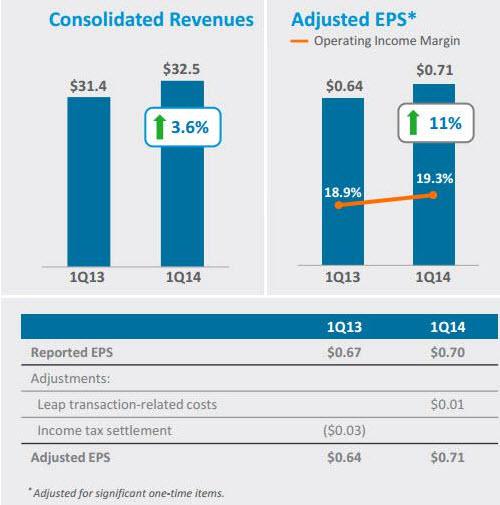 (Source: ATT.com)
Strong free cash flow provides opportunity for increased return of capital to shareholders. Cash flow from operations was $8.8 billion. Free cash flow was 3 billion after backing out capital expenditures of $5.8 billion.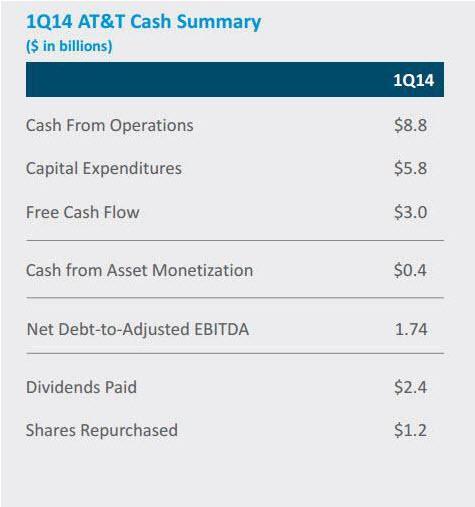 (Source: ATT.com)
This strong free cash flow allowed the company to buy back 37 million shares in the quarter for $1.2 billion. Cash flow is an extremely important factor in determining the value of a stock. There seems to be a shift in market sentiment recently. I believe a shift in focus to more conservative low beta stocks such as AT&T will drive the stock higher as well.
Factor this in with the fact that historically dividend-paying stocks have outperformed non-dividend-paying stocks, and you have a recipe for outstanding returns. Whatever is not paid out in the form of dividends is placed into the retained earnings, which then become a source of capital that can be used to help support the growth of a company.
A reversal of fortune appears to have occurred in the stock
The stock is trading above all three major moving averages. The 50-Day SMA has crossed above the 200-Day SMA fulfilling a Golden Cross, which is technically bullish. The stock appears to have achieved a trend reversal and presents a buying opportunity at this level.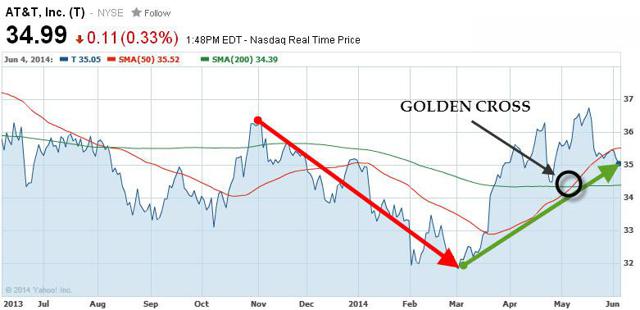 (Source: Yahoo.com)
The stock appears to be only at the beginning of its trend reversal at this time.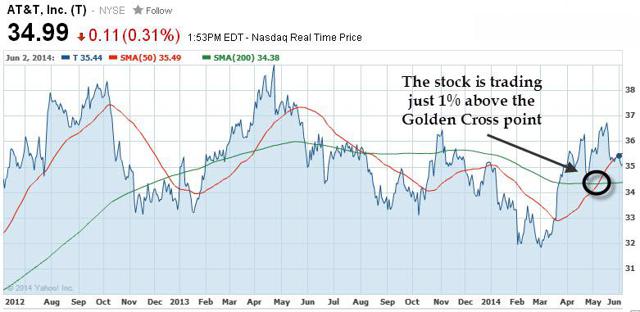 (Source: Yahoo.com)
There is over 10% upside currently sitting on the table in the short term.
AT&T trades at a discount to its peers and the industry average
AT&'s TTM P/E ratio of 10 is among the lowest of any stock in the industry and signals that investors have not been willing to pay a premium for this company's business prospects.

(Table provided by Scottrade.com)
As you can see by the above table, AT&T trades for a P/E of 10.3 while the industry average is 18.7. This implies AT&T has significant upside simply to trade on par with the company's peers. Based on the current facts available, AT&T should be trading for at least a P/E of 12.5 by 2015. This implies the stock has 25% upside and a $45 price target seems entirely possible based on future projected growth rates. Couple this with the potential for substantial capital appreciation with a current 5% dividend yield and you have a recipe for profits.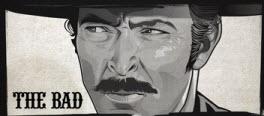 The Bad
AT&T does have downside risks going forward. The following is a list of what I see as the major ones.
Cash flow could be pressured in the near term due to the company's Next program where revenue is booked on devices customers have not paid for yet.
The DirecTV (DTV) acquisition does not come without major risks and uncertainty. Many have questioned management's judgment in regards to this potential acquisition.
Some say the time has passed to buy AT&T suggesting the Direct TV purchase may pressure on dividend distribution and growth near term.
AT&T continues to add approximately $3 billion in debt each year just to maintain the status quo.
AT&T is in an escalating price war with T-Mobile (NASDAQ:TMUS) which could pressure earnings.
AT&T is expected to spend about $20 billion in capital expenditures on projects with questionable growth
Free cash flow is expected to drop precipitously in 2014.
There are potentially large wireless spectrum purchase costs looming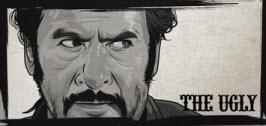 The Ugly
The DirecTV acquisition
AT&T's bid for DirecTV has many facets. This can cause the acquiring company to overpay based on perceived cost savings and synergistic positives that do not materialize. Once AT&T starts digging into the company, AT&T may find the DirecTV acquisition wasn't such a great deal after all. The following are a list of the potential negatives regarding the DirecTV acquisition as far as I see them.
AT&T plans to use stock primarily for the deal, yet the combined entity would sport roughly $95 billion in debt.
AT&T's other business lines may suffer due to the acquisition tying up a significant amount of funds.
DirecTV's subscriber growth is waning.
AT&T's spectrum and broadband levels would see no improvement.
The market is at all-time highs
The market is currently sitting at all-time highs just as we enter the summer doldrums. This is an extremely precarious position to be in. You could even say the market is priced for perfection right now. Any hiccup in projected GDP growth or other macroeconomic indicators could bring the markets tumbling down in an instant. Not to mention the potential downside created by a negative geopolitical event. It's time to tread lightly.
AT&T's downside risks are many. First, the competitive environment for the company is vicious. A relentless onslaught of new products and competitors attempt to disrupt the status quo on a daily basis. Furthermore, macroeconomic and geopolitical risks which are out of the company's control could take a turn for the worse at any time.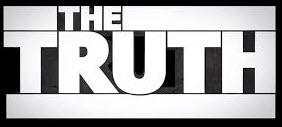 The Truth
AT&T is a solid long-term growth story and pays a hefty dividend of over 5%. AT&T is the number one dividend paying stock on the DOW at 5.2%. The company has increased its dividend each year since 2008 as well. The company has strong free cash flow, positive EPS growth projections, and just raised full year guidance. Furthermore, the stock is down significantly from its 52 weeks highs while business couldn't be stronger.
Final Thought
Based on the Fed's current zero interest rate policy, I submit AT&T is a better hedge against inflation than fixed income instruments such as bonds and CDs. What's more, dividend-paying stocks have always outperformed non-dividend-paying stocks. With AT&T's outstanding 5% dividend yield and the opportunity for growth, you have a recipe for outstanding returns. Nevertheless, I suggest layering over time to reduce risk.
Disclosure: I have no positions in any stocks mentioned, and no plans to initiate any positions within the next 72 hours. I wrote this article myself, and it expresses my own opinions. I am not receiving compensation for it (other than from Seeking Alpha). I have no business relationship with any company whose stock is mentioned in this article.