There's always risk, even in the case of a coveted buyout situation - like the one that Questcor looks like it's going to be a part of.
The company is counting down the days until its reverse-engineered buyout/merger by Mallinckrodt (NYSE:MNK). The stock had rocketed towards $90 on the news of the deal, and we haven't heard much from either of the companies since then. Short sellers like Citron Research were mum on the situation, and my last article skeptical of the "buyout" represents some of the last skeptical coverage of the company.
That was, until yesterday.
There is no doubt that I have approached Questcor (QCOR) with a certain healthy dose of skepticism since I've heard the story behind the company and its signature product, H.P. Acthar Gel. To me, there's always been too many red flags: massive insider stock dumping, building a billion-dollar enterprise off of one drug that was acquired for a couple hundred thousand dollars, and major questions about the concentration and chemical makeup of the company's sole drug.
If you want the full story on why I'm skeptical on Questcor, you can read the following pieces that I've penned:
The FDA, FTC, SEC, et al have all been mum on the topic. So far, Questcor seems to be merrily rolling along on its way to a merger and making itself as one of the biggest shareholder successes in the history of the pharmaceutical industry.
Regardless, longs have won the day. The merger is pending, the stock has rocketed - signed, sealed, delivered, this case is over, right?
Wrong.
Yesterday, skeptics of the company and bears were treated to a dose of reality from insurer Cigna.
In this Cigna Medical Coverage Policy for Acthar Gel, the insurer notes that Acthar Gel is "significantly more expensive than conventional corticosteroid and immunosuppressive therapies, but is not clinically superior for such indications."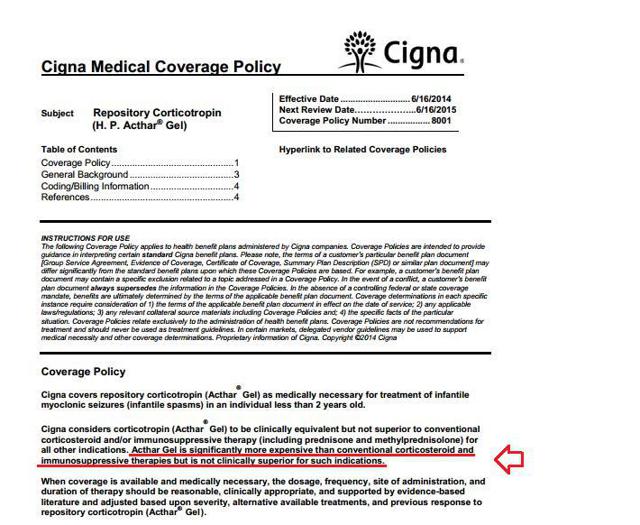 This is a big deal.
It's massive because Questcor is a company built around the tale that Acthar contains some type of "secret sauce" that makes it superior to its synthetic (much cheaper) rivals.
If this turns out to not be true, the company is a house of cards, and has basically been nothing but a vehicle for lining the pockets of shareholders and insiders.
This also runs parallel to Citron Research's report that questioned not only the chemical makeup of the drug, but its "secret sauce" claims:
For the past few years, we have been assuming that Questcor was invoking this mystical language to create the appearance of a "competitive moat" - the "secret sauce" claim - that it is the presence of other additional biologically active components that make Acthar the special medicine the company claims it to be.

But today, we have new information that changes everything. Concerned investors, trying to understand and evaluate CEO Bailey's statements above, have undertaken a multi-month project, involving biological laboratory testing of Acthar, to find out what Questcor has never disclosed about the product. We all knew what the main active ingredient of Acthar was supposed to be ... but what could be learned about the "1%"?

Instead, what was found is beyond appalling.

The state-of-the-art lab results - which have been confirmed at a second laboratory - decisively conclude that in our tests of production Acthar released to patients, from at least two separate batches - nearly all of what is being detected in Acthar is degraded remnants of what used to be ACTH. There is almost no detectable ACTH in any of the Acthar we tested.
Again - remember those "Forward Looking Statements" that I pointed out in the buyout presentation that Mallinckrodt made?

Let's forget that the "volatility" statement hadn't appeared in any Questcor 10-K prior to this presentation.
Let's look at "lack of patent protection". This means, if what Cigna says turns out to be true, nearly anybody is going to be able to manufacture corticosteroids for significantly cheaper, en masse.
How does this transfer to the "buyout", which really seems like a merger?
Again, the executives on the call that took place after the merger was announced seemed to allude to it as more of a merger than as a buyout. Remember what Investor's Business Daily said about the "buyout"? They called it a merger, too:
Although Mallinckrodt is the buyer, on the conference call with analysts the two CEOs spoke of it as a merger. The company will be renamed Mallinckrodt Pharmaceuticals to reflect its new identity. The deal is set to close in Q3 and "will create an increasingly diversified high-growth specialty pharmaceutical company, significantly increase our scale, revenue, cash flow, and profitability, and will add breadth and depth to our growing portfolio of specialty pharmaceutical brands," Mallinckrodt CEO Mark Trudeau said on the call. He did not, however, revise guidance.
This leads me to a couple of serious questions that all Questcor and Mallinckrodt shareholders need to ask themselves:
What if other insurance companies follow suit and acknowledge that Acthar Gel is really nothing special for the price?
If Mallinckrodt becomes hip to this news and shares the same view as Cigna, why spend the billions to "buy out" the company?
If Acthar, which may or may not be what's on the label, doesn't have the efficacy that Questcor claims, where do the fundamentals lie for a billion-dollar company that has been built around it?
Although it doesn't seem like it, I contend that risk remains here.
Best of luck to all.
Disclosure: I have no positions in any stocks mentioned, but may initiate a long position in QCOR over the next 72 hours. I wrote this article myself, and it expresses my own opinions. I am not receiving compensation for it (other than from Seeking Alpha). I have no business relationship with any company whose stock is mentioned in this article.