Amazon.com (NASDAQ:AMZN) was all over the news on Thursday. On one hand Amazon announced an unveil date for a new product which has the tech world buzzing. On the other, satirical news anchor Stephen Colbert unleashed a salvo, attacking the e-commerce company for what he called anticompetitive practices with book publishers.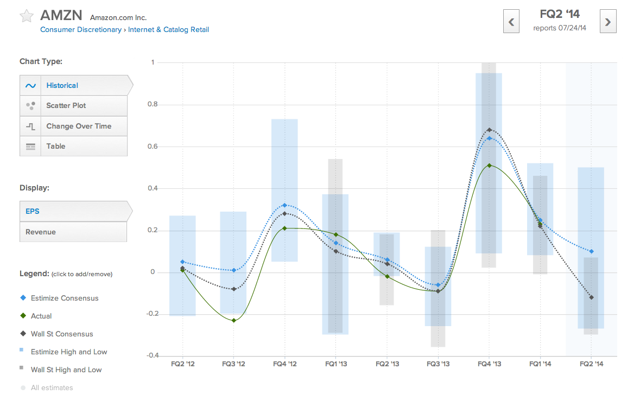 Thursday Amazon announced the reveal date for a new product to be launched later this month and released a teaser video reminiscent of Apple's product hyping strategy. The apparent consumer product will be launched on June 18th in Seattle and anyone can request a chance to attend the event. In the announcement, video actors hold a small box, or perhaps the long rumored Amazon smartphone, and describe what they see as "Crazy!", "Awesome.", and "Fantastic!". One woman in the video appears to be surprised as she says "It moved with me", actors tilting their heads back and forth while staring at the unseen device have many speculating that it could be a phone or tablet with glasses-free 3-D capabilities.
However, Thursday wasn't all peaches for Amazon. Late Wednesday night, Stephen Colbert unleashed a relentless attack on Amazon and CEO Jeff Bezos in his usual irreverent style. In the segment titled, "Amazon vs. Hachette", Colbert accused Amazon of playing dirty with book publishers. Colbert pointed out that Amazon is deterring customers from buying books published by Hachette, the publisher of the books he himself has written.
Amazon has been refusing pre-orders for Hachette books and delaying shipments by as many as 3-4 weeks. With around 50% of all book sales going through Amazon.com these days, Amazon has a lot of leverage against individual publishers and can cause them a headache if they don't play by Amazon's rules. Colbert wrapped up the clip with a rallying cry against buying books from Amazon and made it known to his viewers that they could download "I didn't buy it on Amazon" stickers from his webpage.
Stephen Colbert is about to take over the Late Show from David Letterman; he has quite a large audience and influential reach. But the more important story going forward will be how Amazon utilizes its new consumer product. One potential use case for 3-D functionality would be to model products sold on the Amazon.com store. Customers could get a better feel for what they are buying while shopping online and there would likely be a large novelty effect immediately after launch.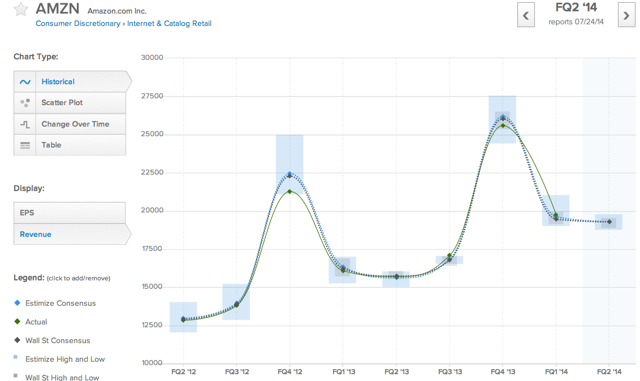 Another possible reason that Amazon may be launching a smartphone is because it is even more attractive to investors. Historically, Amazon has never been focused on its quarterly profits. Online retail is an extremely low margin business for Amazon and the company invests most of what it makes to expand its business and add new product categories. With an average margin of about 3%, a move into smartphones could bolster Amazon's earnings potential, as the smartphone market tends to be much more lucrative than e-commerce.
Nothing about Amazon's new product launch has been confirmed. But a smartphone that could improve Amazon's online sales through a new 3-D technology could bring the boost to earnings that shareholders have been waiting for.
Disclosure: None